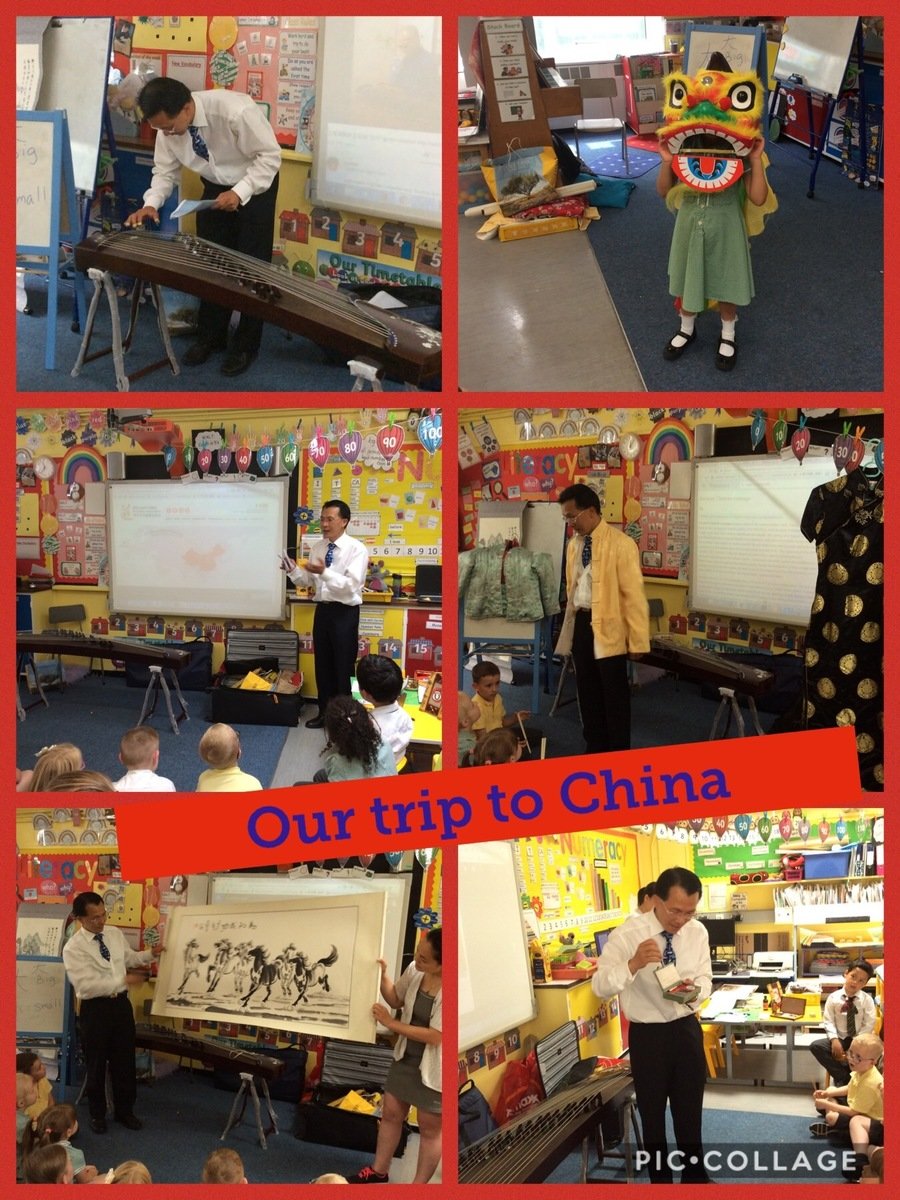 May
In our new topic of 'Sounds' we have been exploring how sound is made. We learned that sound is caused by vibrations. It has been interesting to play different instruments and we went on a sound walk where we listened out for loud and quiet sounds. We went on a trip to W5 where we got to go to a workshop called 'Sounds like Music'.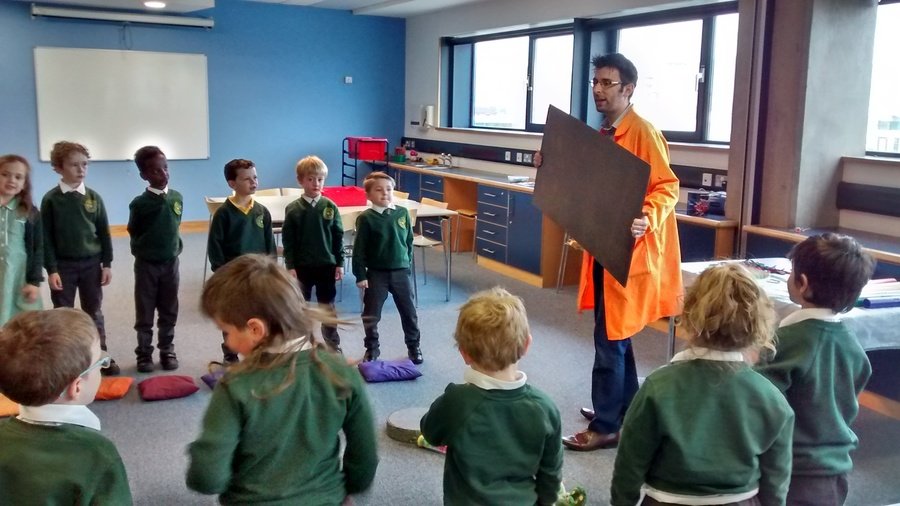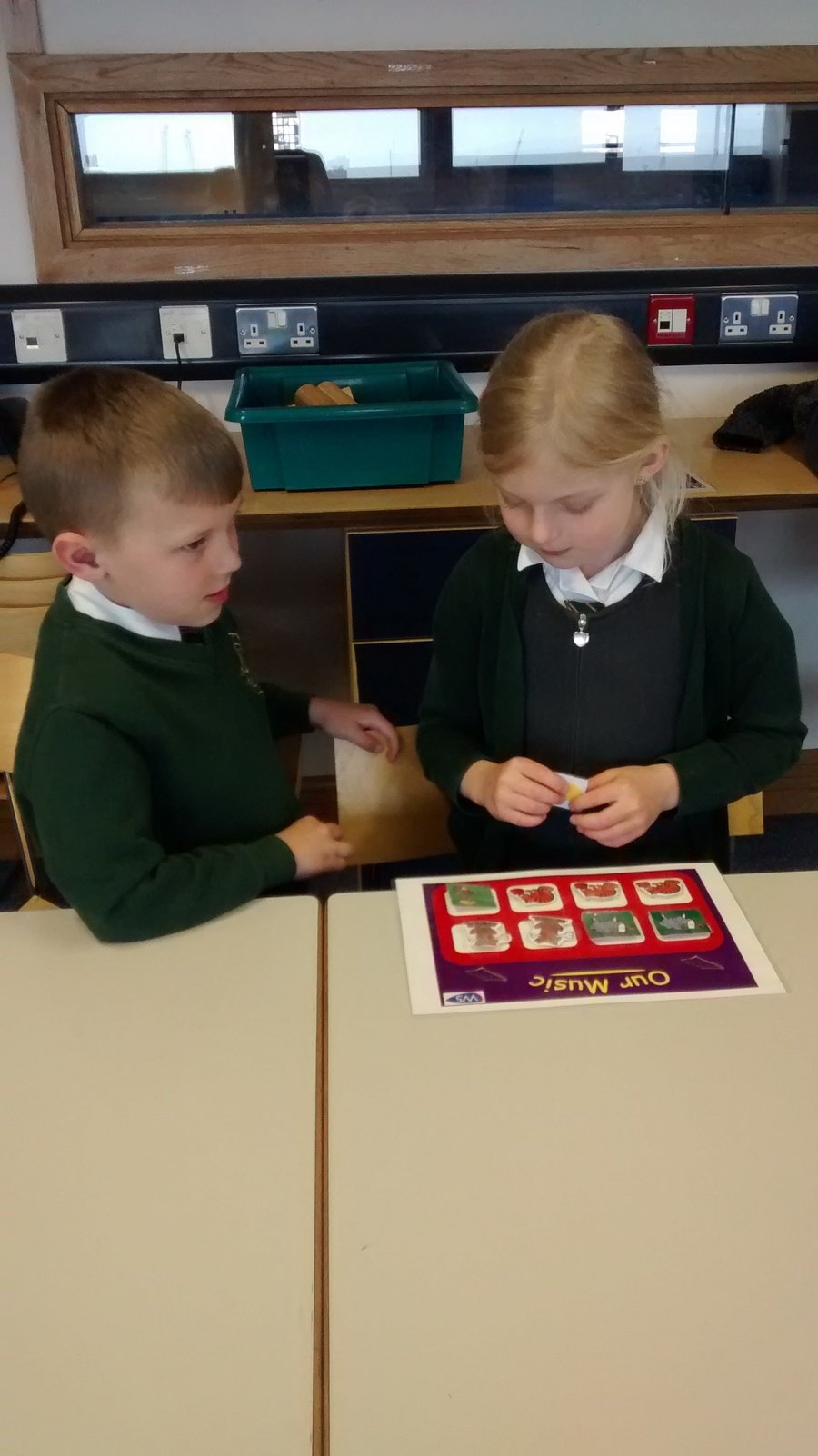 This slideshow below shows us creating our very own animal songs. We used animal sounds and ordered them in a way that sounded tuneful. It was a fun activity.
We even got to go on a giant climbing frame in W5 called 'Climb it'. We had a lot of fun!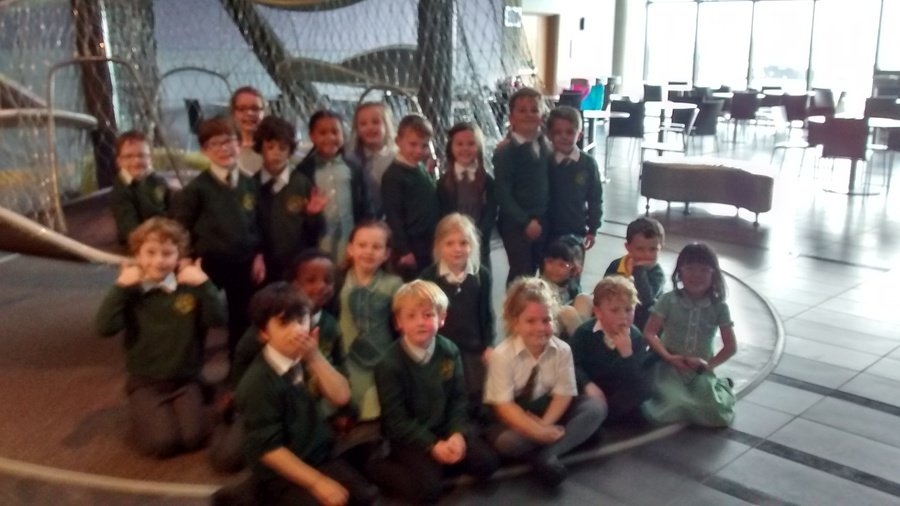 April
As part of our 'Giants' topic we have been learning about lots of different giant things. We looked at giant buildings, giant animals, giants in stories and giant foods. We had a visit from Eco Mantella and we got to meet some rather huge creatures.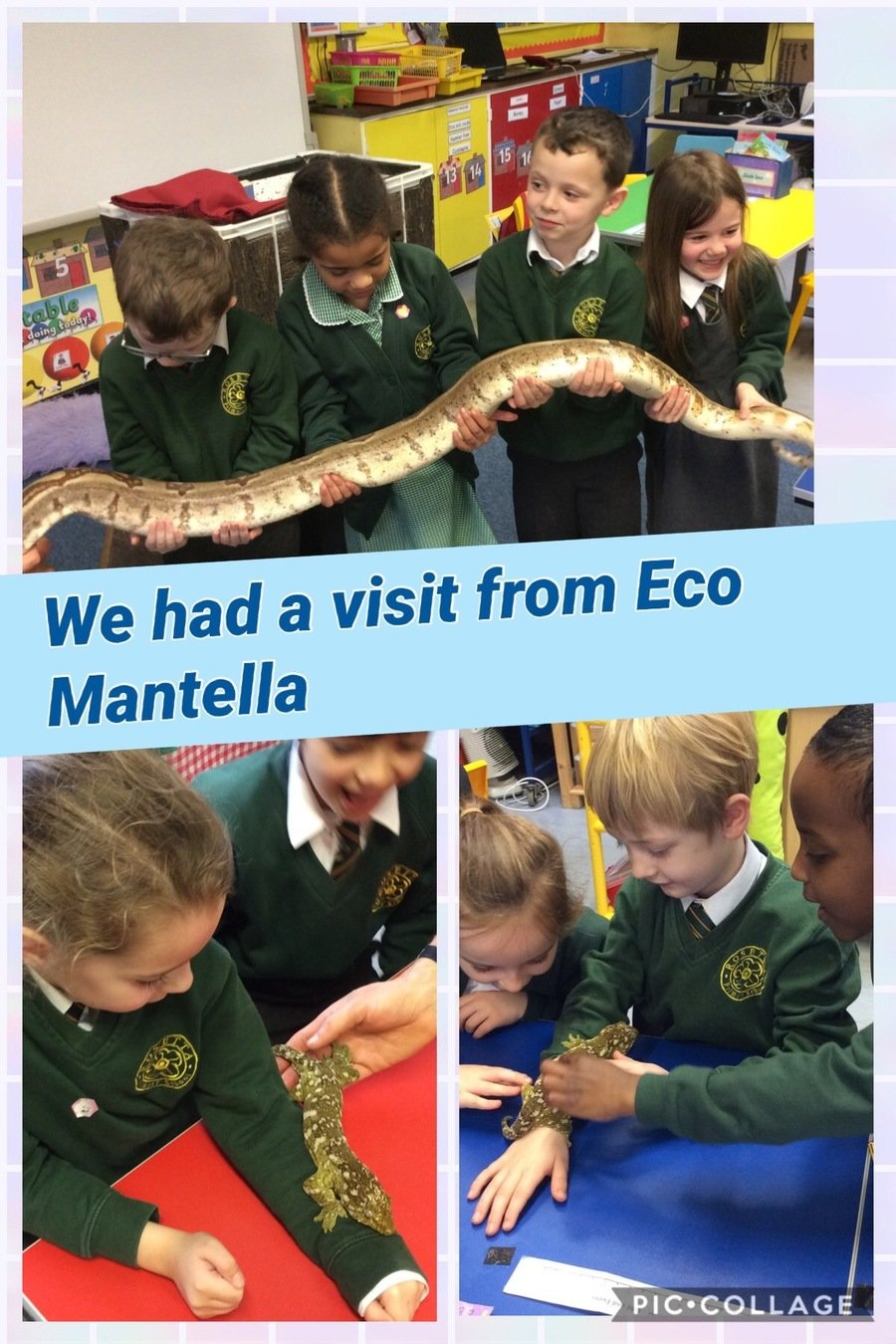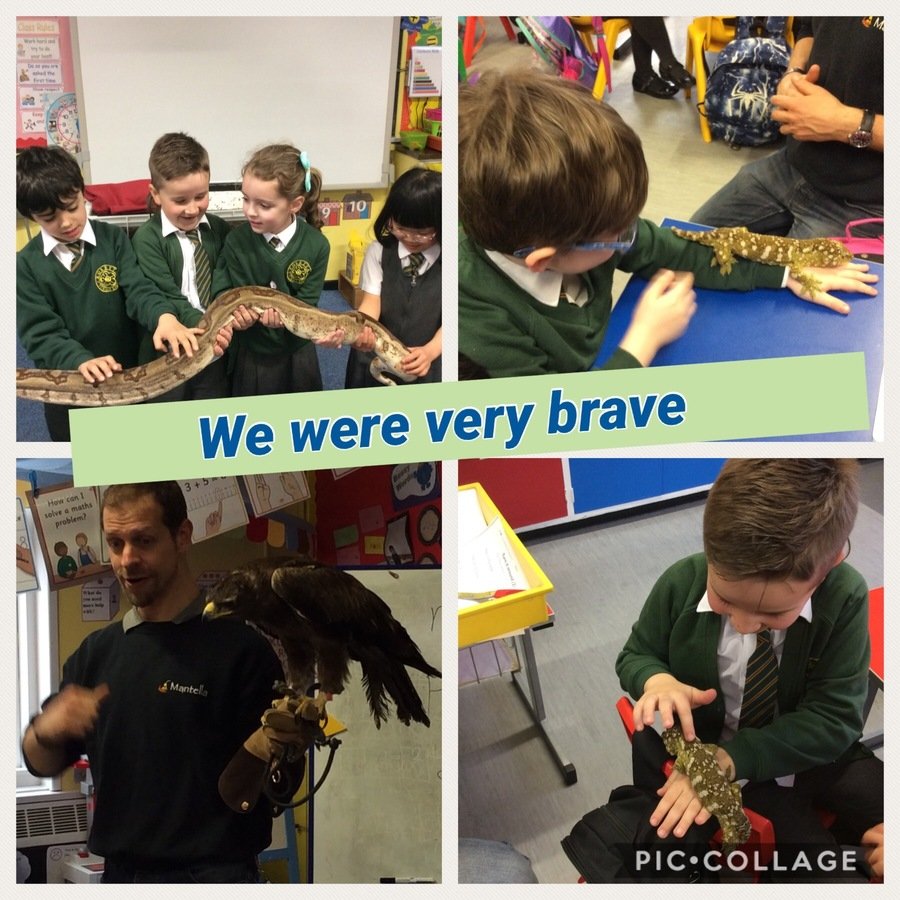 March
STEM Week
As part of STEM week we had a workshop with Science Starz to learn how to make giant bubbles. We made our own wands using string and straws. We got to wear lab coats to protect our uniform. We looked at different recipes for making bubble mixture and worked out which one we thought was the best. We had a go at making the bubbles outside. Have a look at some of the huge bubbles we made.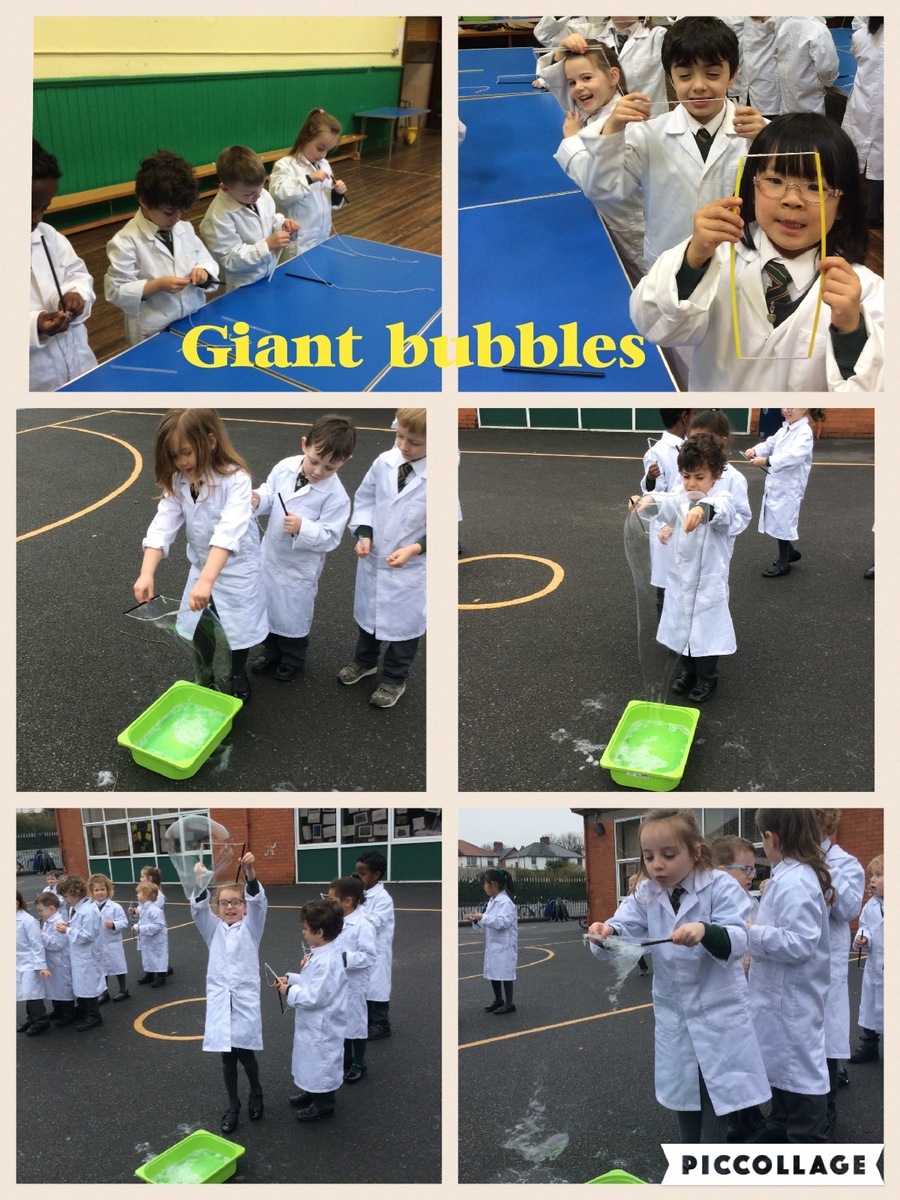 As part of our 'Giants' topic this term we read the story 'Jack and the beanstalk'. We have been drawing pictures from the story and have had a go at typing sentences to describe what the illustration shows. We have been using real beans to make repeating patterns. We have been building beanstalks out of different construction resources. At our writing table we have been writing some speech bubbles to show some of the things that the giant might have shouted when we was talking to Jack.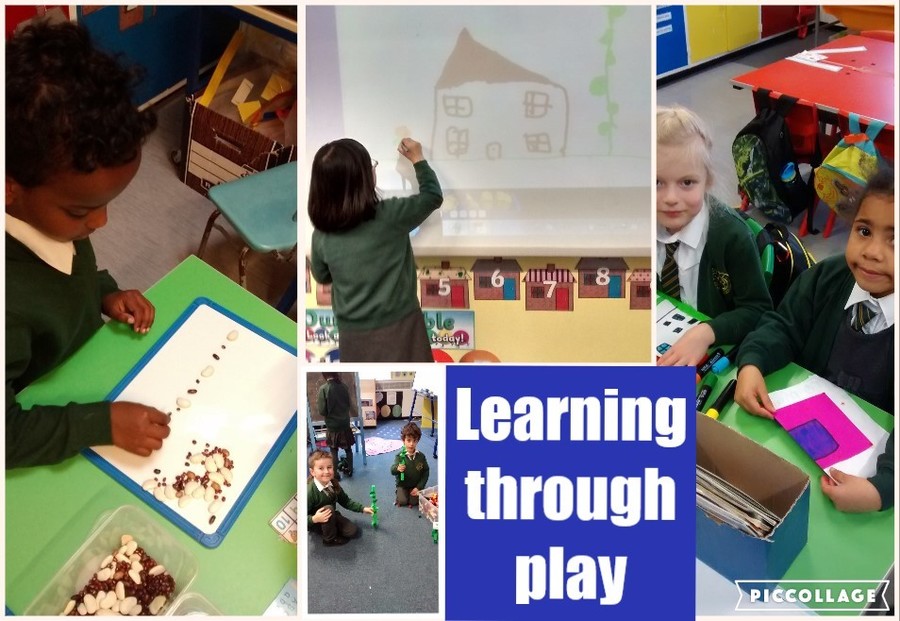 P2 have been learning about length in our maths lessons. We drew around our feet and cut them out. We then used them to measure the length of objects in the classroom. We also used giant boots to measure objects and then compared the difference in our results. After this we discovered how different our measurements were when we used our feet outlines. This led us to realise that if we all used cubes then our answers would match up.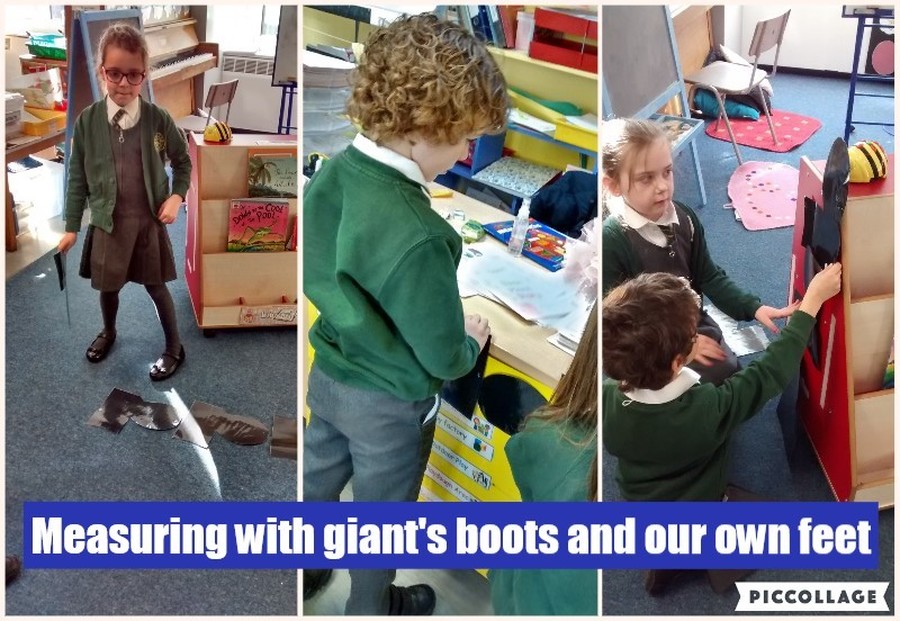 We thought it would be great to have a go at planting our own beans. We have been looking after the beans by watering them regularly and making sure they are getting sunlight. We are excited to see whose beanstalk will grow the tallest.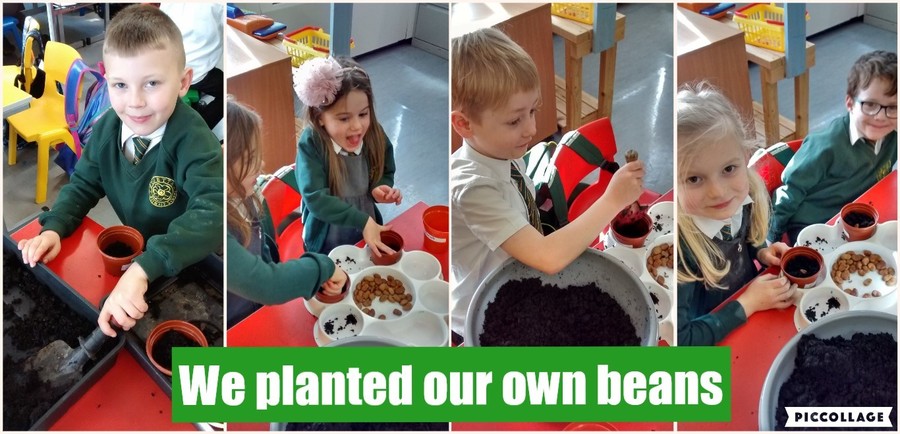 January
Our topic this term is 'Teddies and Toys'. We did a 'show and tell' presentation of our favourite toys. We told the class where we got our toy from, what material it is made of and how it works. We wrote all about our toys and then practised our typing skills on Microsoft Word.
We read the story of 'Goldilocks and the three bears'. We thought it would be good to have a go at making our own porridge because Goldilocks had eaten all of Baby Bear's porridge. We followed instructions about how to make porridge and then tasted it with different toppings. We wrote our own instructions about how to make porridge – it was very easy!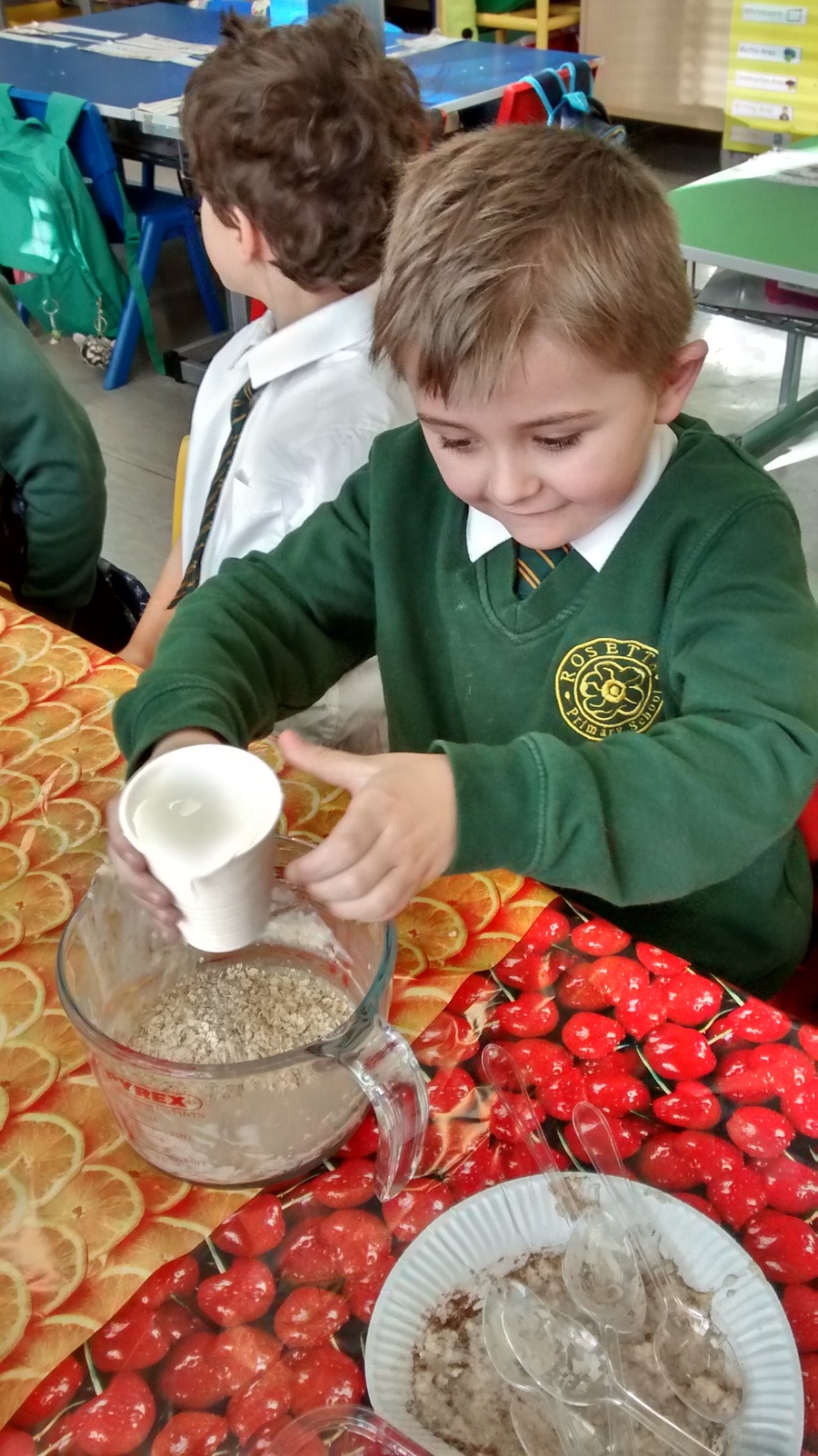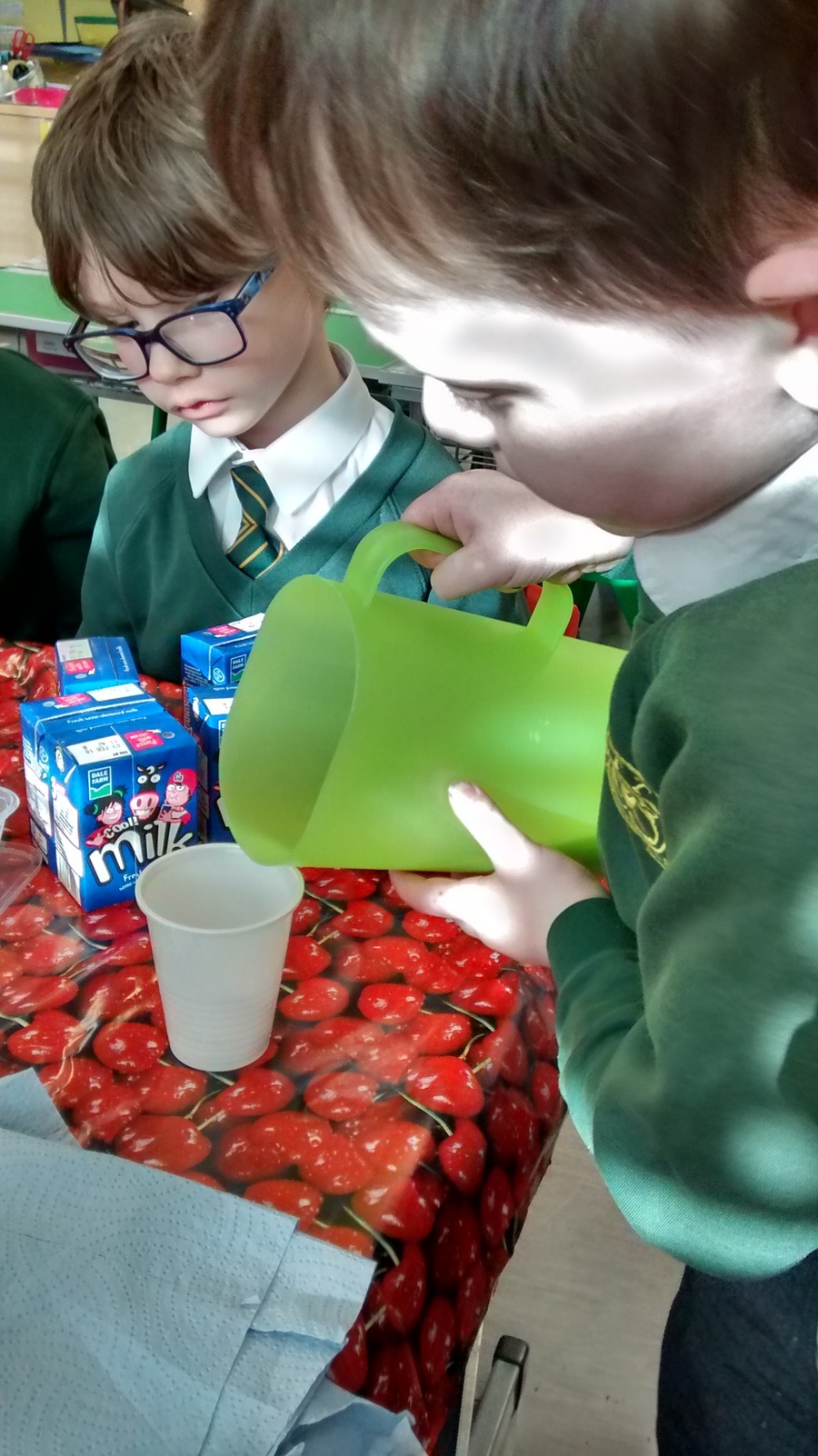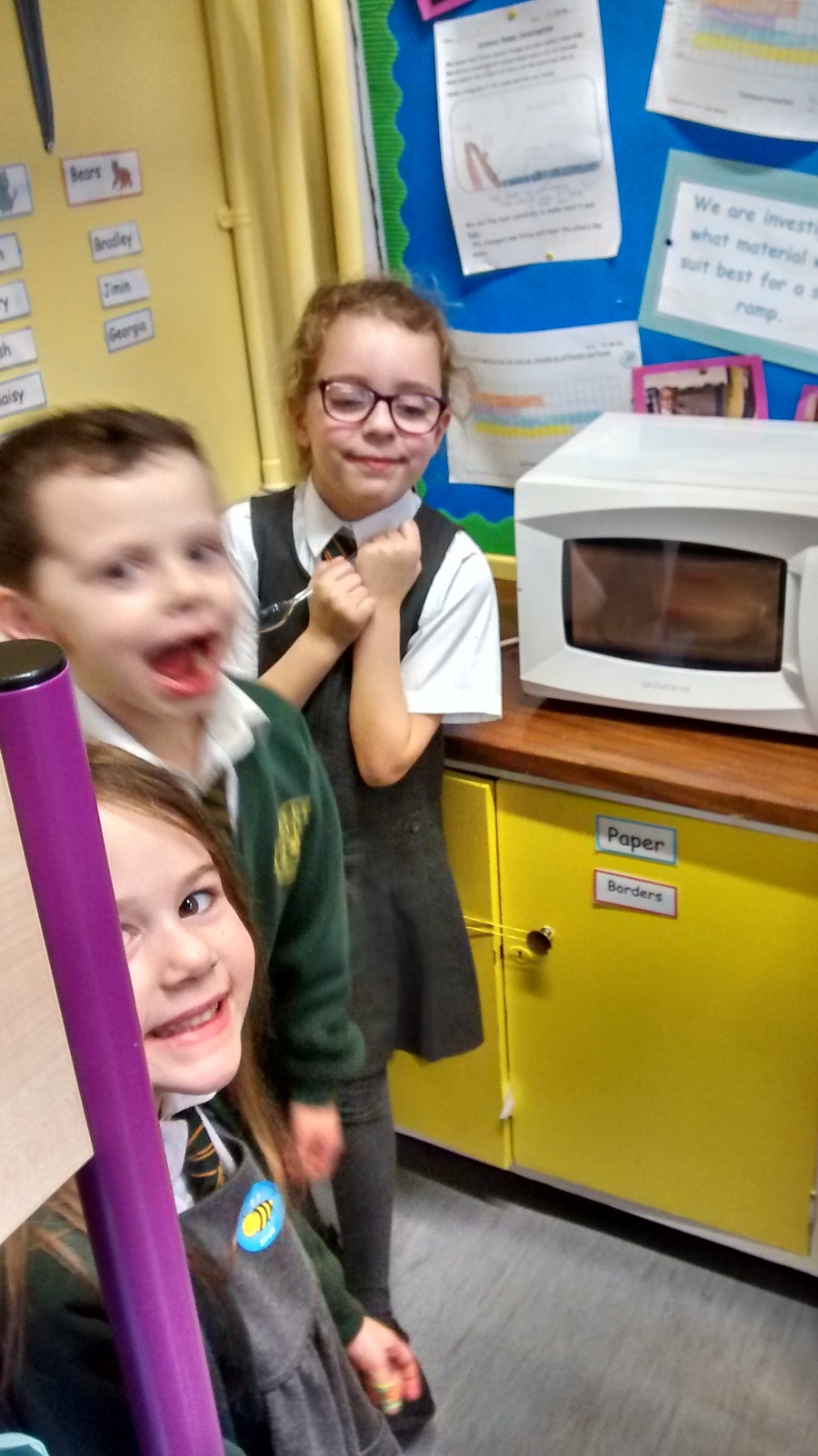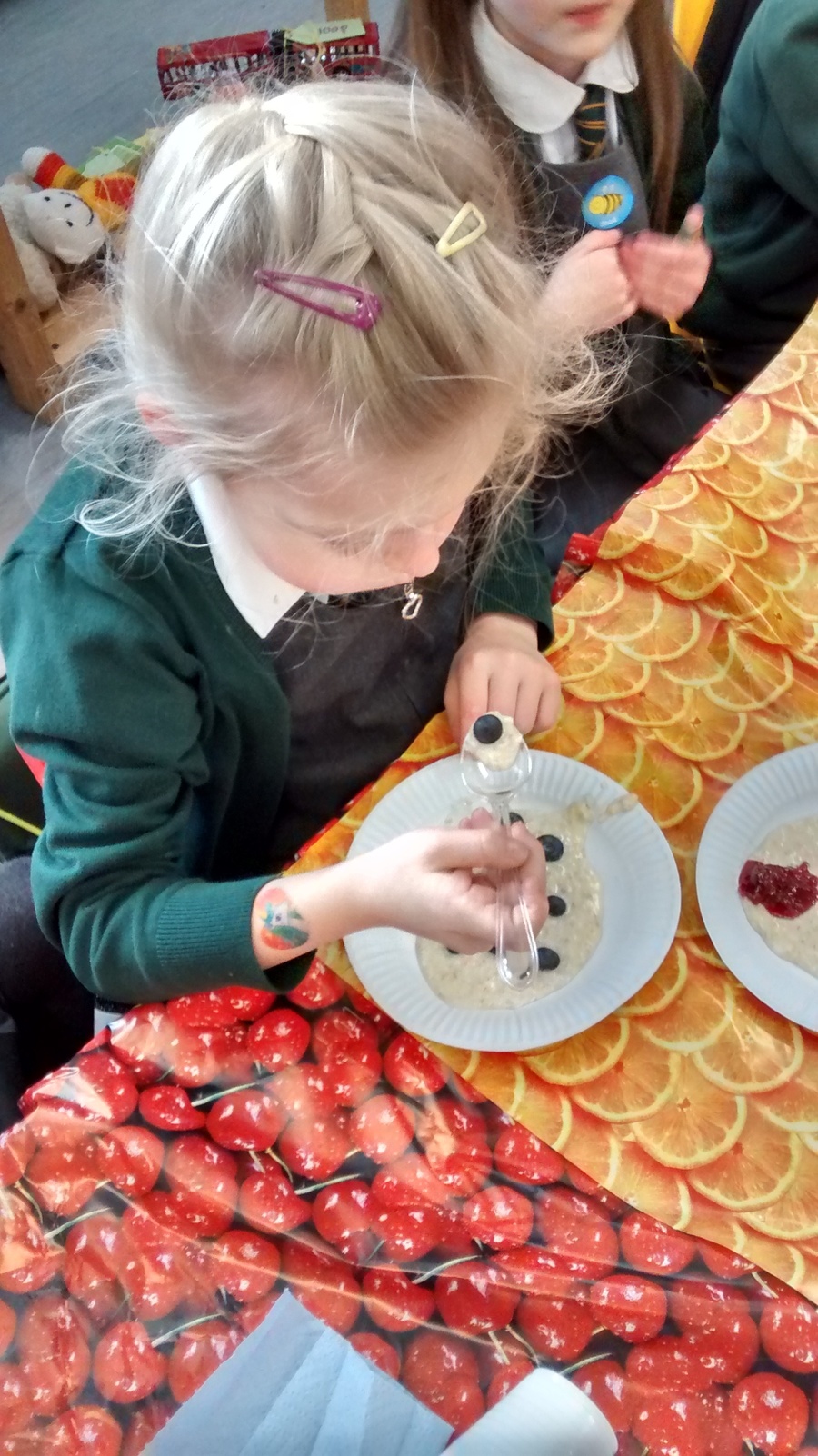 We did a 'hot seating' session where we took on the role of the characters in 'Goldilocks and the three bears'. It was fun to think about what Goldilocks might say to her mummy when she got home.
December
P1 and 2 performed 'Manger Mouse' and it was big success! The singing and acting was fantastic and we had a brilliant audience who enjoyed the whole show. Have a look at some of our costumes we wore.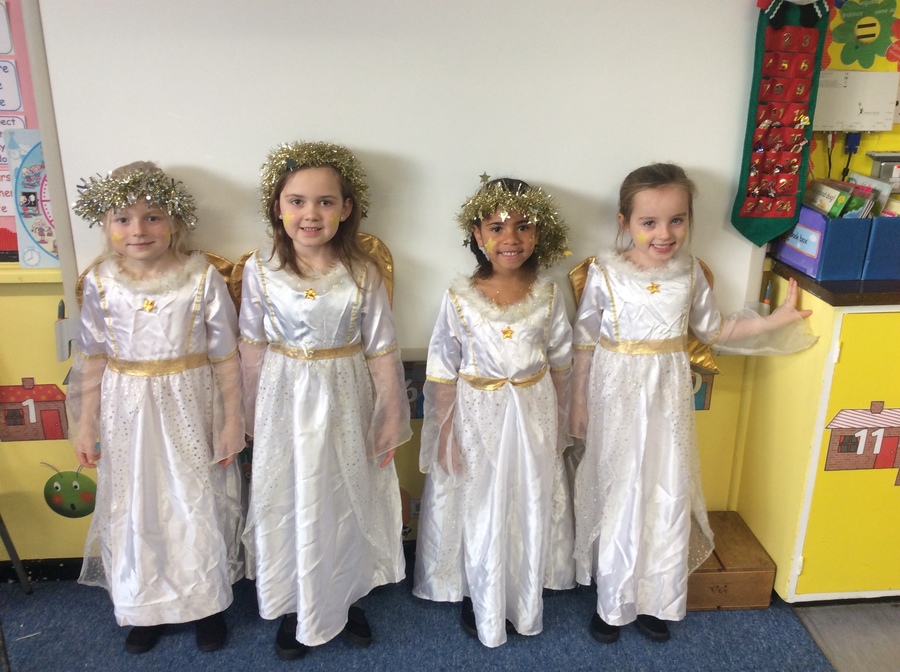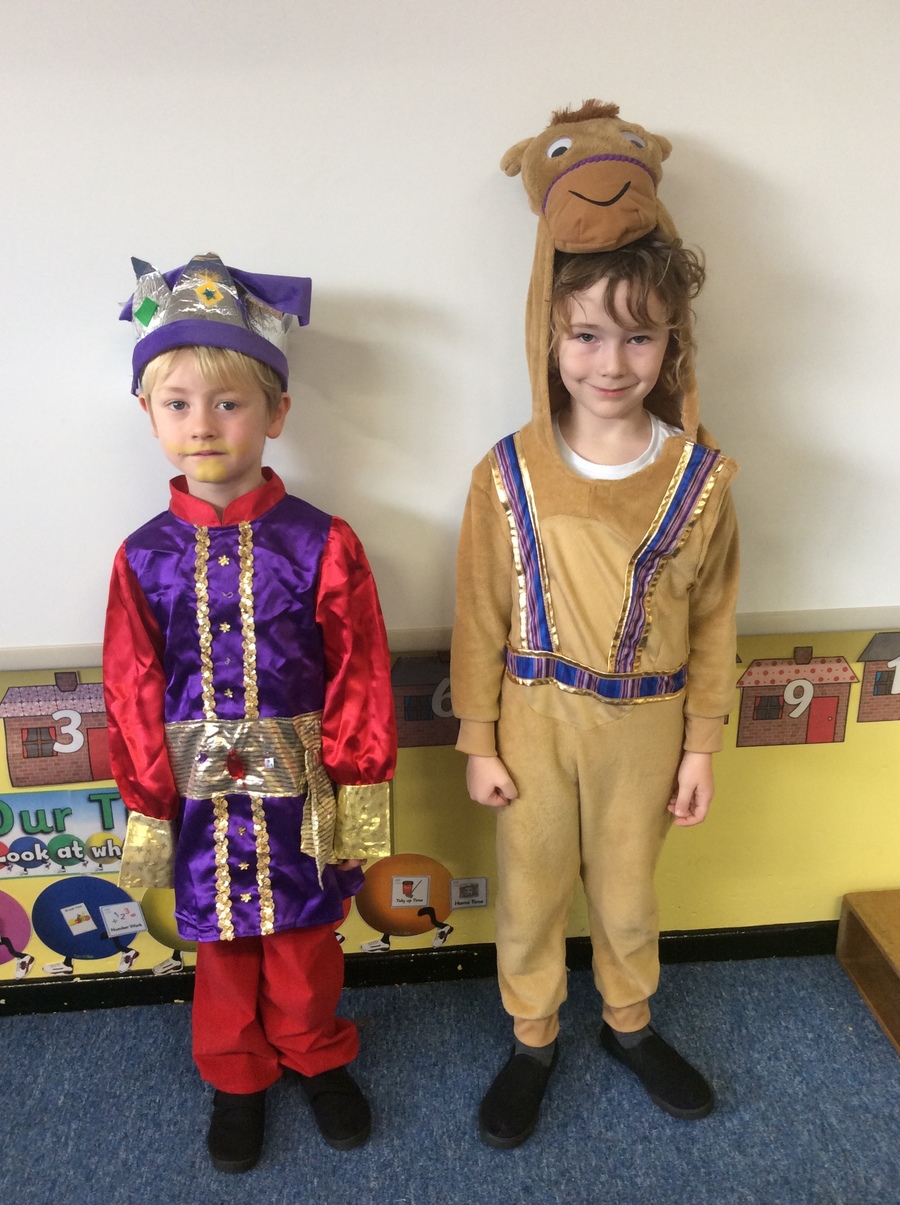 We have started our Christmas crafts. We used sequins, ribbons, glitter, beads and lots of other lovely materials to design our own Christmas bobbles.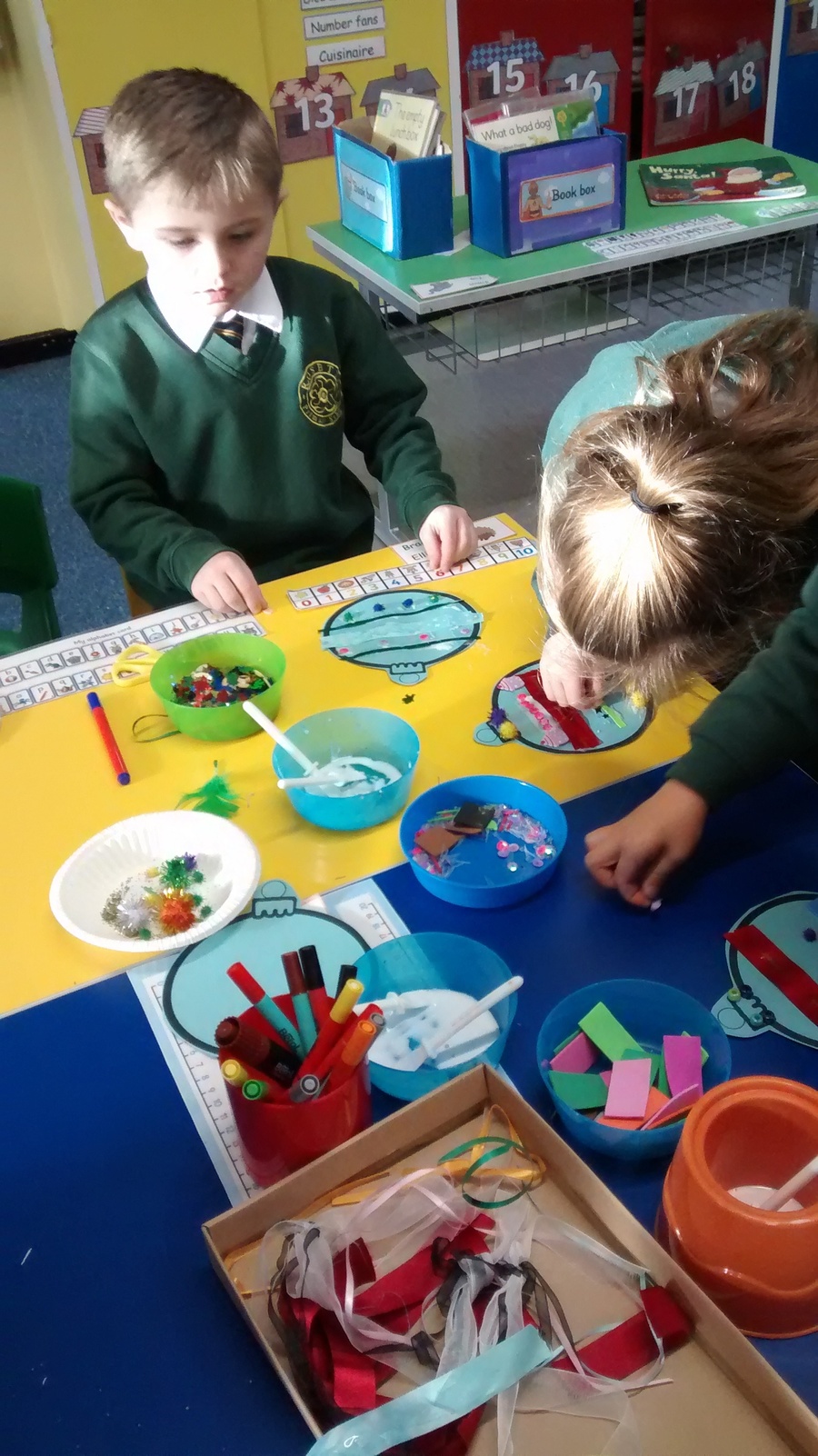 Run, run as fast as you can! You can't catch me I'm the gingerbread man!
We read the story of the gingerbread man and then had a go at decorating our own.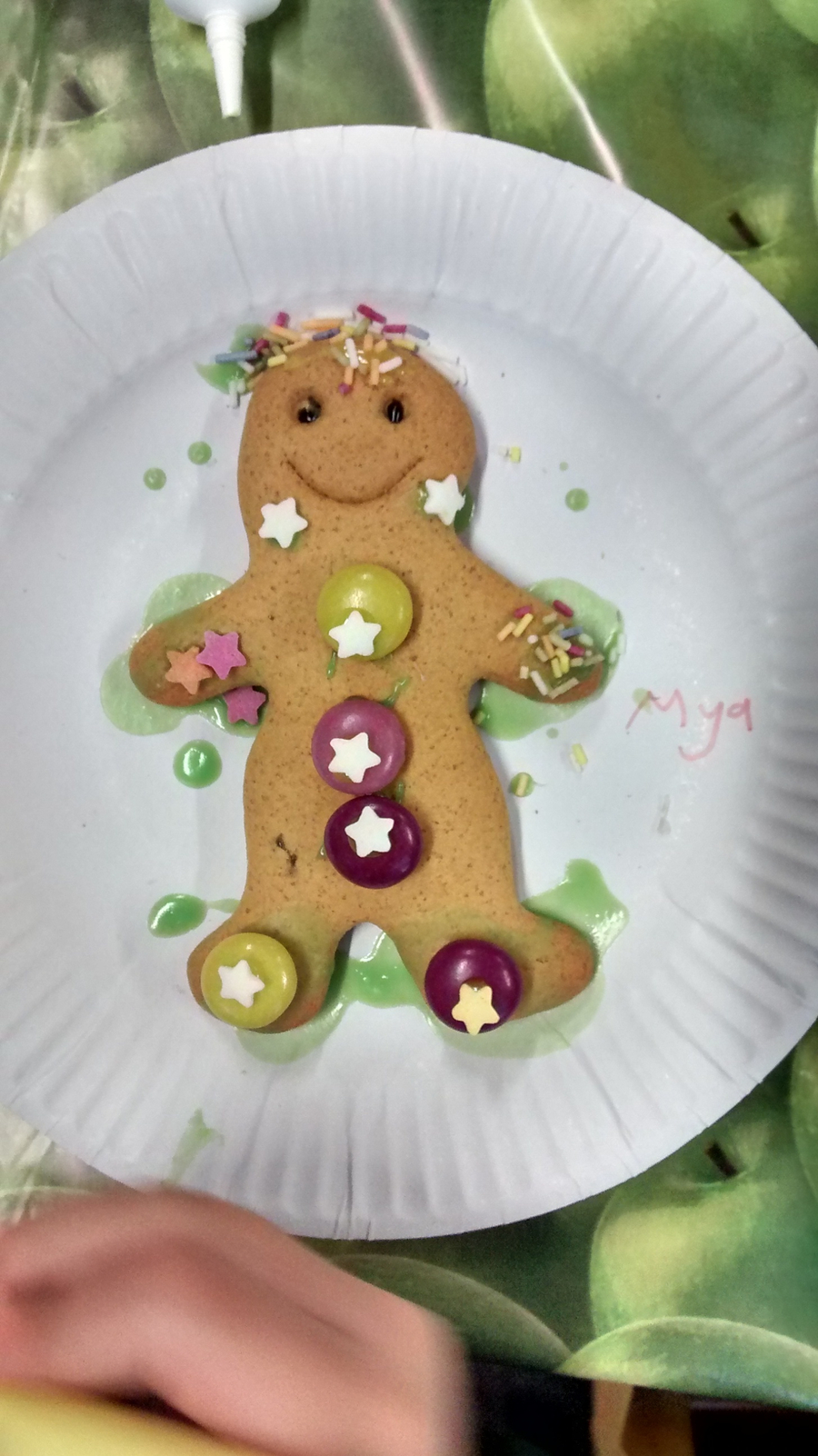 Literacy
Check out our fun ways of reading and spelling!
As part of our 'Fabulous Food' topic we made our very own pizzas. We investigated where all our ingredients came from.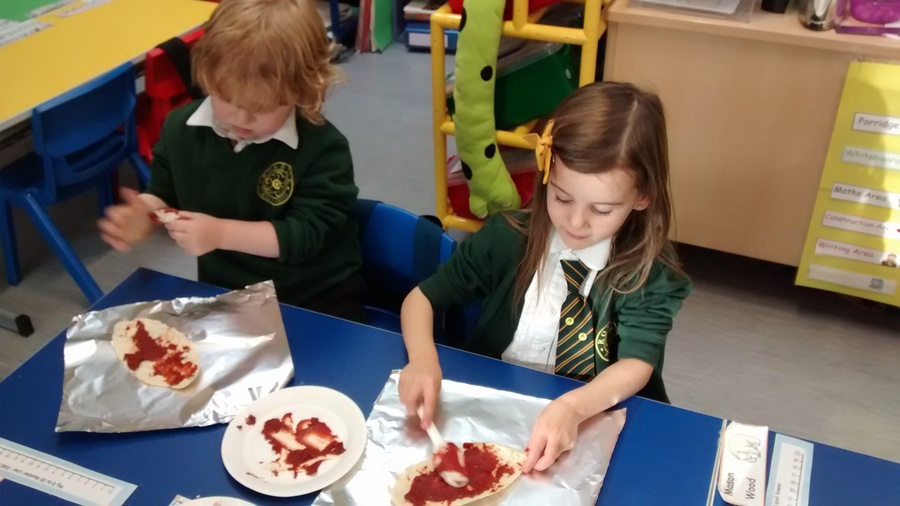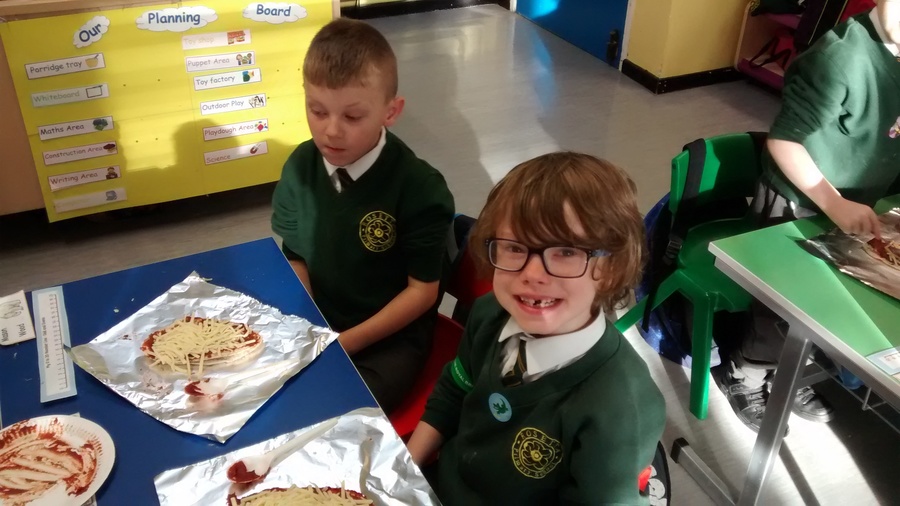 P2 have been learning how to spell 3 and 4 letter words. We practise our blending and segmenting by carrying out lots of interesting literacy activities. Have a look at our playdough spelling!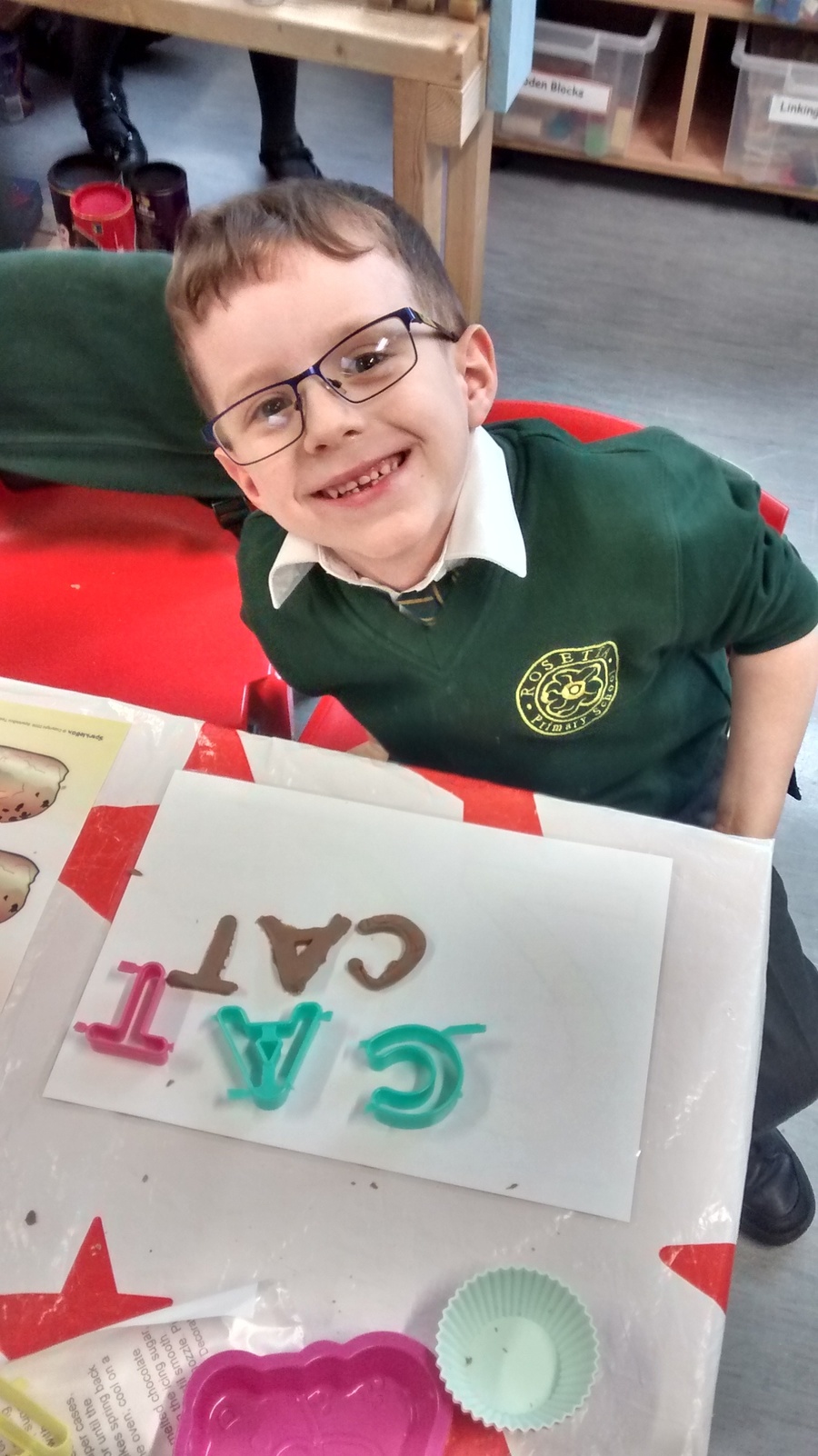 We flip our literacy pancakes and read the word on the other side. We have a go at spelling the word on the pancake and writing it in a sentence.
We are getting more confident stretching new words to help us spell with our magnetic letters.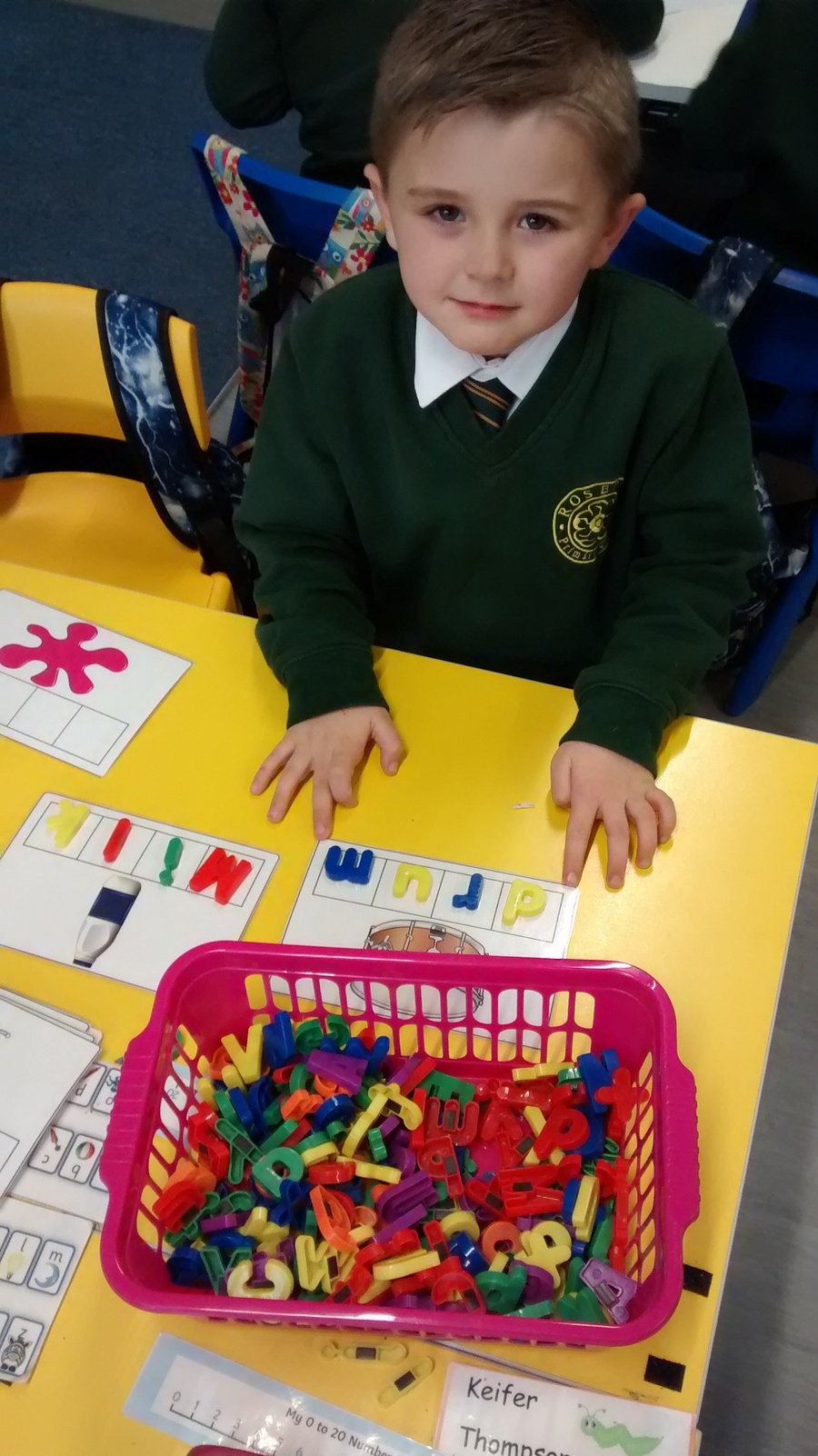 We thought about things that are nice to have in Winter and decided that hot chocolate is a lovely warm drink on a cold day. We researched how chocolate is made and looked on a map to find where in the world a cocoa plant grows. We watched a clip that showed the process involved in making chocolate. We then followed some instructions about how to make hot chocolate. We thought it was delicious!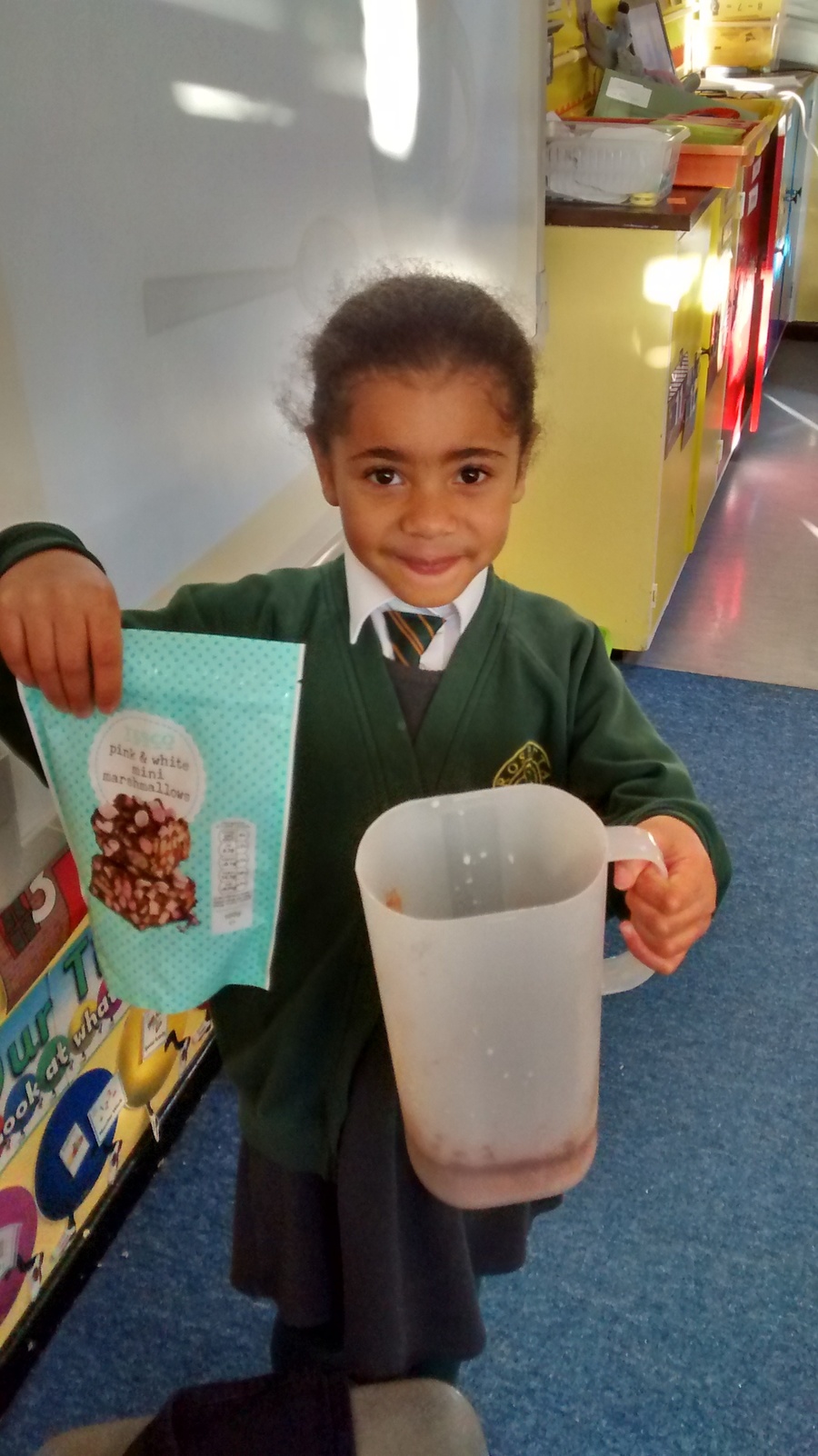 P2 have been learning about making totals within 20p. We have counted out different amounts of money to pay for things in our class bakery. We have also used bee-bots to help us identify coins. We know how to programme a bee-bot so it moves forward and backwards. We can also make it change direction.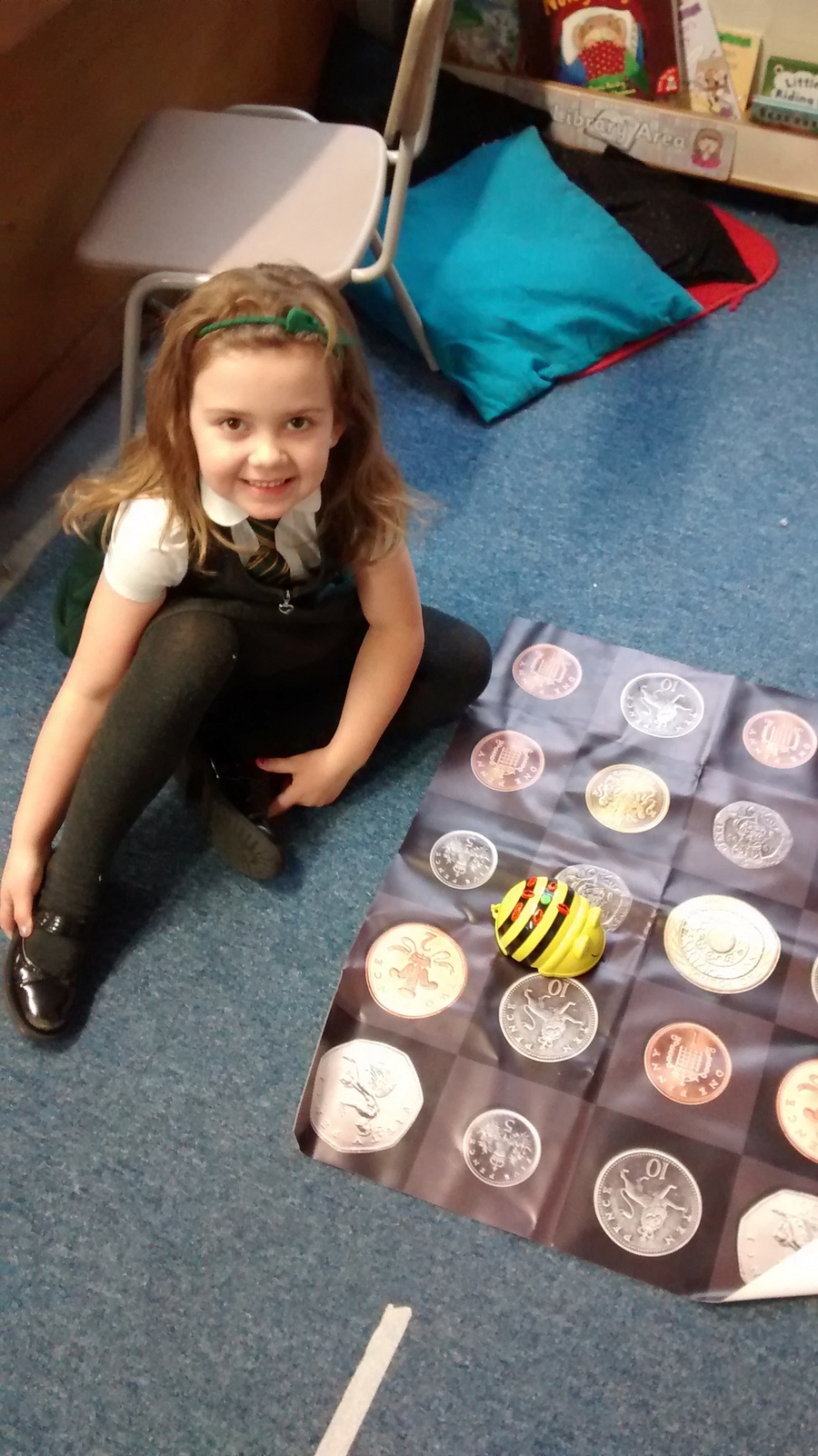 We talked about the story of 'Charlie and the chocolate factory' and thought it would be fun to make a chocolate river. We have been investigating objects that float and sink. We have looked at different materials and considered which ones are waterproof.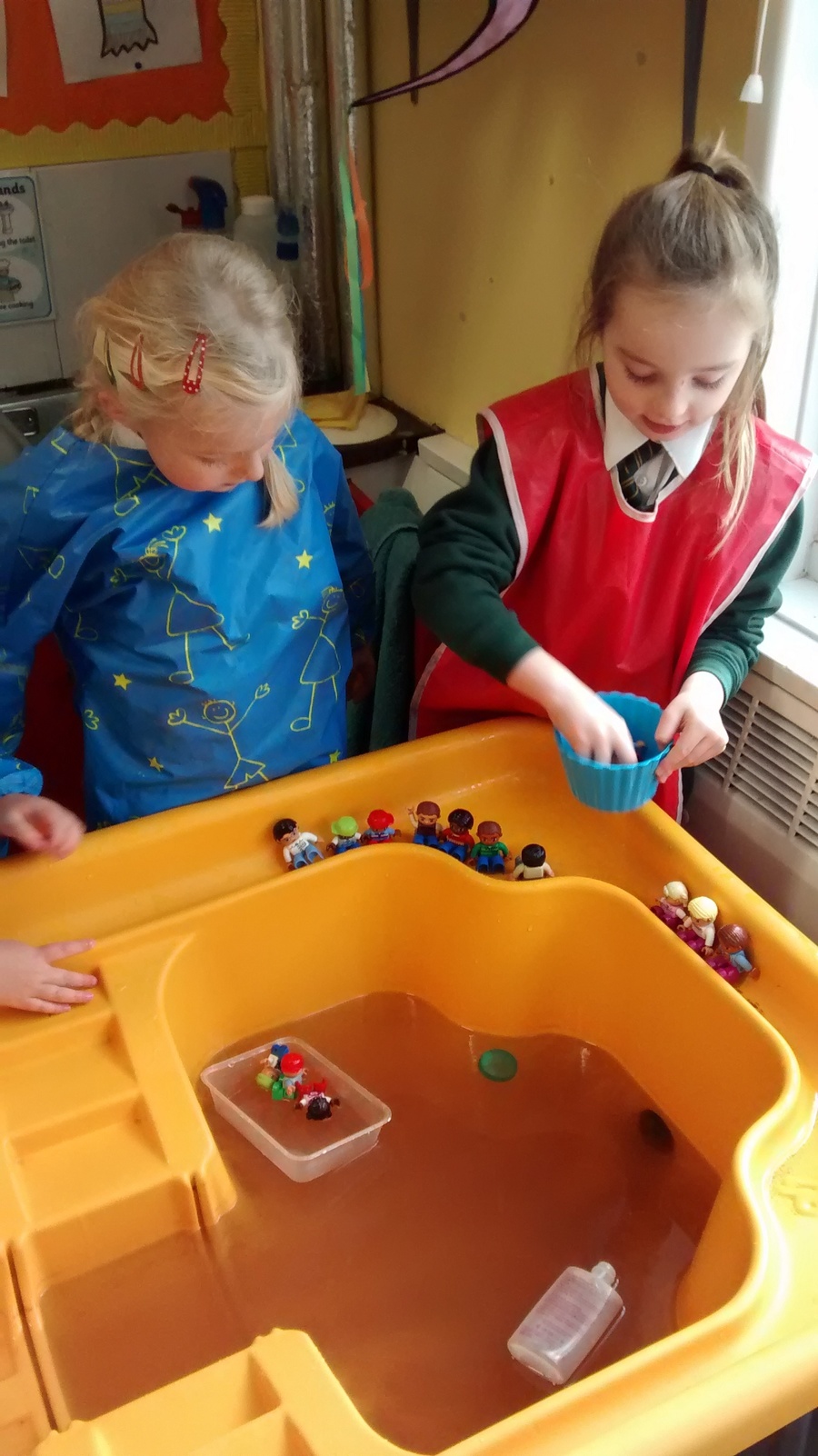 At our writing table we have been designing our own sweets, chocolates, cakes and cupcakes for our class bakery. We have spent time thinking of lots of fantastic and interesting flavours. We have used our phonics to help us stretch new words when we are spelling. You should come and try out some of our special treats!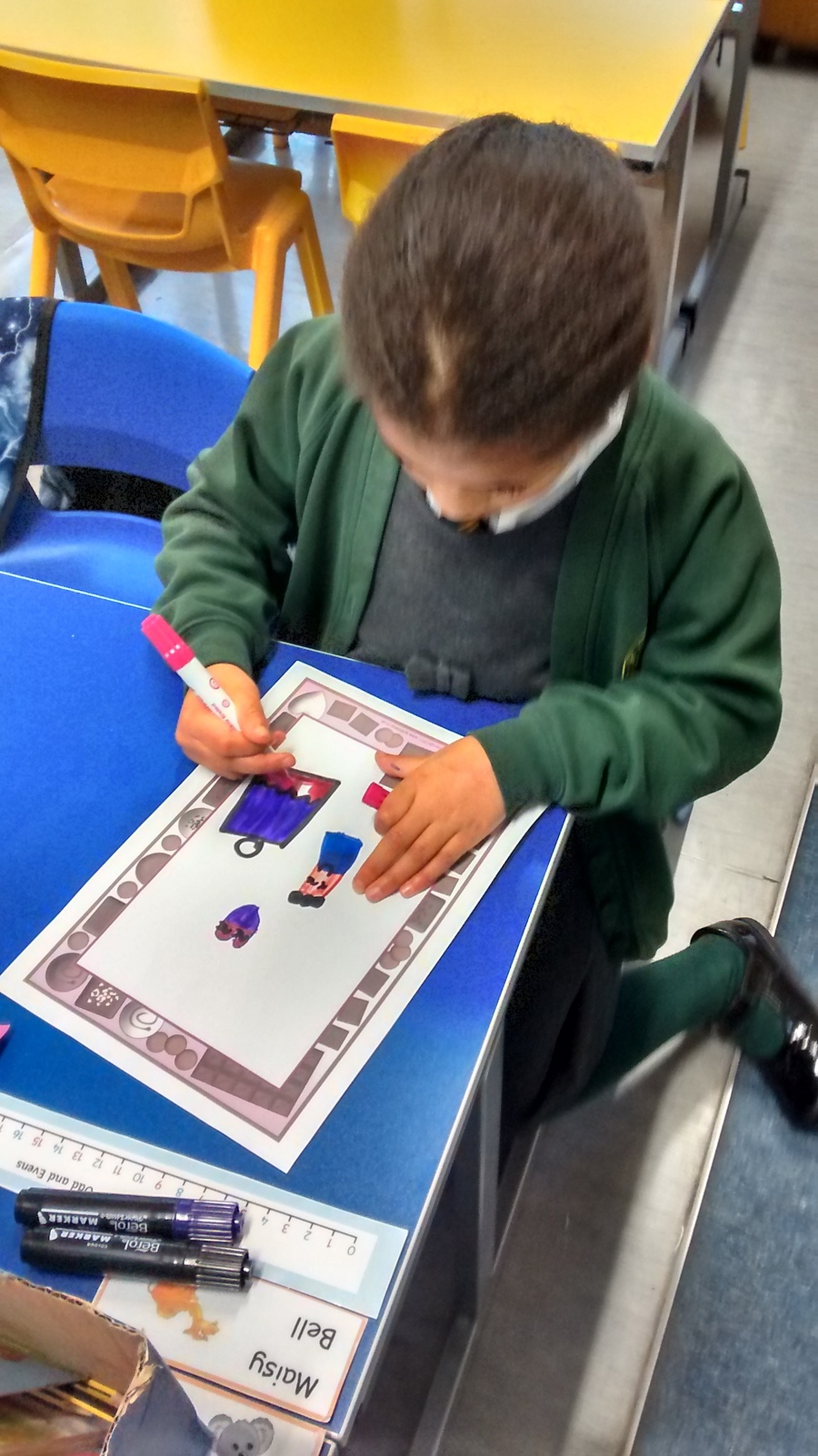 We have been learning about 2d shapes and have had the chance to build models and make patterns using our magnetic shapes.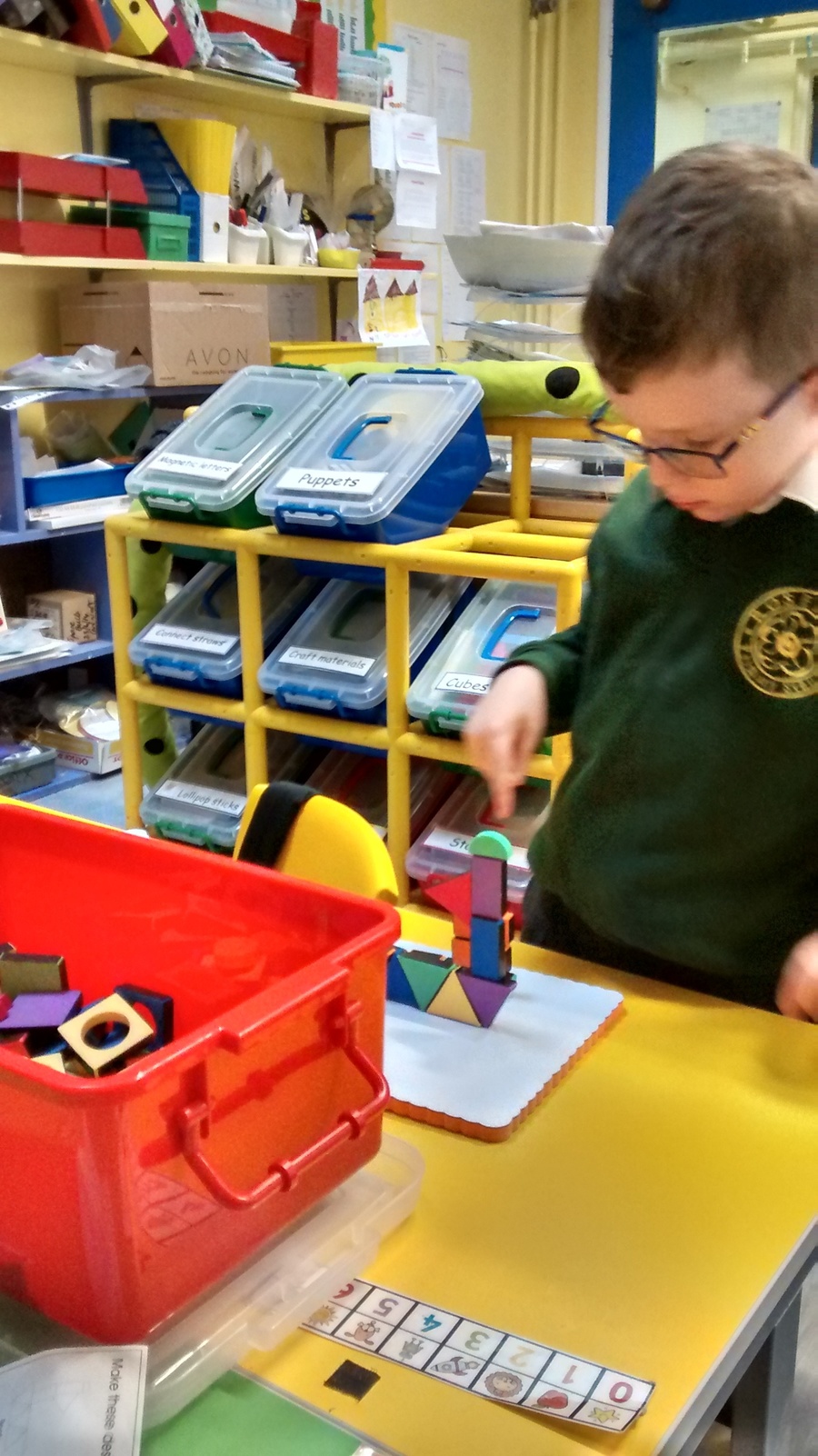 P2 went on a wildlife walk to the school forest area. We were looking out for birds and trying to spot things that are different colours. It was brilliant and we can't wait to go back out in the Spring time to see what changes there have been.
P2D
September
Our topic this term is 'Healthy Me' and we have been learning about how to stay fit and healthy.
We looked at the importance of doing exercise, washing our hands to get rid of germs and eating a balanced diet.
We have been doing lots of interesting activities linking with our topic.
We made different types of fruit out of our green apple-scented playdough.
We enjoyed choosing different colours of paint to use when we made fruit faces. We used sliced fruit to print faces. It was interesting seeing the shapes that each fruit created.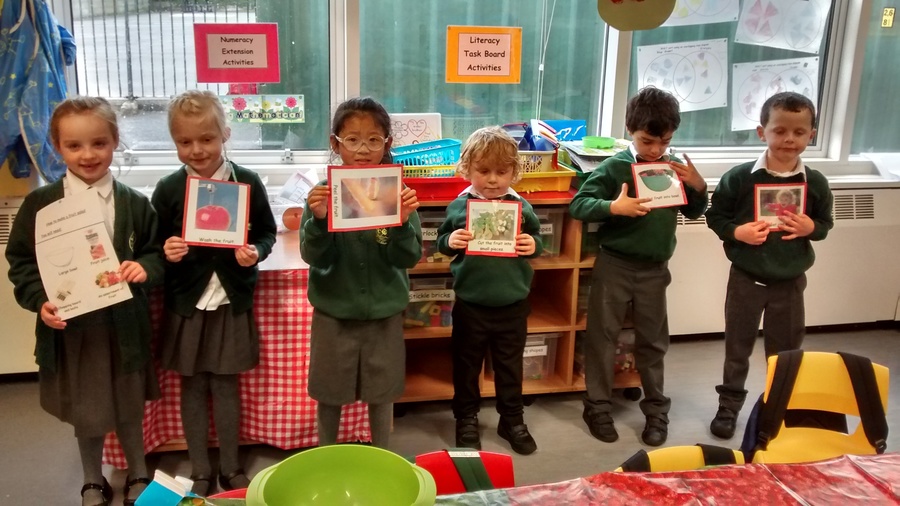 We followed a set of instructions explaining how to make a fruit salad. It was fun preparing the food and tasting it!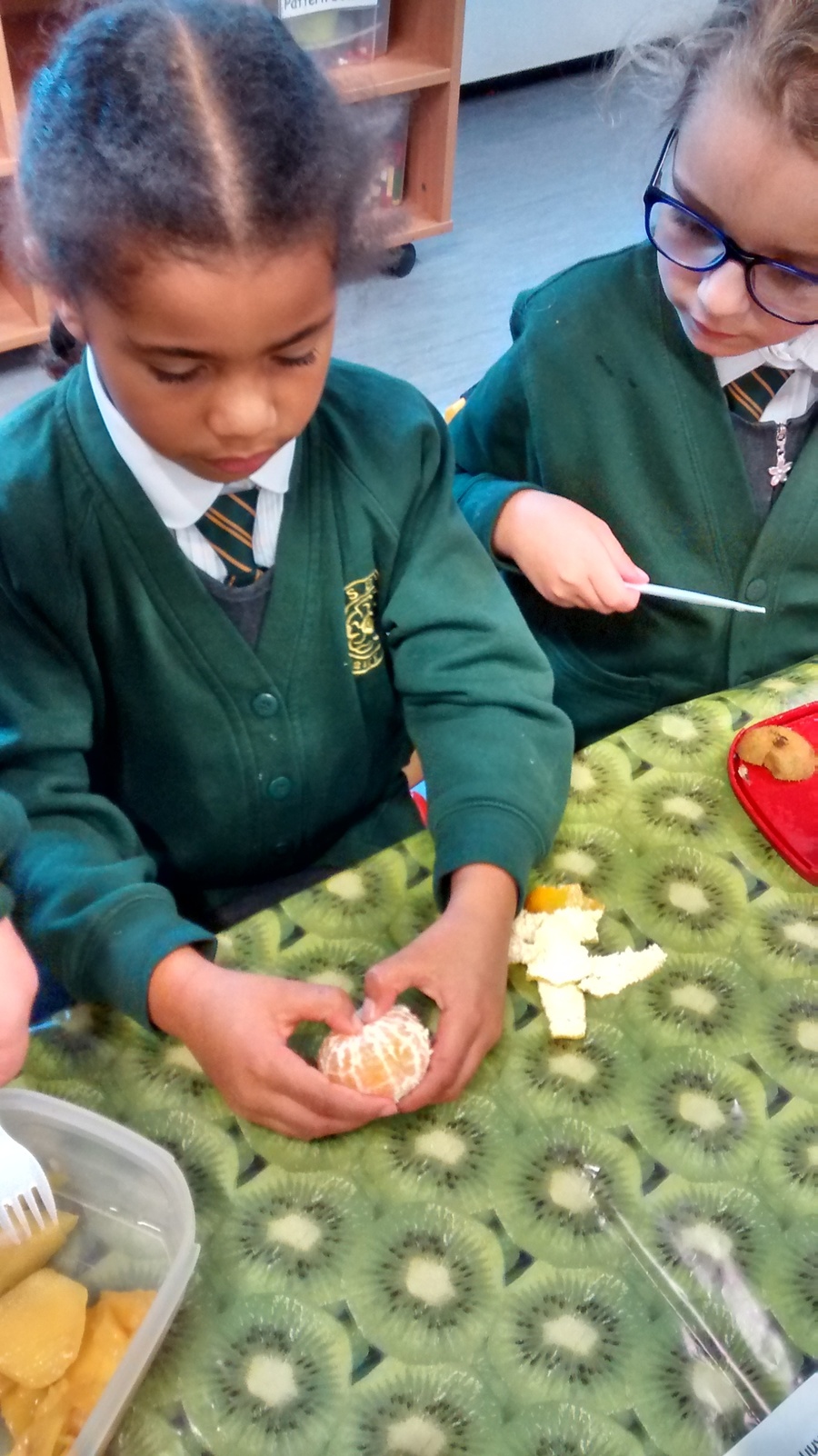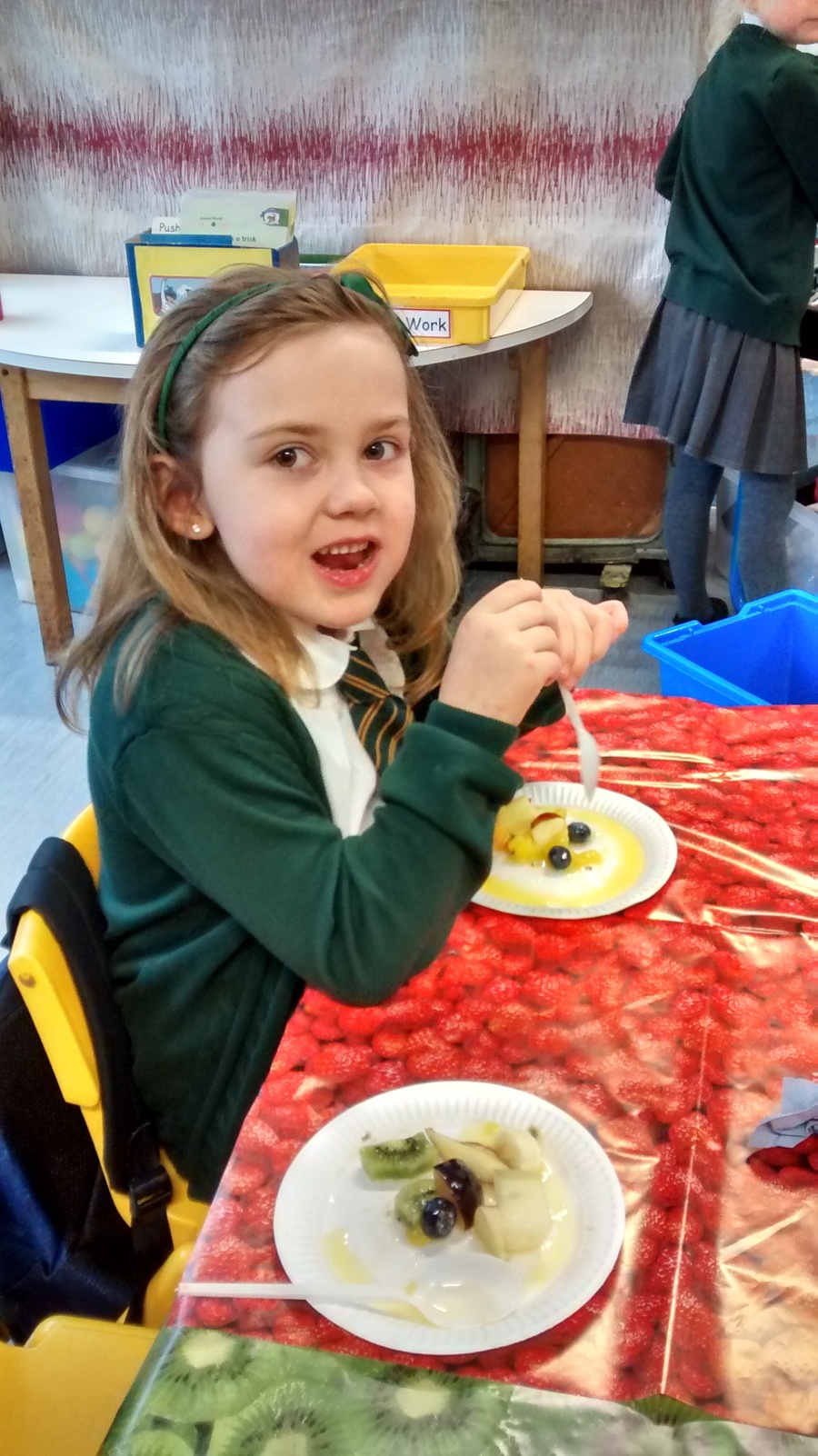 As part of our 'Healthy Me' topic we set up a doctor's surgery in our play area. We took on different roles such as a doctor, a nurse, a receptionist, a pharmacist or a patient.
We learned all about what a prescription was and why people get x-rays.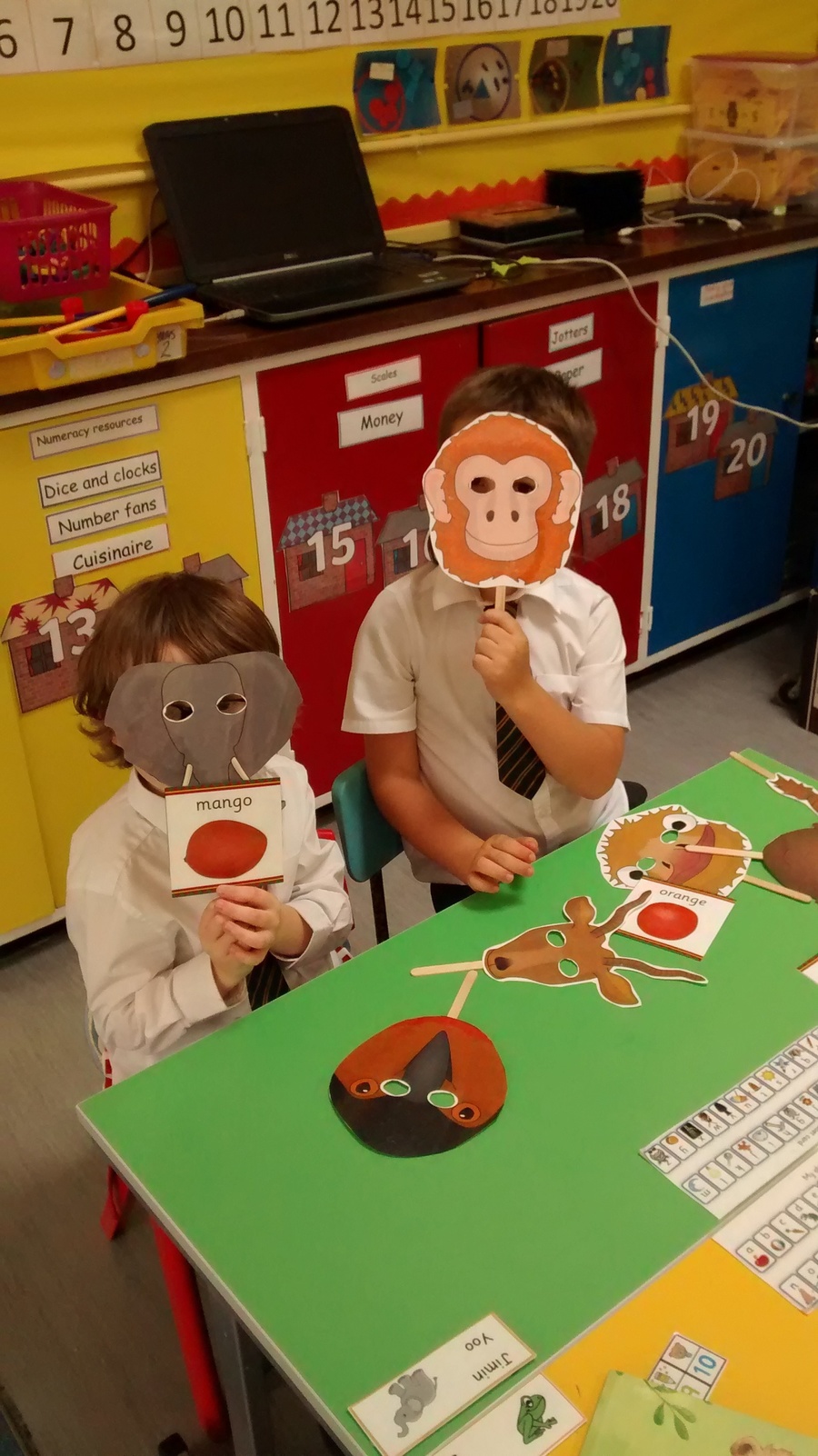 We really enjoyed looking at the story 'Handa's Surprise' this term. Handa talks about different exotic fruits. We used masks and did a drama acting out what happened in the story. We even had a chance to taste some of the fruits from the story. Most people thought the avocado tasted funny!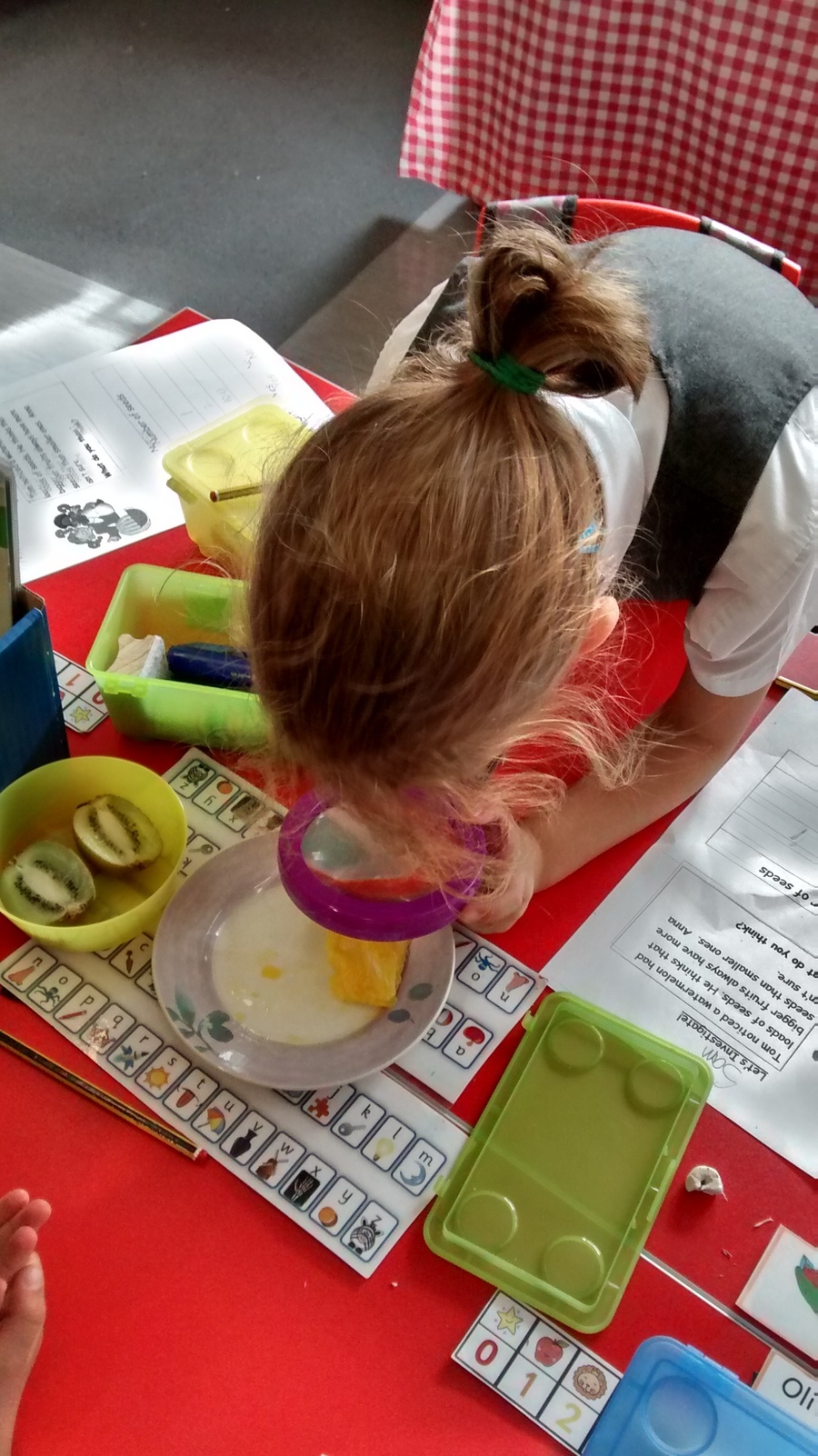 When we were reading about different fruits we decided it would be good to look at the seeds that each fruit had. We used tweezers to lift the seeds out of the fruits and then used magnifying glasses to compare the seeds.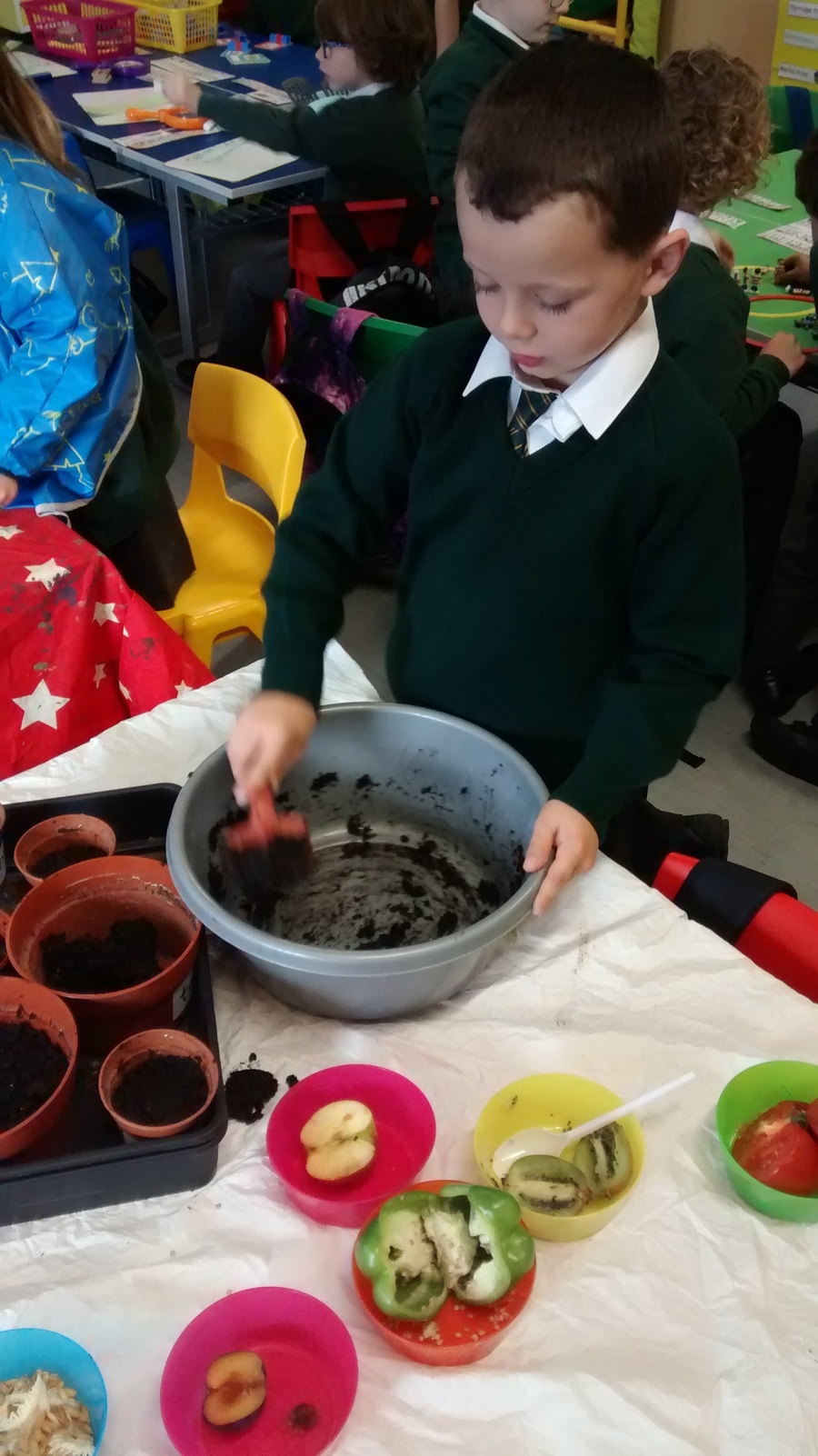 We thought it would be interesting to plant some of the seeds to see if they would grow. We have been watering them and making sure they have enough sunlight.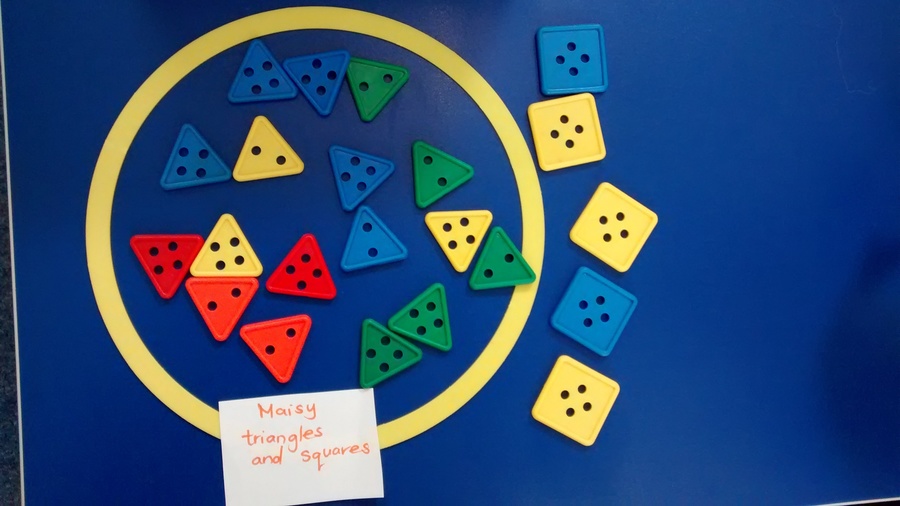 In maths we have been sorting lots of objects into sets using Venn diagrams.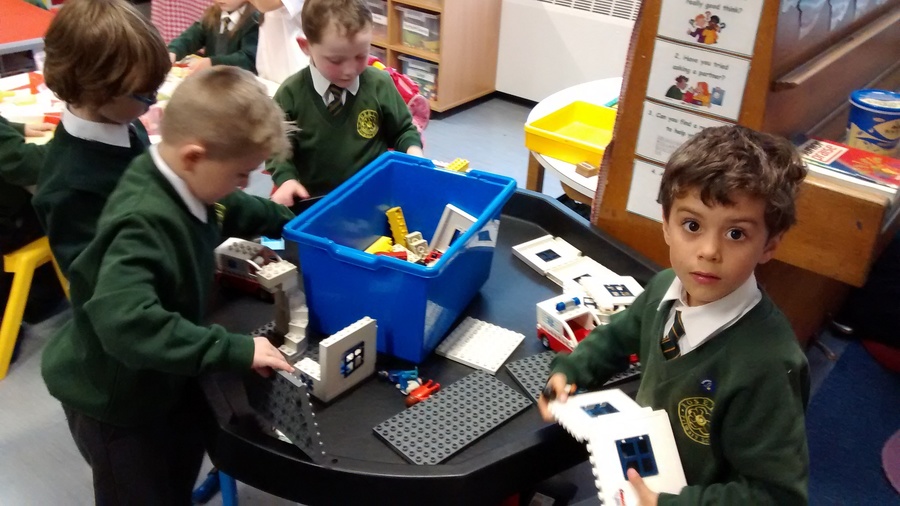 As part of our 'Healthy Me' topic we have been reading and finding out about people who help to keep us healthy and well. We have written about what a doctor, nurse and a dentist do. We have a duplo hospital and we have loved using role play to act as doctors and patients.