Admission information - 29th November 2017

Admission forms are available in the school office from Wednesday 29th November 2017.
Please return your completed admission form to the school office by Wednesday 10th January 2018 by 12 noon.
The criteria for admission to Nursery are:
1. Children born between 2 July 2014 and 1 July 2015 whose parent(s)/guardian(s) are from socially disadvantaged circumstances*.
2. Children born between 2 July 2014 and 1 July 2015.
In the event of over-subscription, within either of the above criteria, preference will be given in the order set out below
(a) Children who have a brother/sister, half-brother/half-sister resident at the same address currently enrolled as a pupil in Rosetta Primary School
(b) Children who have a parent/guardian who is a current permanent employee of the school. (Indicate name and capacity in which employed)
(c) Children who will have a brother/sister, half-brother/half-sister resident at the same address, enrolled as a pupil in Rosetta Primary School in September 2018.
(d) Children who have a brother/sister, half-brother/half-sister resident at the same address formerly enrolled as a pupil in Rosetta Primary School. (Indicate name and years of attendance)
(e) Children whose parents have nominated Rosetta Primary School Nursery Unit as their first choice.
(f) Children who reside in the electoral wards of Rosetta, Ballynafeigh, Ravenhill, Wynchurch or Cregagh as defined by OS map (www.ordnancesurvey.co.uk/electionmaps/ni/
(g) Children from other areas.
In the event of there still being more applicants than places then selection will be on the basis of the initial letter of the child's surname as recorded on the child's birth certificate in the order as set out below:
X, P, Y, Z, M, T, K, E, S, D, Mac, Mc, J, H, F, I, L, C, O, U, G, Q, N, B, O', V, W, A, R
The child's Birth Certificate must be attached to application. All applications must be accompanied by proof of residence (eg utility bill, bank or building society statement, the child's medical card or a letter awarding child benefit), dated within three months of application.When considering which children should be selected for admission, the Board of Governors will only take into account information which is detailed on or attached to the application form. Parents should therefore ensure that all information pertaining to their child and relevant to the school's admissions criteria is stated on the application form or attached to it. Examples of such information include whether the child has, or had, brothers or sisters attending the school.
The criteria for admission to Primary 1 are:
Children who have a brother, sister, half-brother and/or half-sister resident at the same address, currently in attendance at Rosetta PS.

Children whose parent/guardian is a permanent employee of the school in the school year 2017/2018. (Indicate name and capacity in which employed)

Children whose brothers, sisters, half-brothers and/or half-sisters, resident at the same address, previously attended the School. (Please indicate name and year of attendance.)

Children who attended the Nursery Unit of the School in the School year 2017/2018
If Y1 is over-subscribed the following criteria will apply in the order below.
(a) Preference will be given to those children who live nearest to the school, measured as the crow flies using freemaptools.com from home (address and postcode) to the school (address and postcode).
It is the Parents' responsibility to ensure that any information relevant to these criteria is included on the Application Form.
The child's birth certificate should be attached to the application form. All applications must be accompanied by proof of residence (eg utility bill).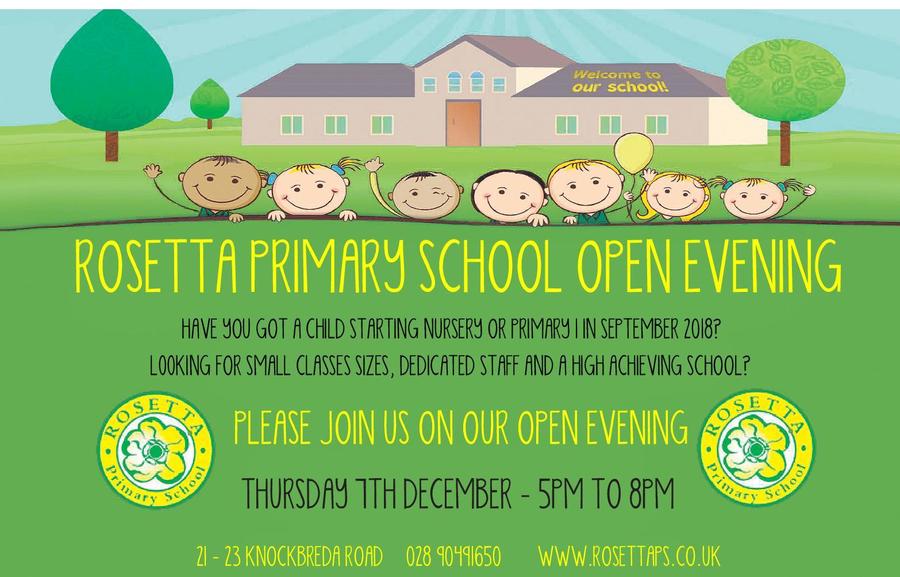 OPEN EVENING FOR NURSERY & PRIMARY 1
THURSDAY 7 DECEMBER 2017 5:00 PM - 8:00 PM
Principal's talk at 5:30pm and repeated at 6:30pm
Junior Choir singing at 5:15pm and Senior Choir at 7:45pm
Love to read?
The Rosetta Readers Bookshop is now open in the foyer. ALL books are £2.50 - great value!
Come along and check out our fabulous range of books, from Roald Dahl to Michael Morpurgo.
If Mrs Osborne is not there, please use the Honesty Box.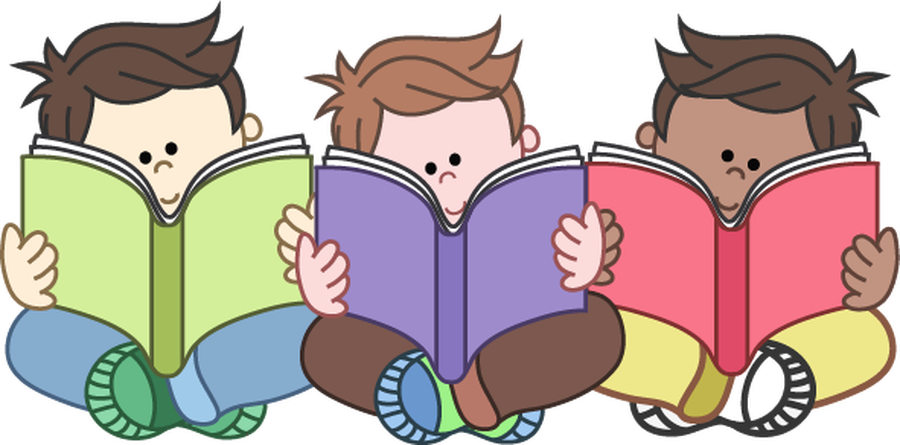 Charity
We are collecting used stamps for CLIC Sargent. They use the money raised to fund their Home from Home, providing a place for families to stay close to their child in hospital. There are two Home from Home's in Belfast, near the Royal and City Hospitals. Please cut the stamps off envelopes and send them into your child's class.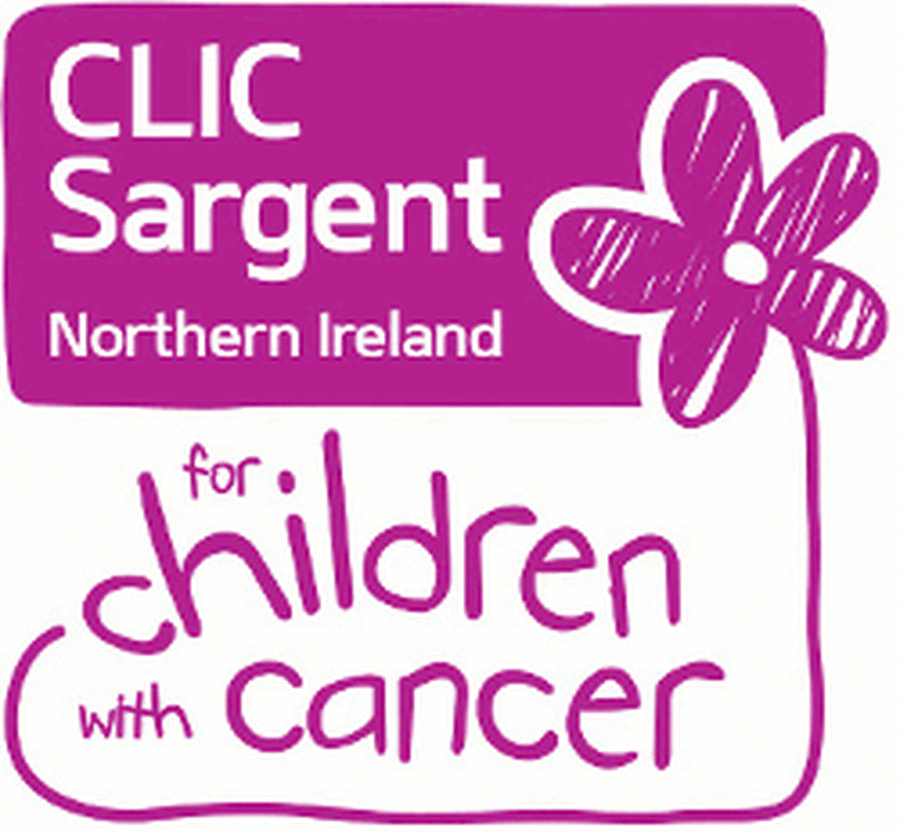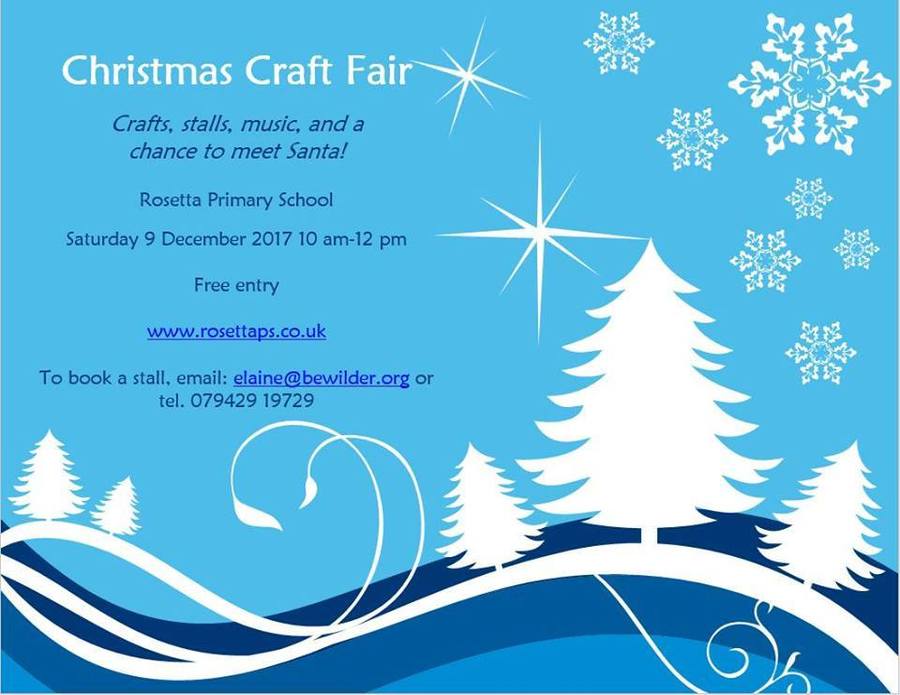 Come along to our fantastic Christmas Craft Fair on Saturday 9th December from 10am to 12pm.
If you're interested in booking a stall please email elaine@bewilder.org
Halloween Disco
Pupils from Primary 4 to Primary 7 enjoyed a night of dressing up, dancing and treats at our annual school Halloween disco. The costumes were fantastic, with prizes for the best dressed and most inventive dance moves for each year group.
Thank you to our PTA team for organising the disco and arranging the tuck shop for the pupils to enjoy some yummy treats!
Corrie's Sausage Competition
Three children from Primary 3 and 4 were selected to take part in a sausage competition last week along with students from Loughview Integrated Primary School. The Rosetta students; Lily, Lucas and Anna; were invited to the Ormeau Road store to create their own unique sausage, which went on sale from last weekend.
The different flavours were;
The Hot Spice Monster - Onions, chilli and jalapenos (Lucas)
The Sweet Strip - Apple and pear (Lily)
The Christmas Sausage - Onions, sage and cranberry sauce (Anna)
CONGRATULATIONS to Anna who sold the most sausages. In the coming weeks Anna will have the opportunity to go to the final in La Mon Hotel and cook her delicious sausages!
Thank you for your support during this fantastic event and well done to everyone involved!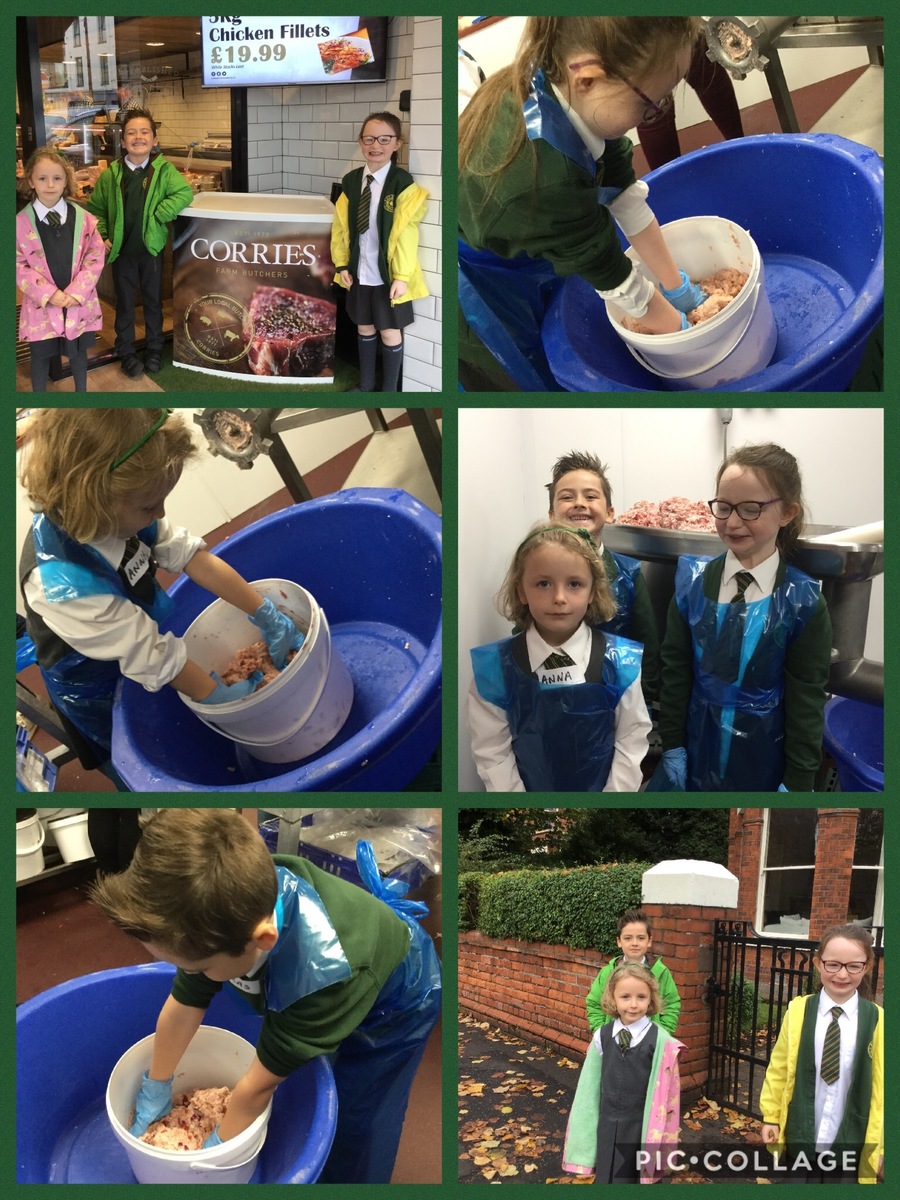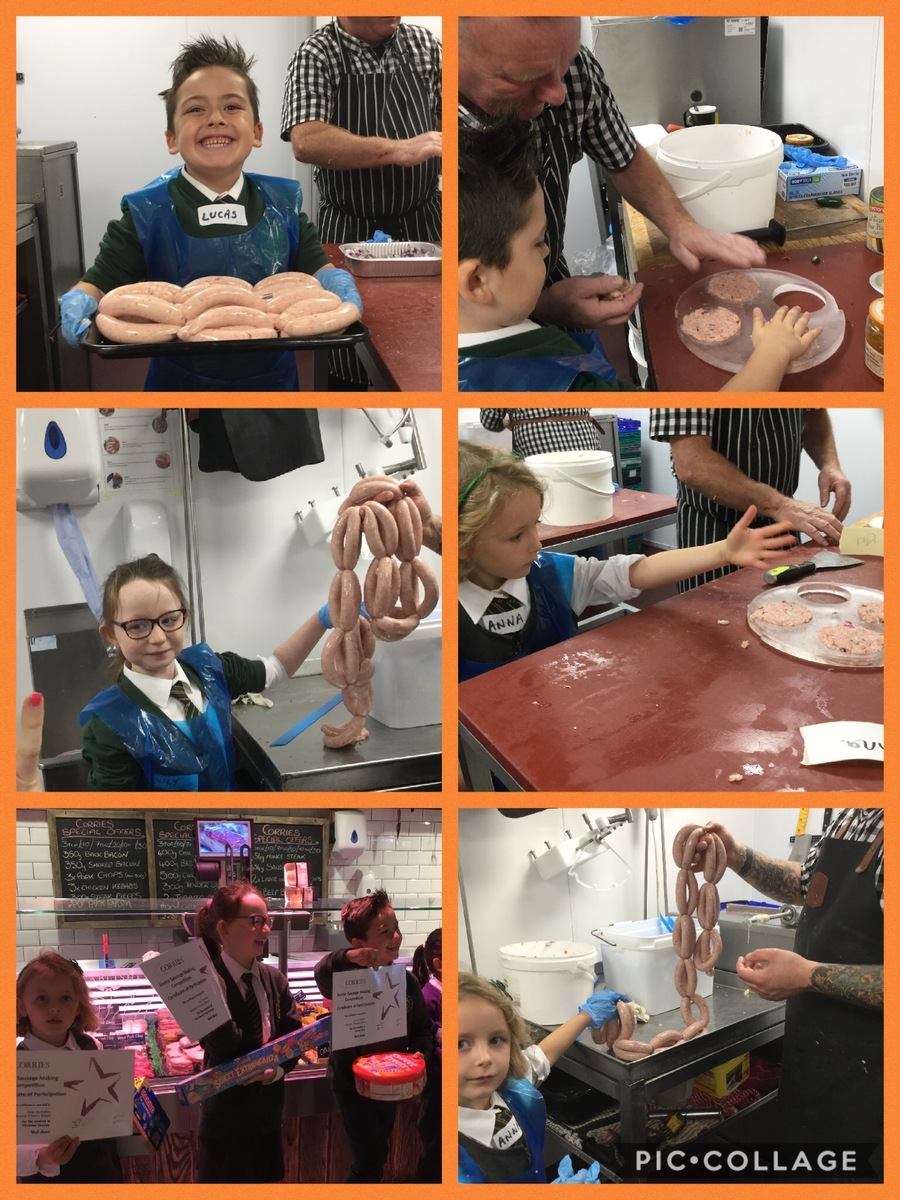 STEM week
The whole school participated in a brilliant variety of activities for our first ever STEM week, with all pupils from nursery to P7 getting involved.
W5 outreach came to enthuse us with their "science magic" show. We had to decide if they were doing magic or science. It was very exciting, they had exploding rockets and spinning water jugs!
All classes had a Big Science Day on Tuesday. P1-P3 dressed up as scientists to help get into the role and everyone helped plan and carry out a range of science investigations and experiments. We considered fair testing and how best to record the results and finally the results were interpreted and conclusions reached.
Our "take it apart" party took place on Wednesday. Each class dismantled gadgets or toys to see what components went into making them. Some were easier to take apart than others! Some classes reassembled the parts into interesting sculptures or turned them into another gadget. It was great fun!
All week the pupils did a technology challenge, using a range of tools and materials to make a finished product. There were marble runs, water clocks, parachutes and even a model to demonstrate what happens during an earthquake. The children really enjoyed working on their project.
The week ended with our science and technology fair. This was a fantastic opportunity for the pupils to showcase their learning and demonstrate some of the activities they had been doing. It was really well supported with lots of parents and carers coming to see the brilliant displays. Pupils were able to explain the technical elements and many parents commented on how articulate and confident they were. A big thank you to everyone who came and supported this event. A very worthwhile and successful week.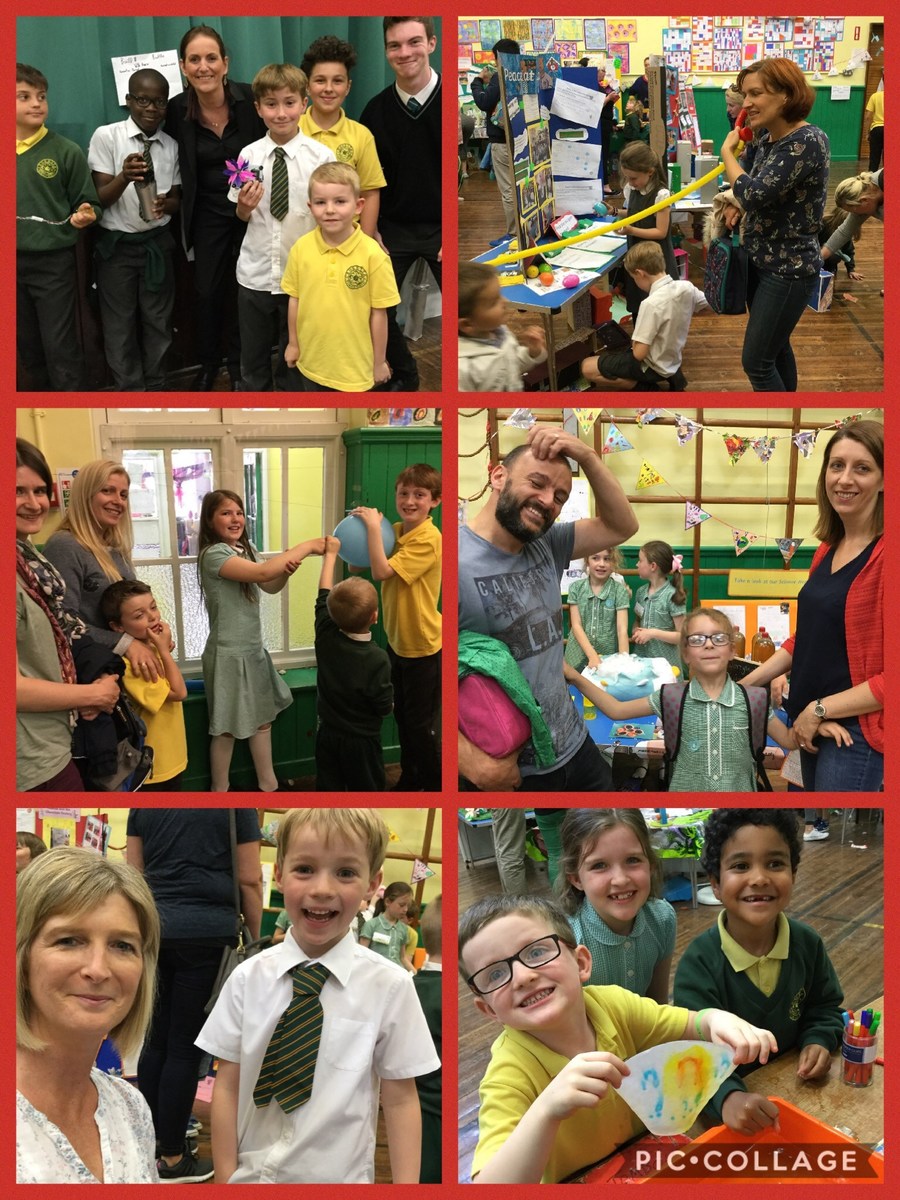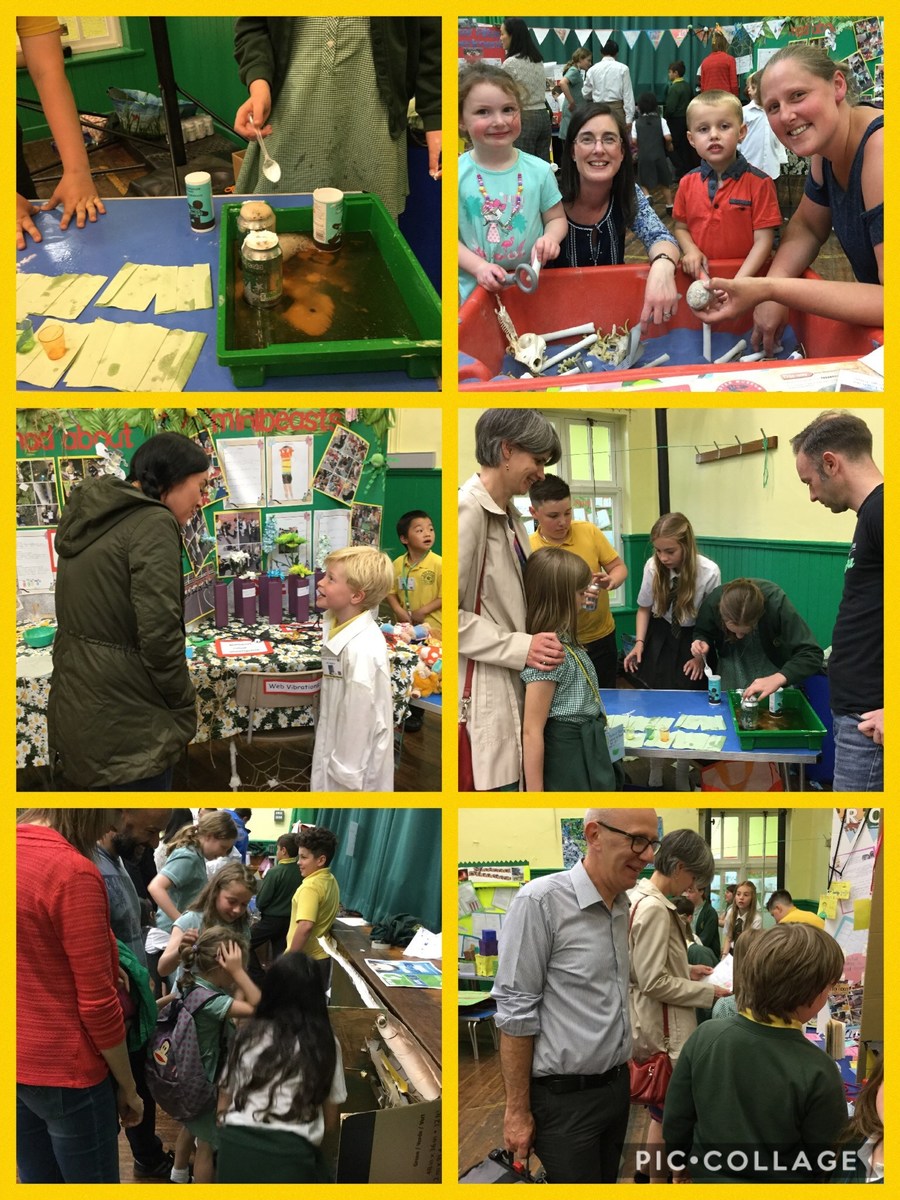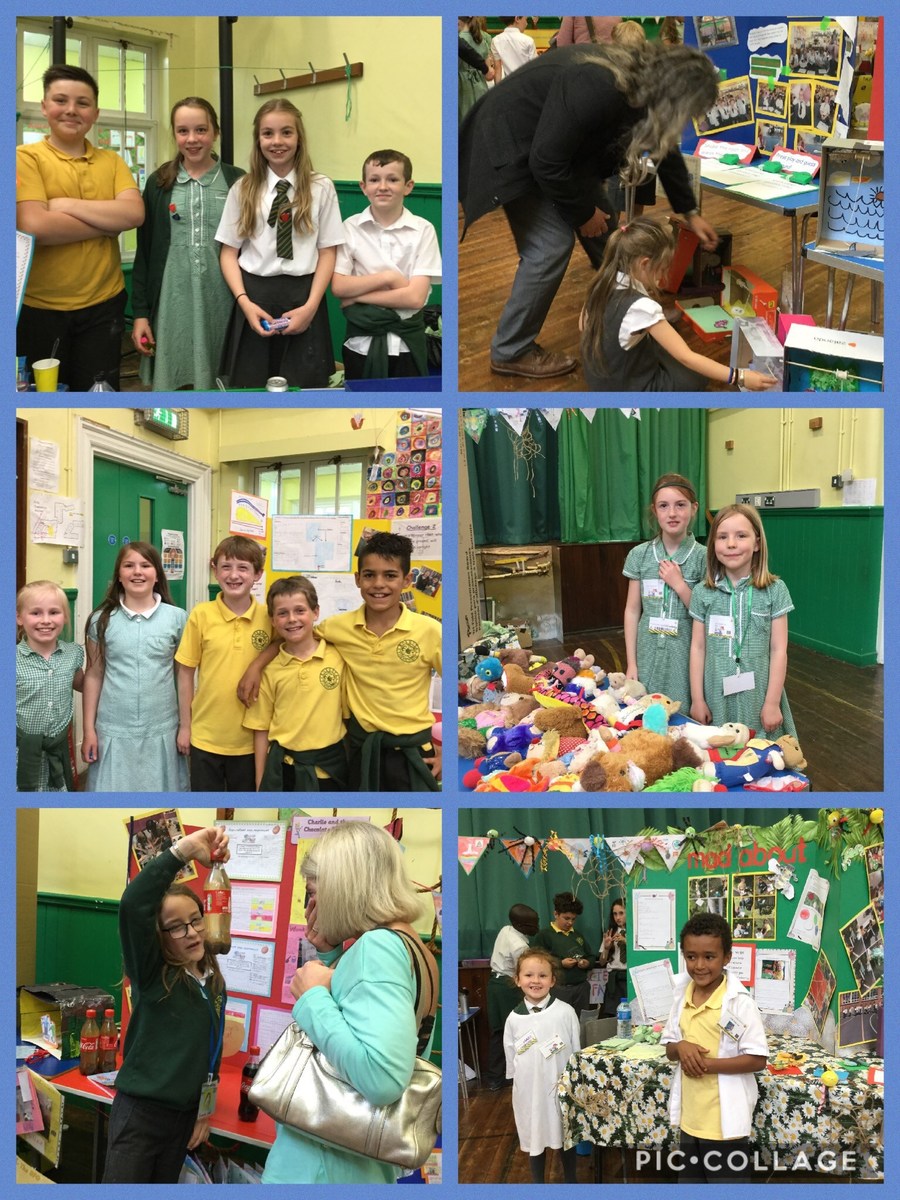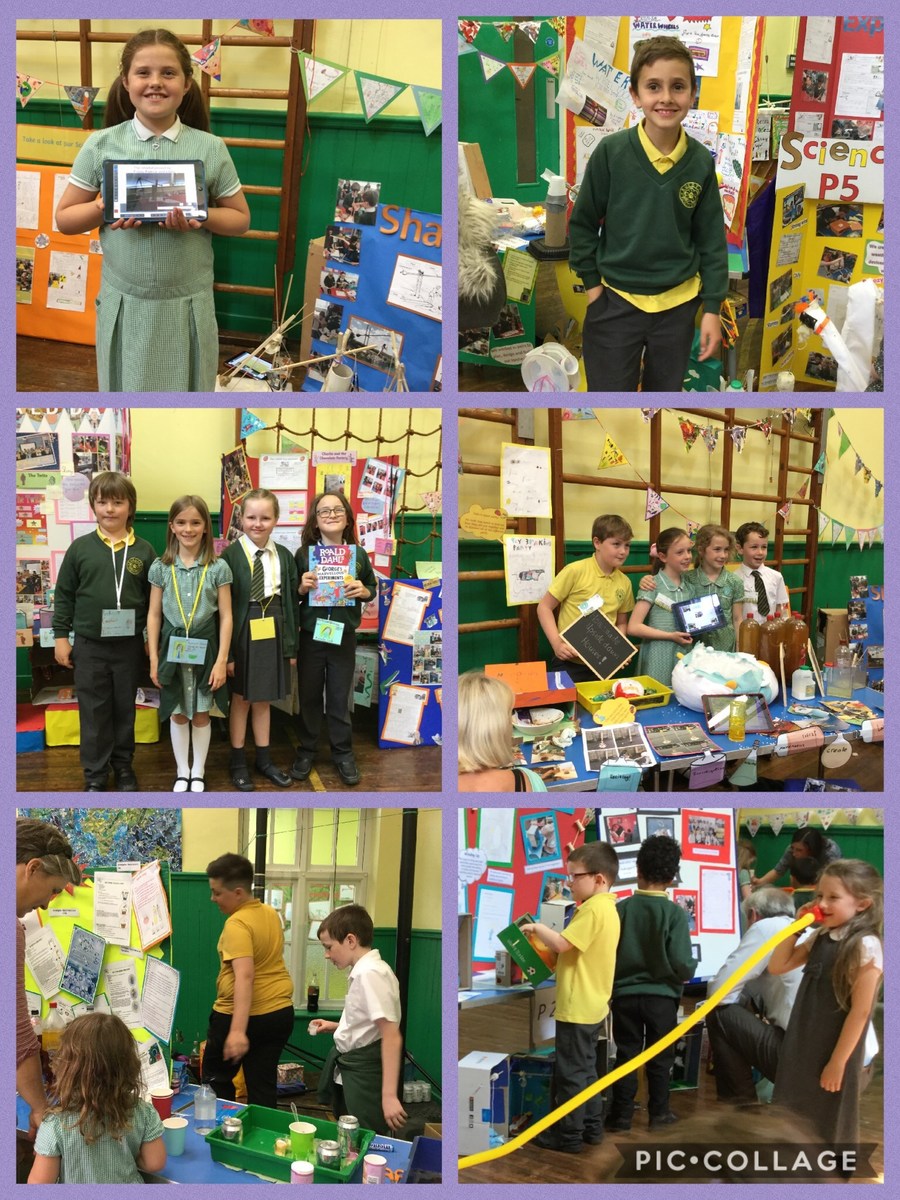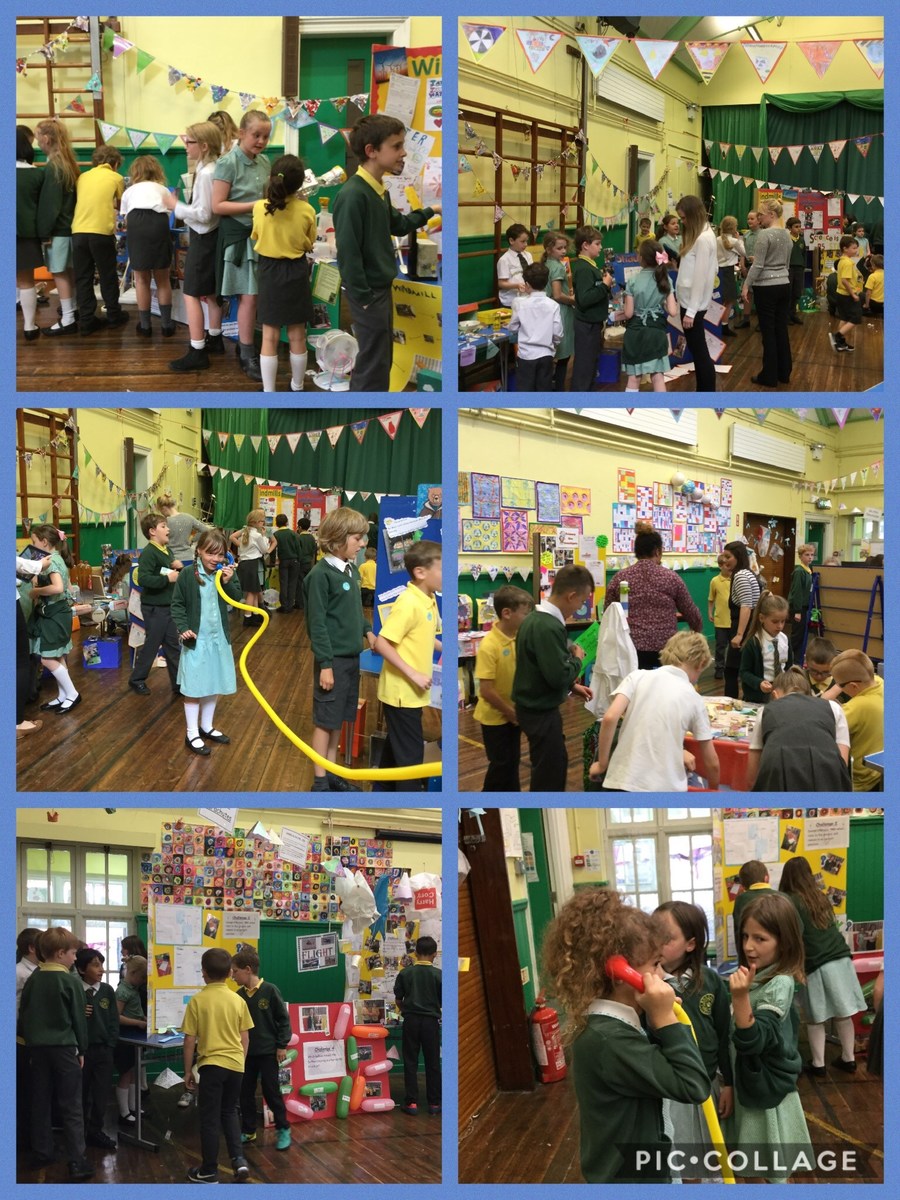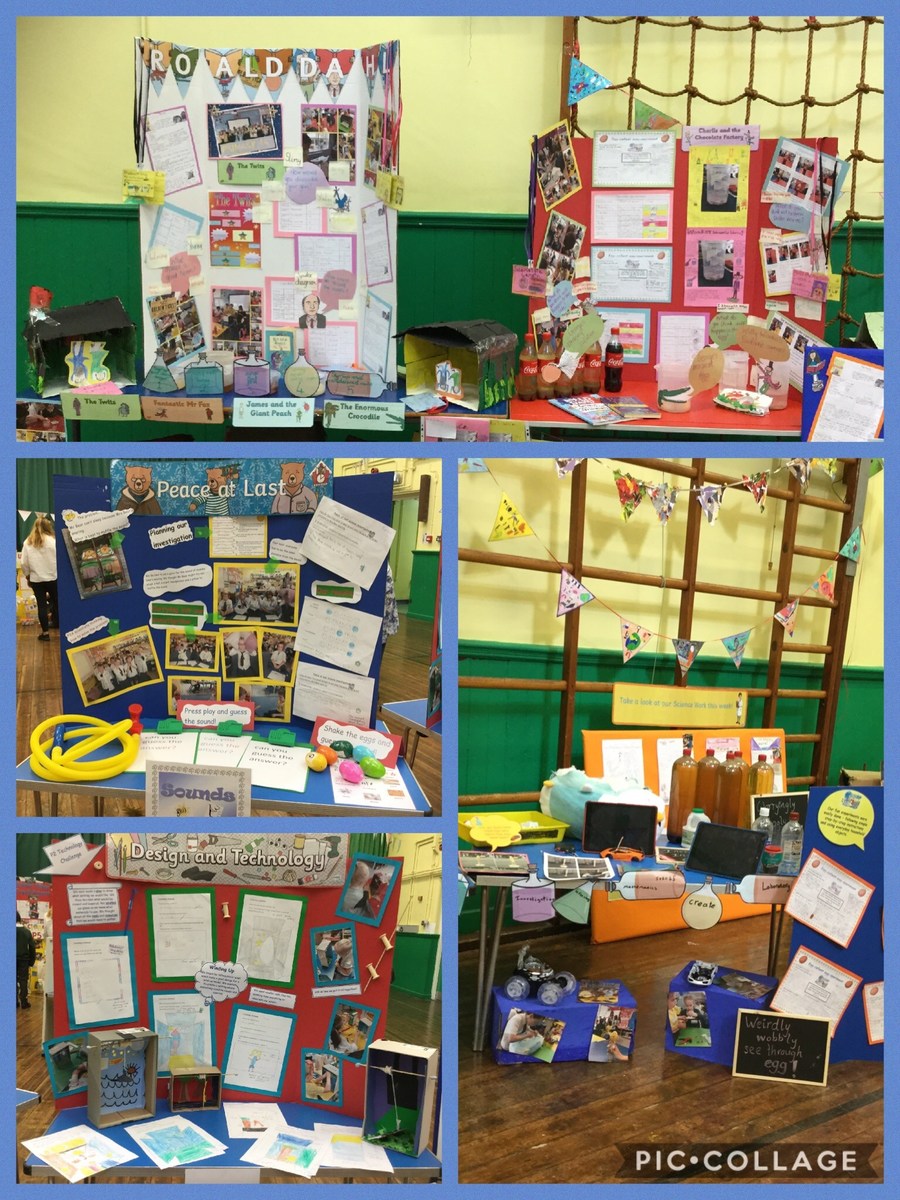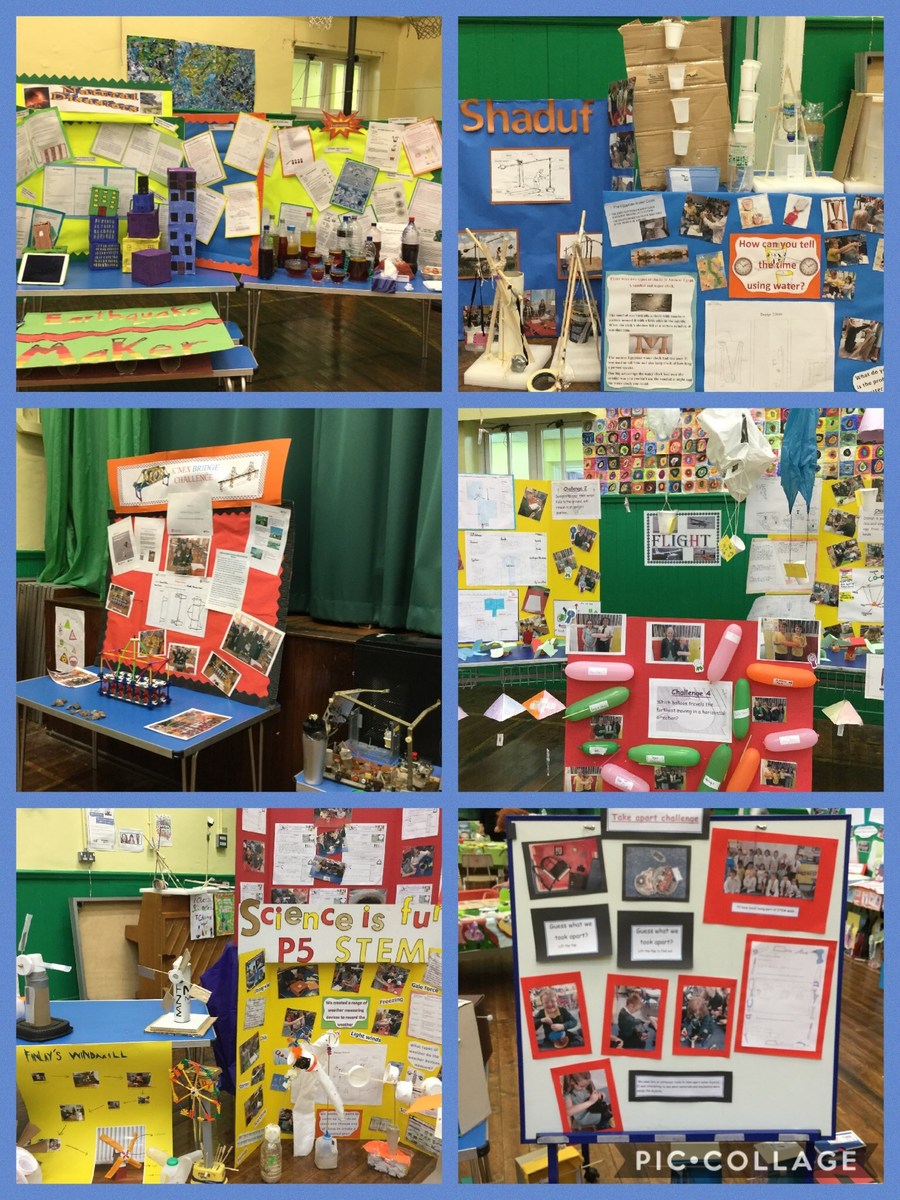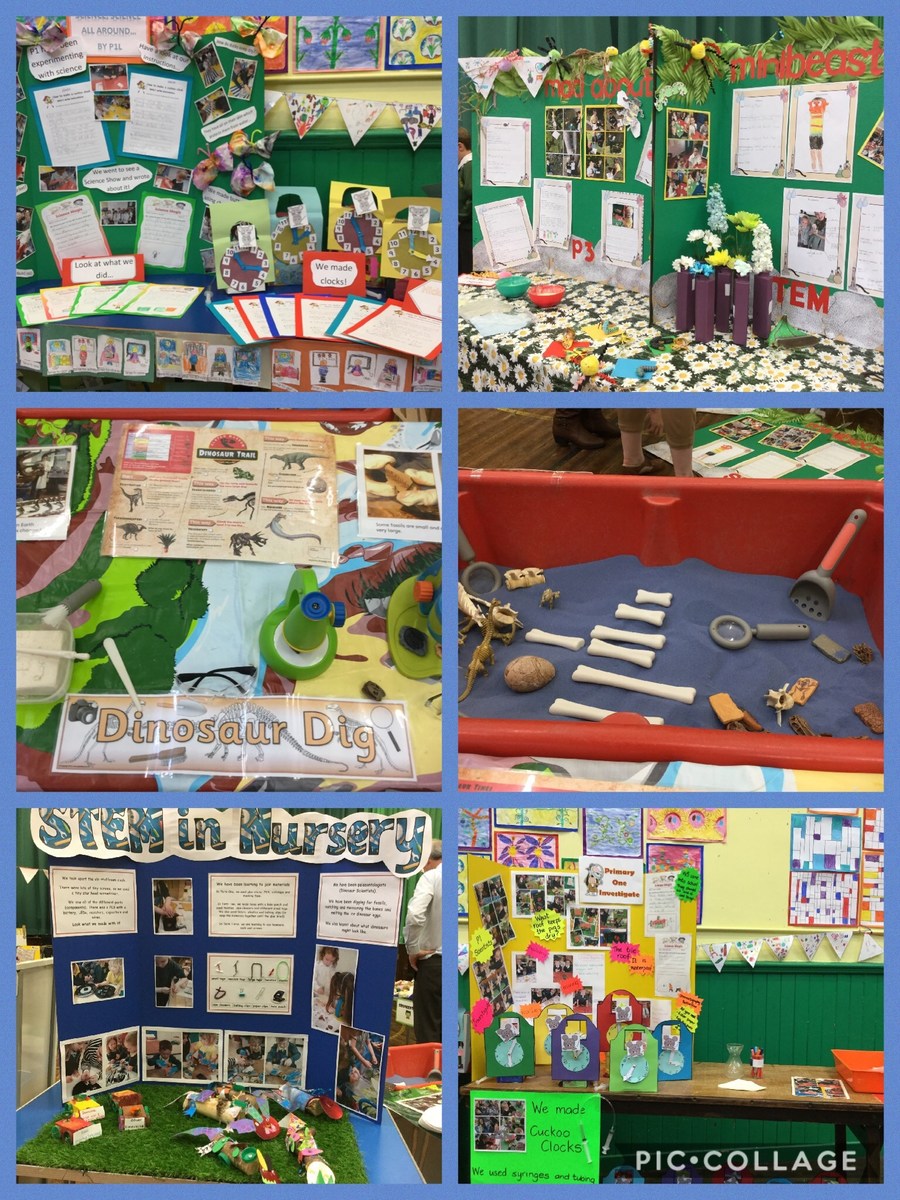 Corrie's Burger Competition Update!
P3 pupil Drew Cunningham was selected to make his popular 'Spicey Mouth' Burger at the Forestside Cookery School with Chef Jeffers on Tuesday 6th June. Following some tough competition, we are pleased to announce that Drew successfully beat 5 others to claim the title of the 2017 Burger Champion! We wish to congratulate Drew and his sous chef Jamie Thompson on their hard work and exemplary behaviour at the cookery school. Drew has won vouchers for Corrie's and a 'We are Vertigo' goody bag along with a soon to be engraved trophy! Well done to all the children and schools who took part and a special thanks to the staff at Corrie's and the Forestside Cookery School.
Spicey Mouth burgers will be on sale again at Corrie's Butchers, this weekend.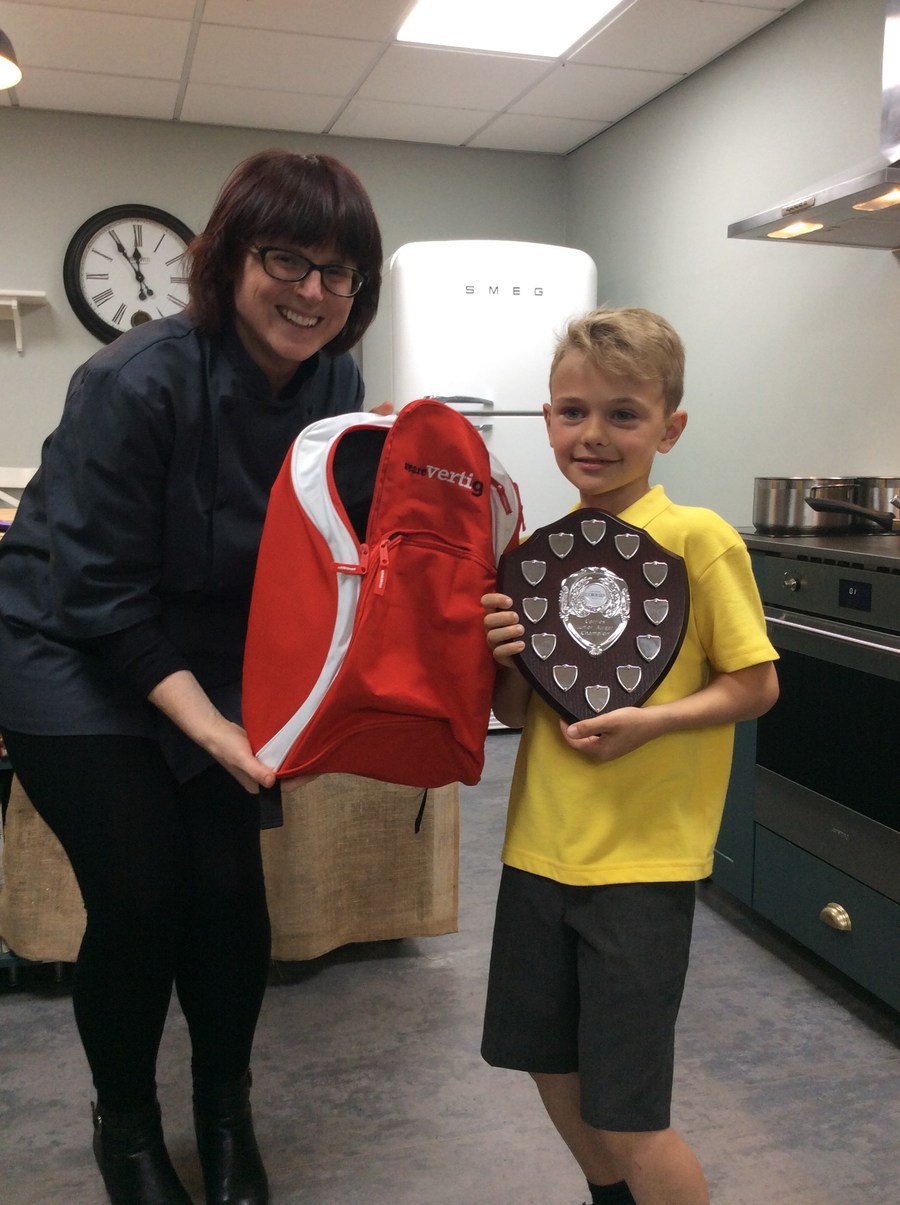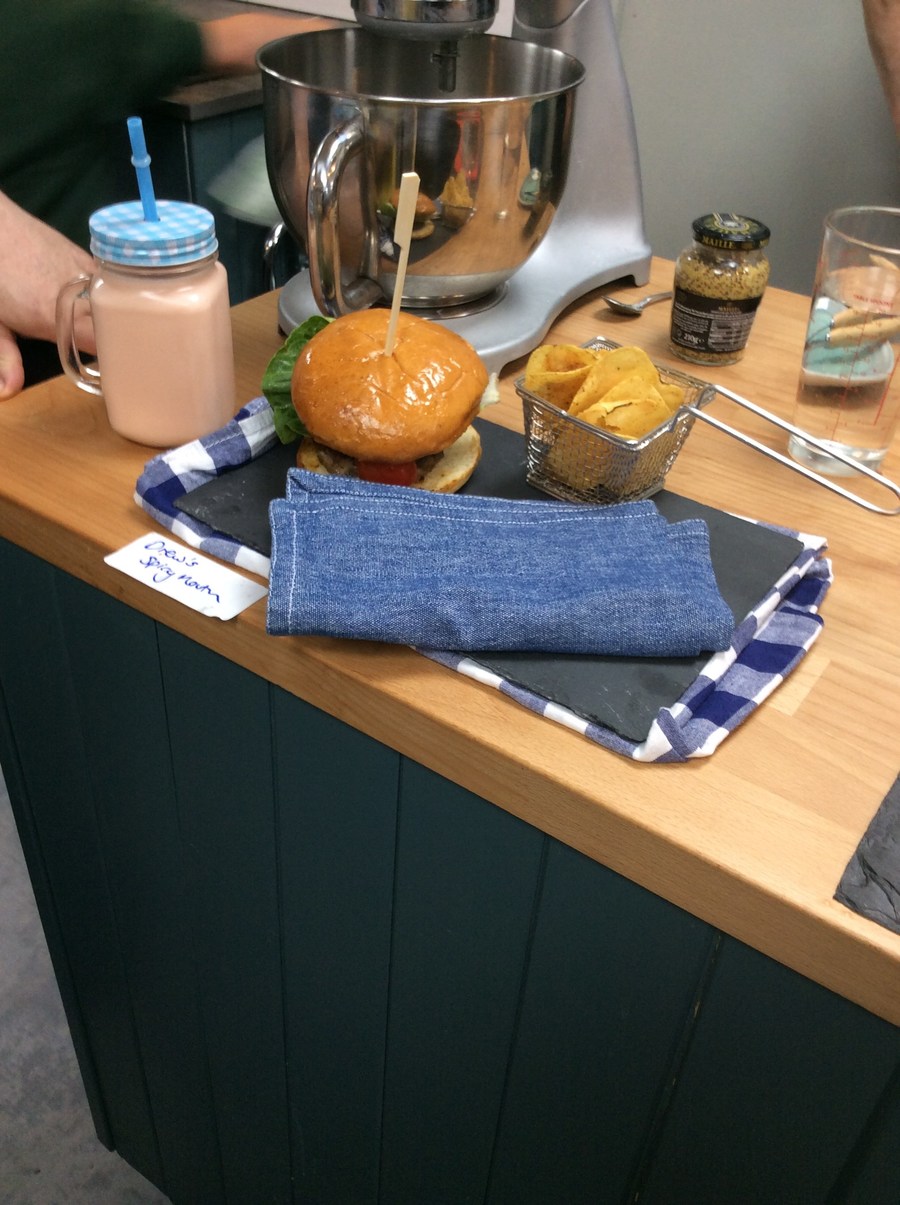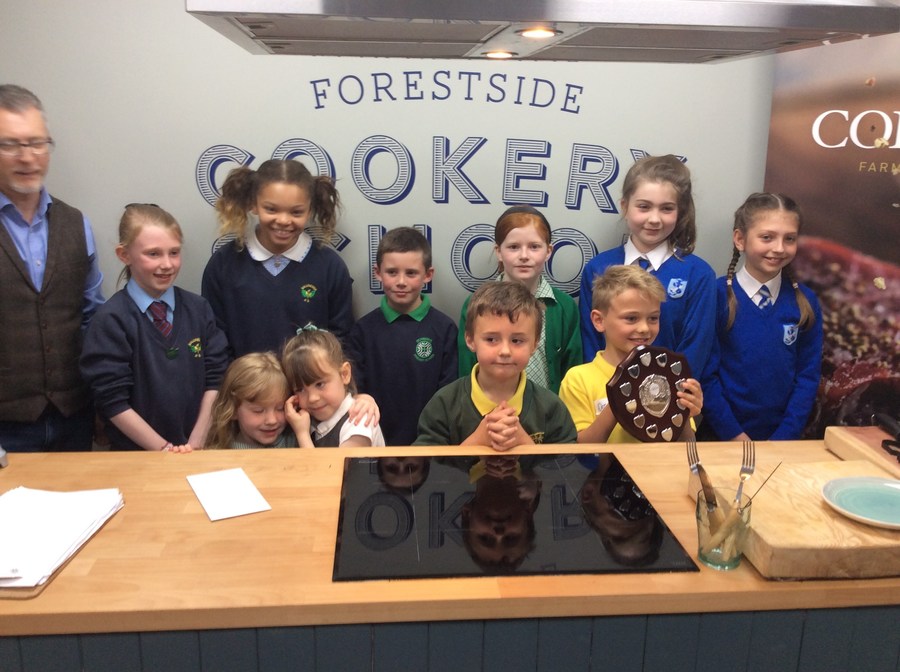 School Fair organised by Friends of Rosetta!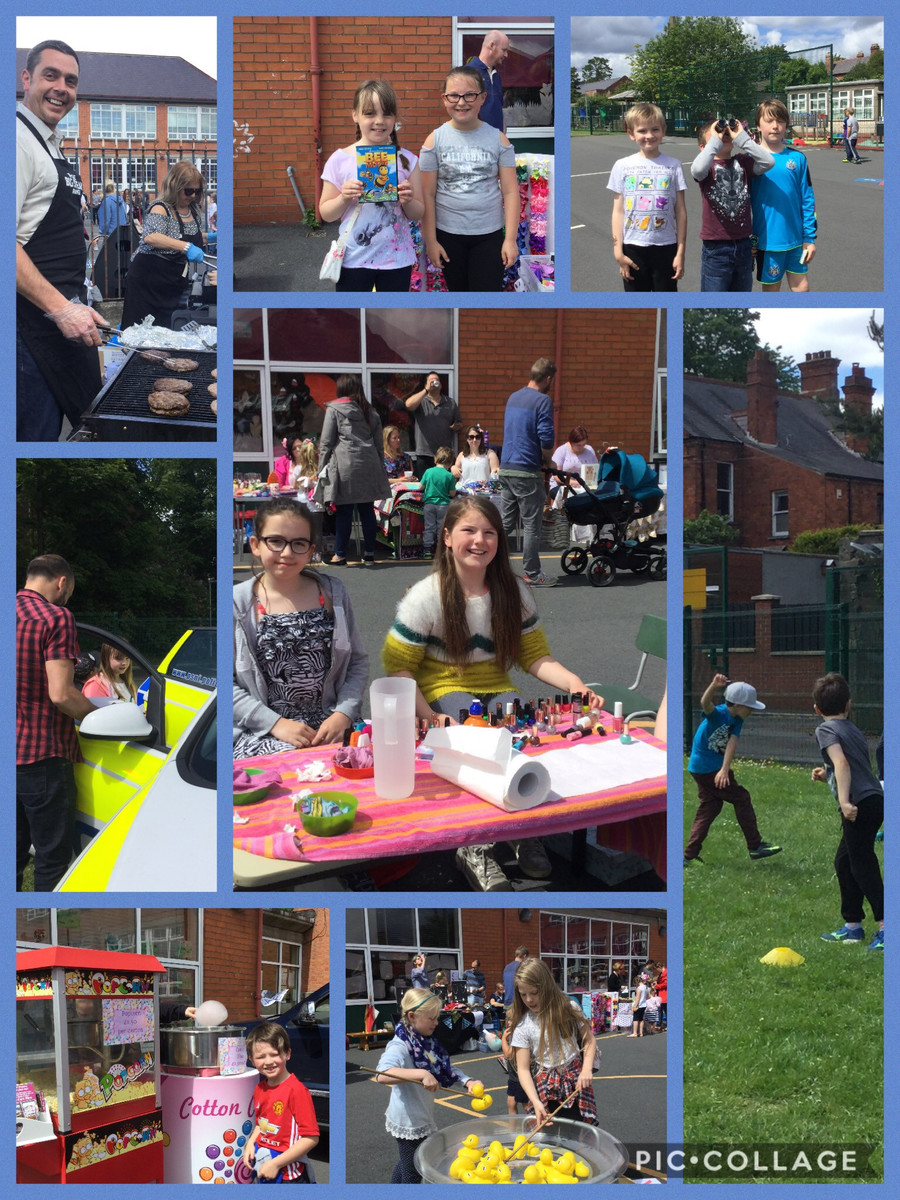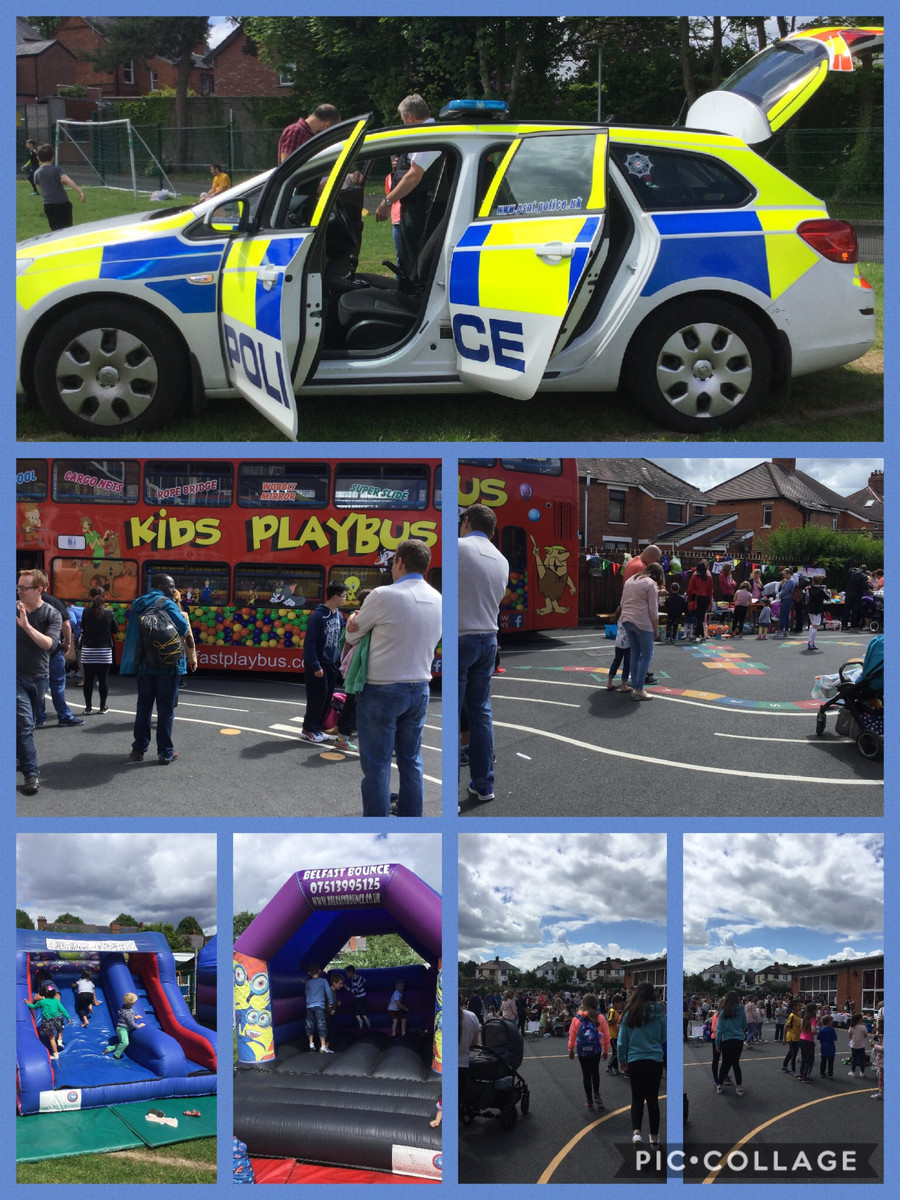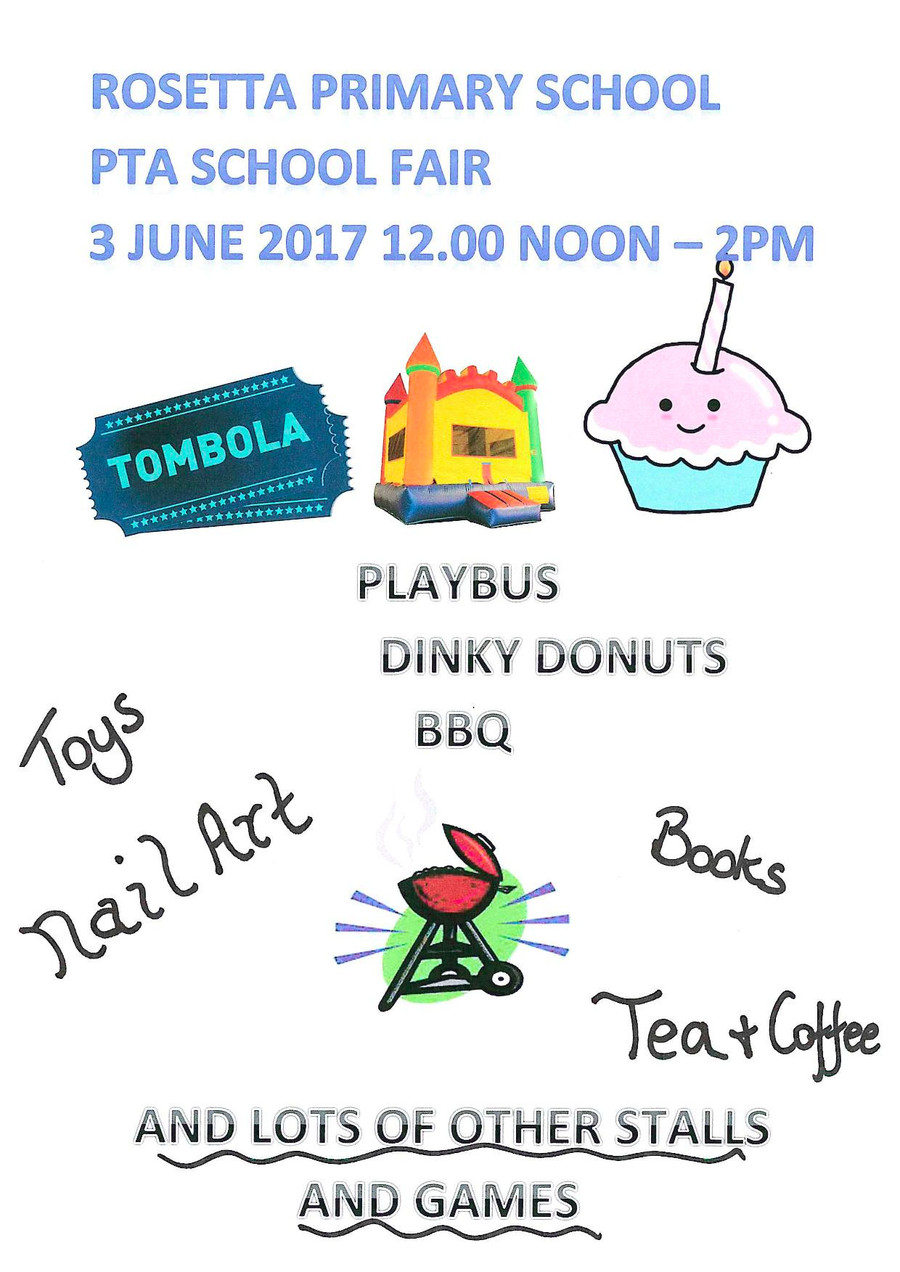 Corrie's Burger Competition
Three children from Primary 3 were selected to take part in a burger competition on Thursday 1st June along with P4 and P5 students from Victoria Prep. The Rosetta students; Amelia, Freddie and Drew; were invited to the Ormeau Road store to create their own unique burgers, which will go on sale from Friday 2nd to Saturday 3rd June. The child with the highest burger sales will compete in the final at Forestside Cookery School with Chef Jeffers, next week.
Please show your support by paying a visit to the Ormeau Road store during this period. Available flavours are;
Tropical - cheese and pineapple (Amelia)
Spicey Mouth - pepperoni, red pepper, jalapeno, chilli (Drew)
Sweety Spicer - sweetcorn, chilli, red onions and pickle (Freddie)
*Limited to 6 burgers per customer!*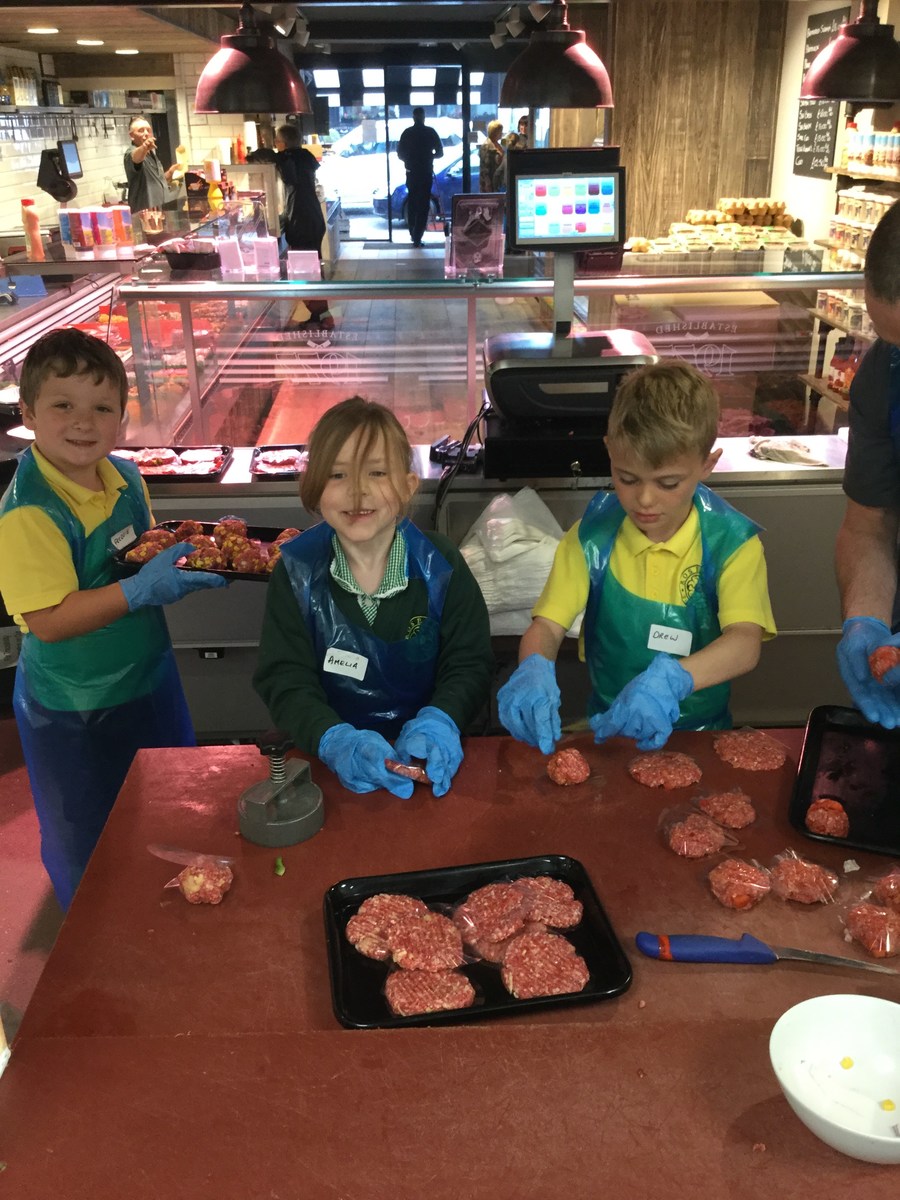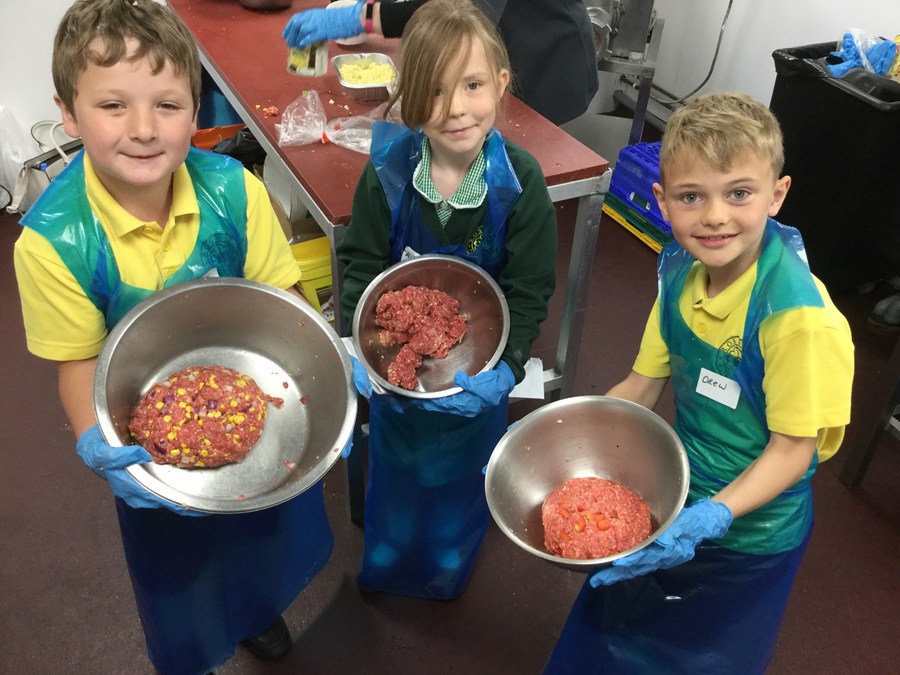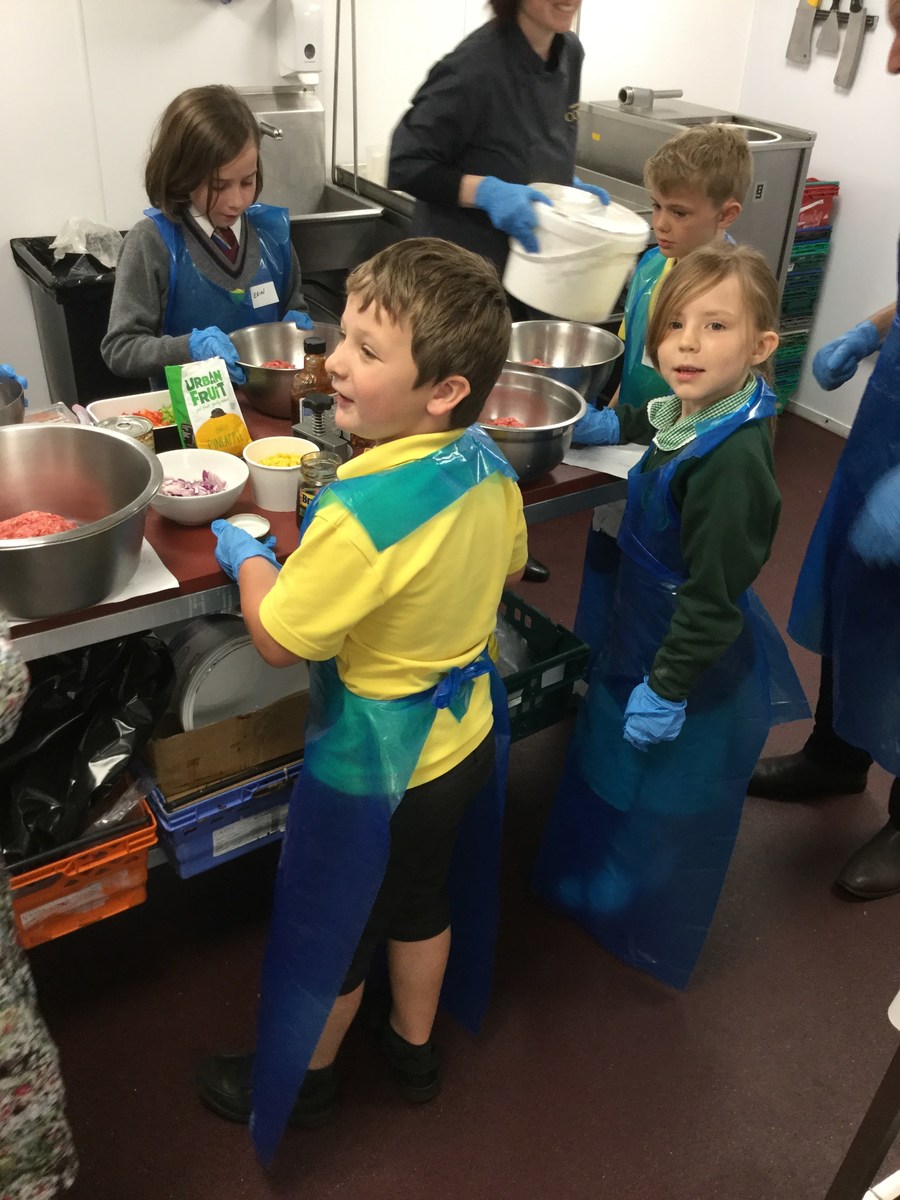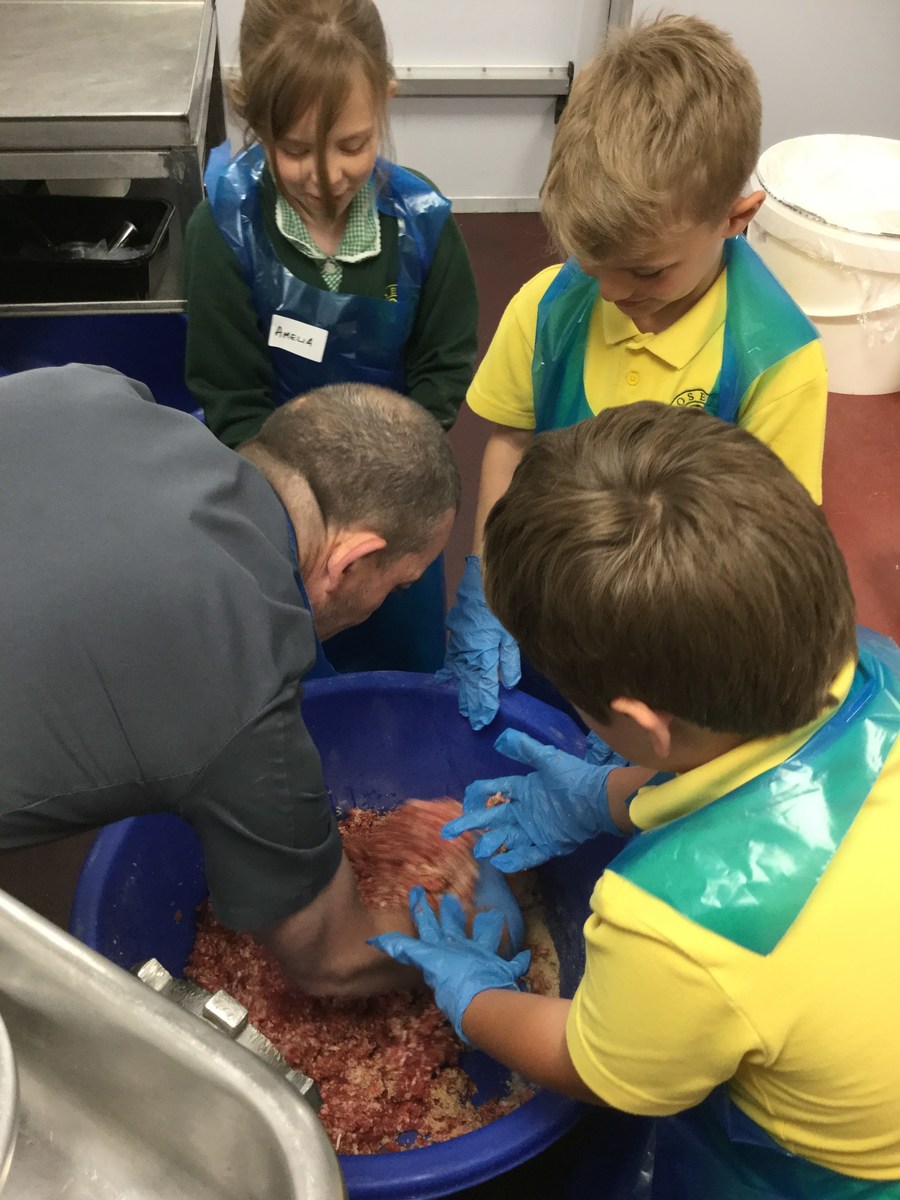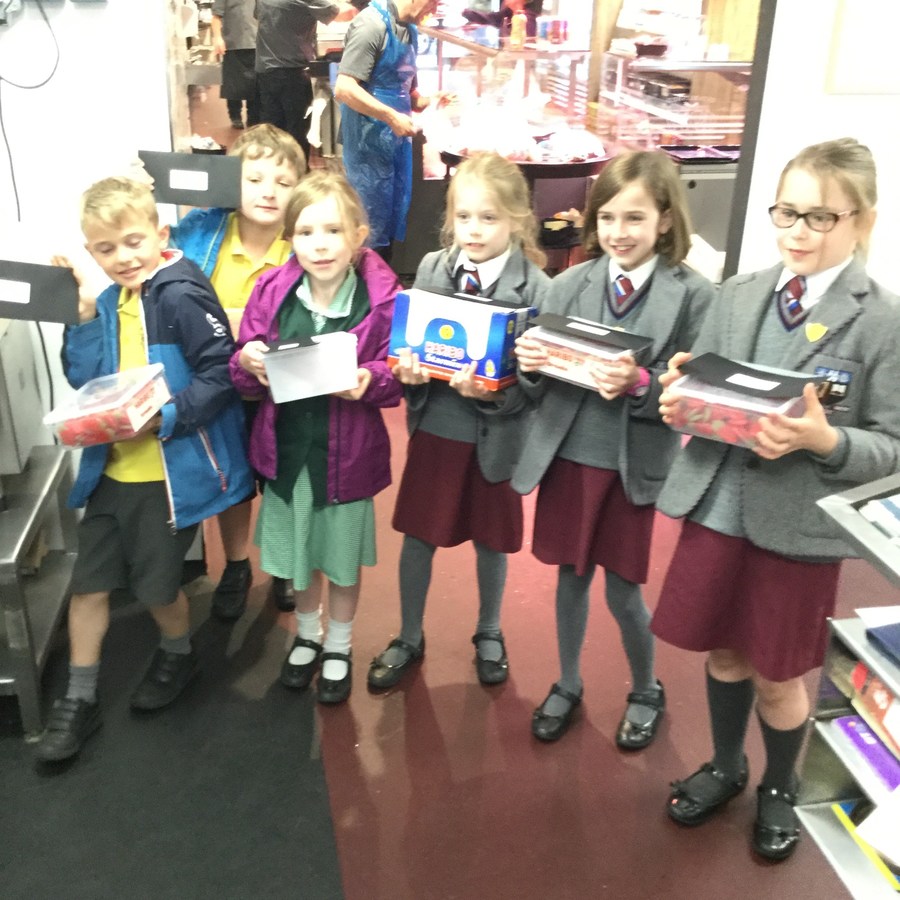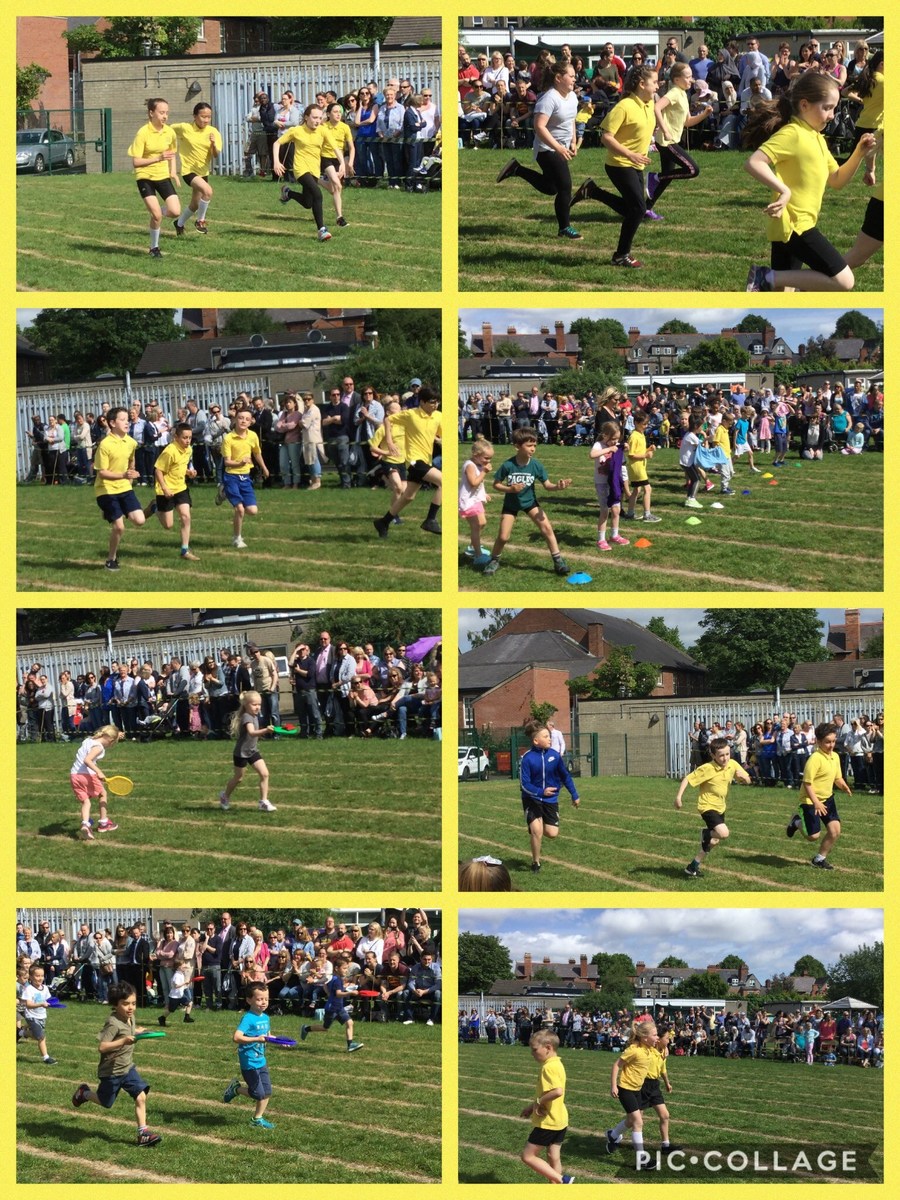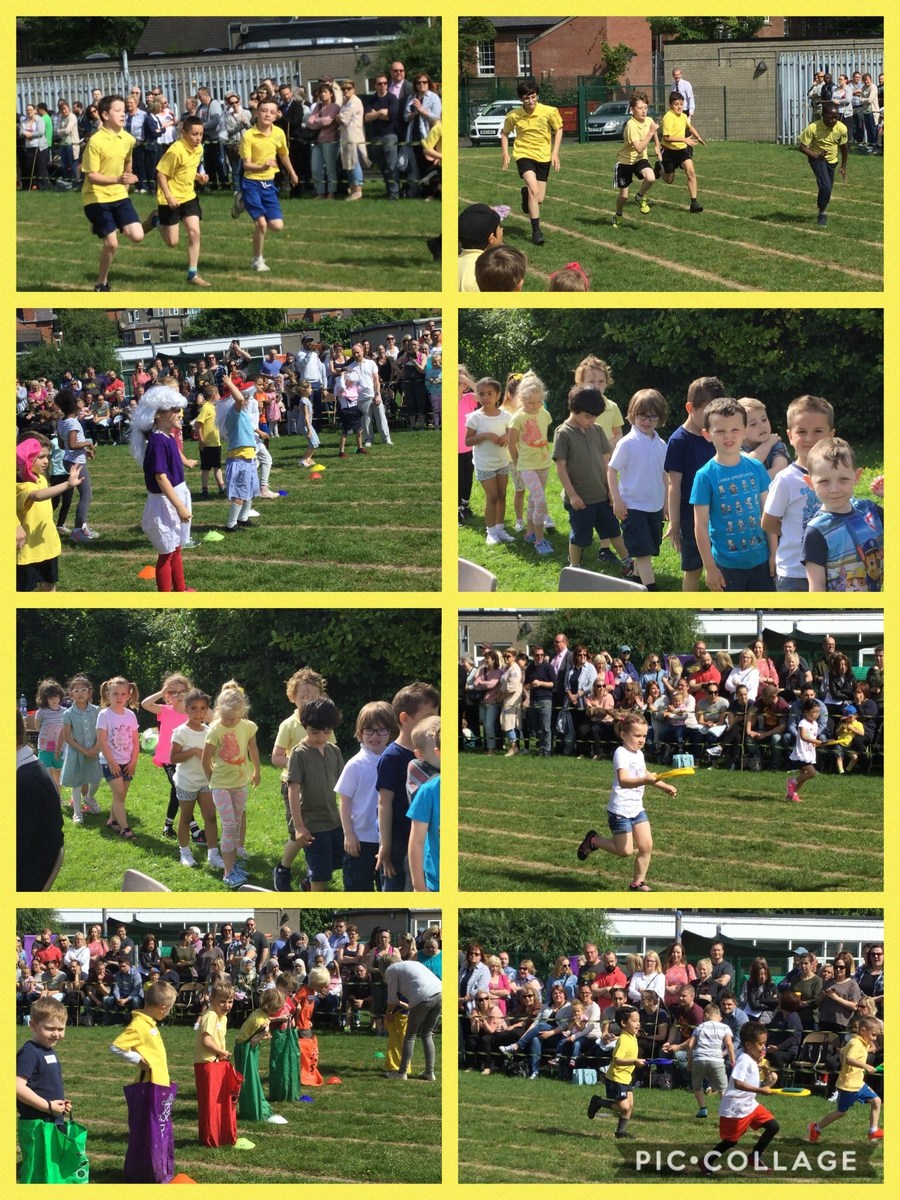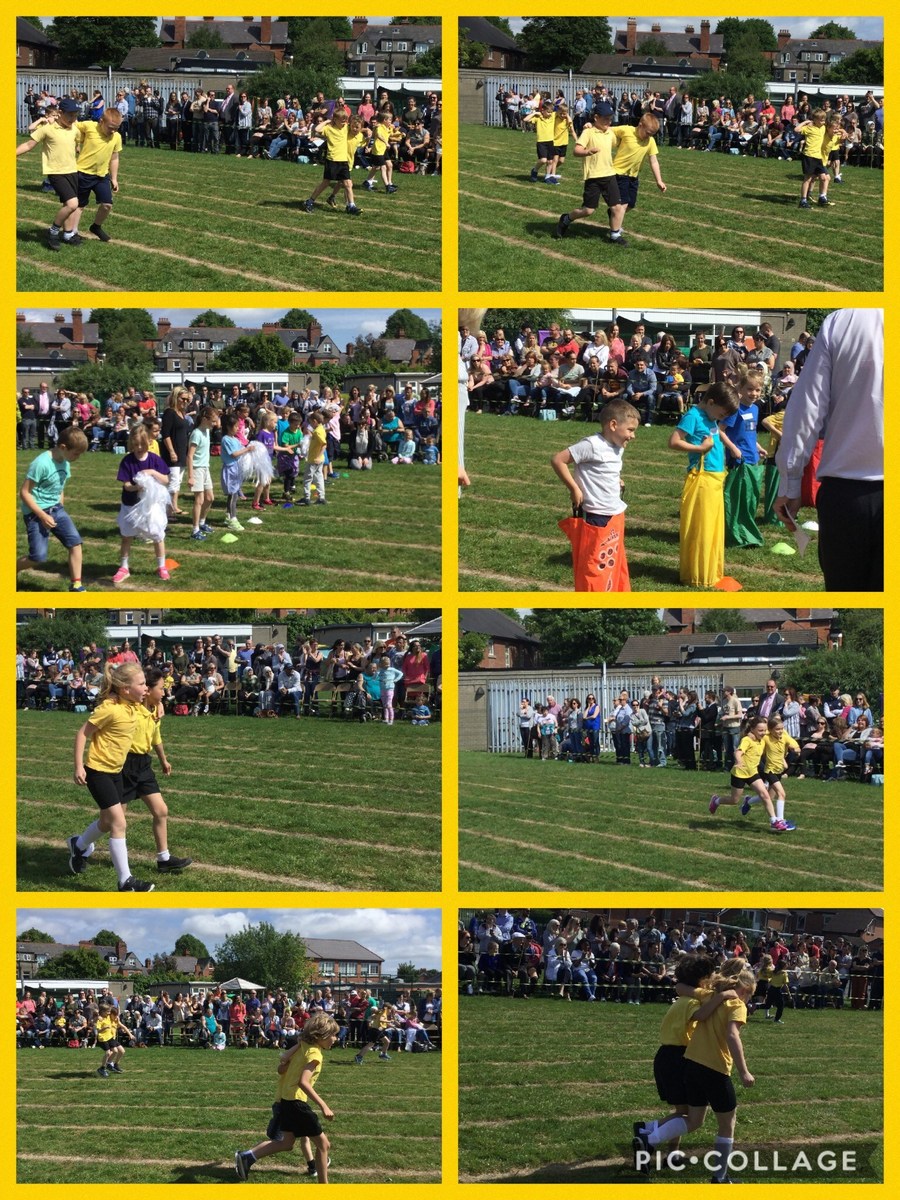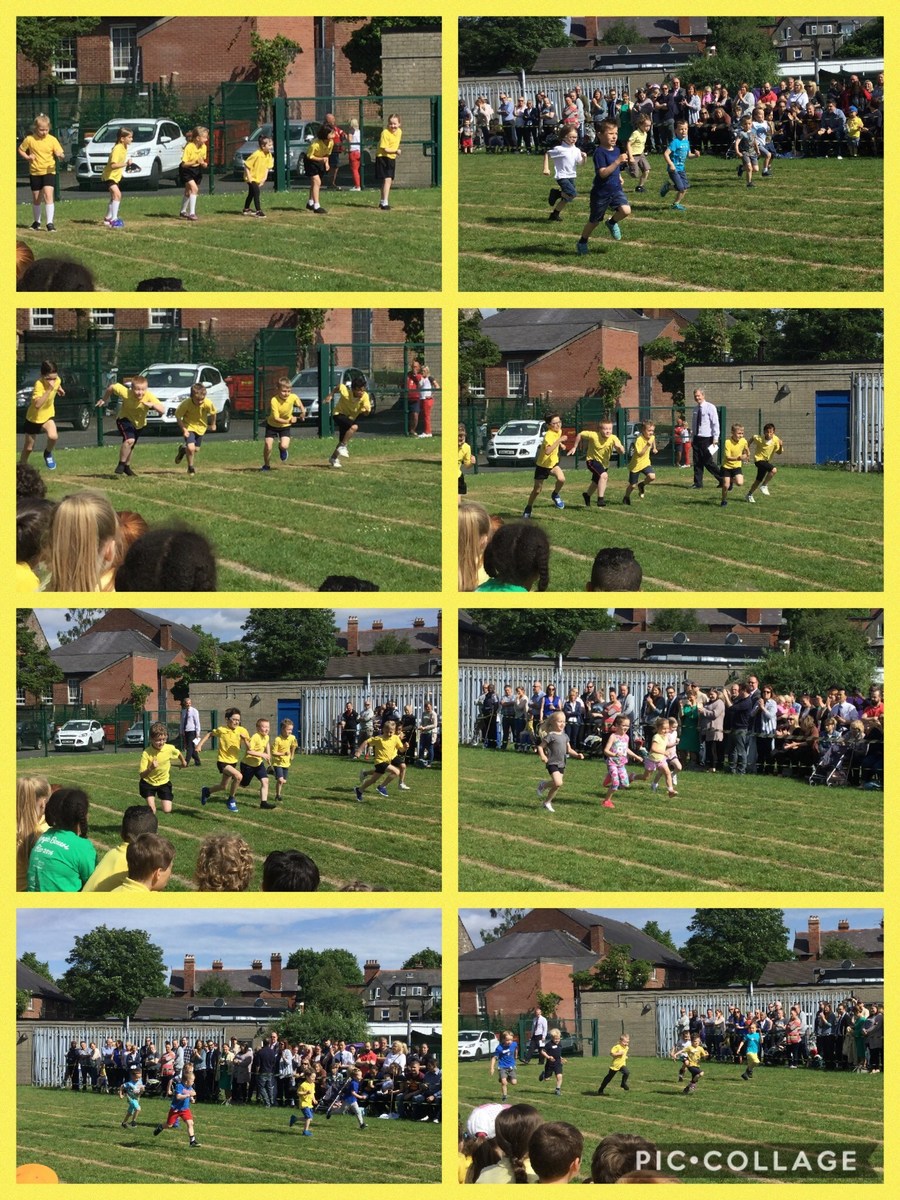 Corrie's Burger Competition!
Three pupils from Primary Three were selected to take part in a local burger competition with Corrie's Butcher Shop. The lucky winners, Amelia Geddes, Freddie Pearcey and Drew Cunningham, visited the shop on the 1st of June to create their own unique burger recipes. Their burgers will go on sale in the Ormeau Road store on Friday 2nd June, until close of business on Saturday 3rd June. The beef burgers are limited to 6 per customer and come in 3 flavours;
Tropical - cheese and pineapple
Spicey Mouth - jalapenos, red peppers, chilli and pepperoni
Sweety Spicer - sweetcorn, red onion, chilli and pickle.
The child with the highest number of sales during this period, will be invited to cook their burger with Chef Jeffers at the Forestide Cookery School, next Tuesday 6th June.
Please show your support by visiting Corrie's !
Yesterday P4A + B visited the Northern Ireland War Memorial.
Our visit began with an audio-visual picture show all about the Home Front in Northern Ireland during WW2. After the talk we visited the gallery where we became a History Detective and were given a quiz sheet to complete while looking around the exhibition for clues.
We then had a chance to visit the Home Front Kitchen to learn more about rationing.
We then tried on some real wartime uniforms and posed for a photograph!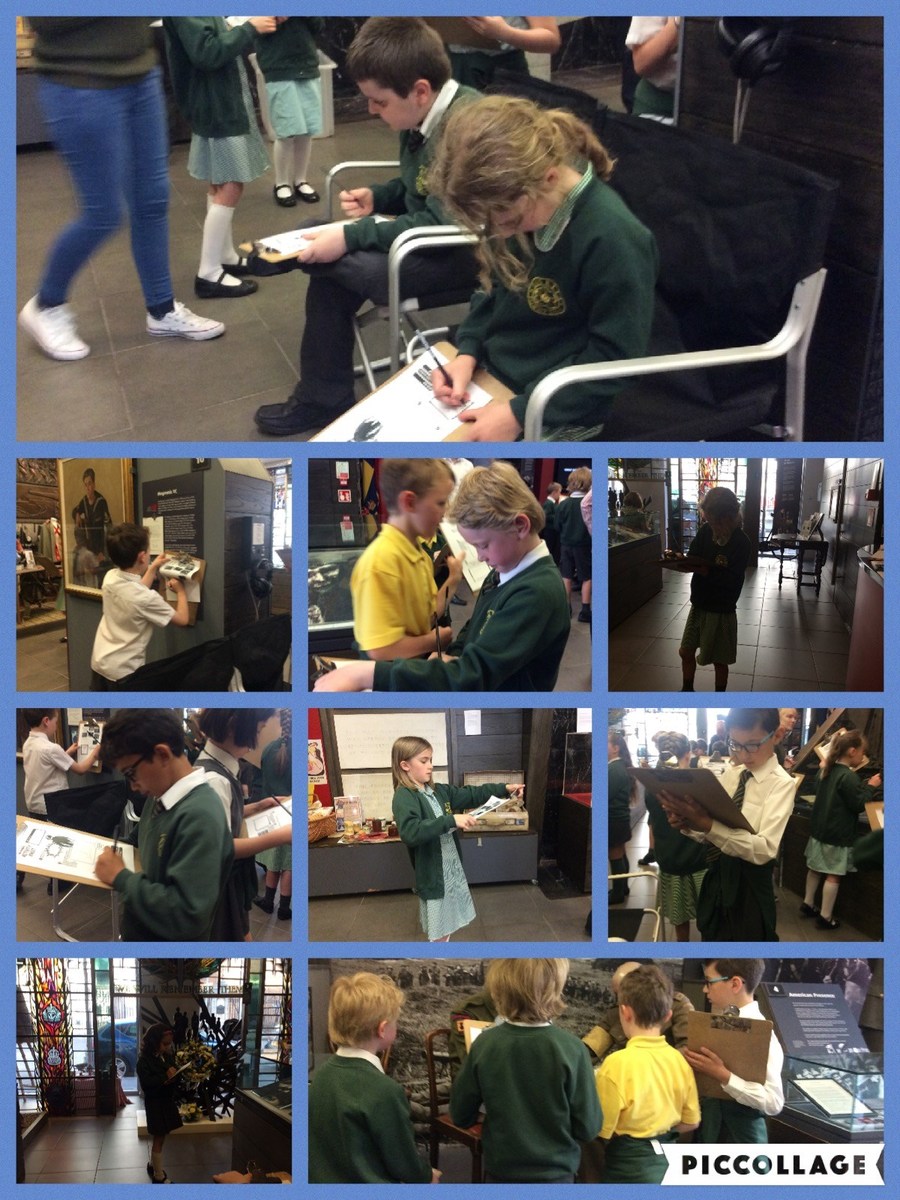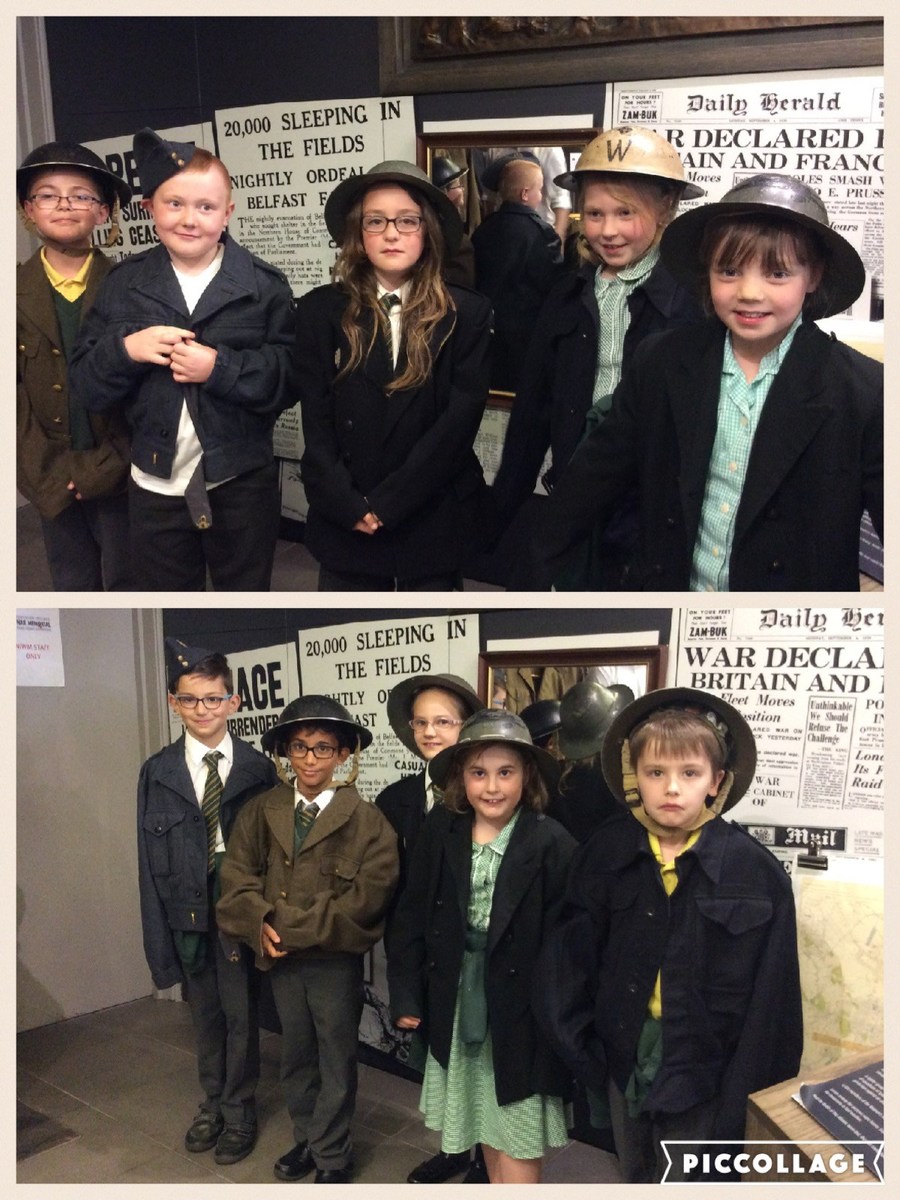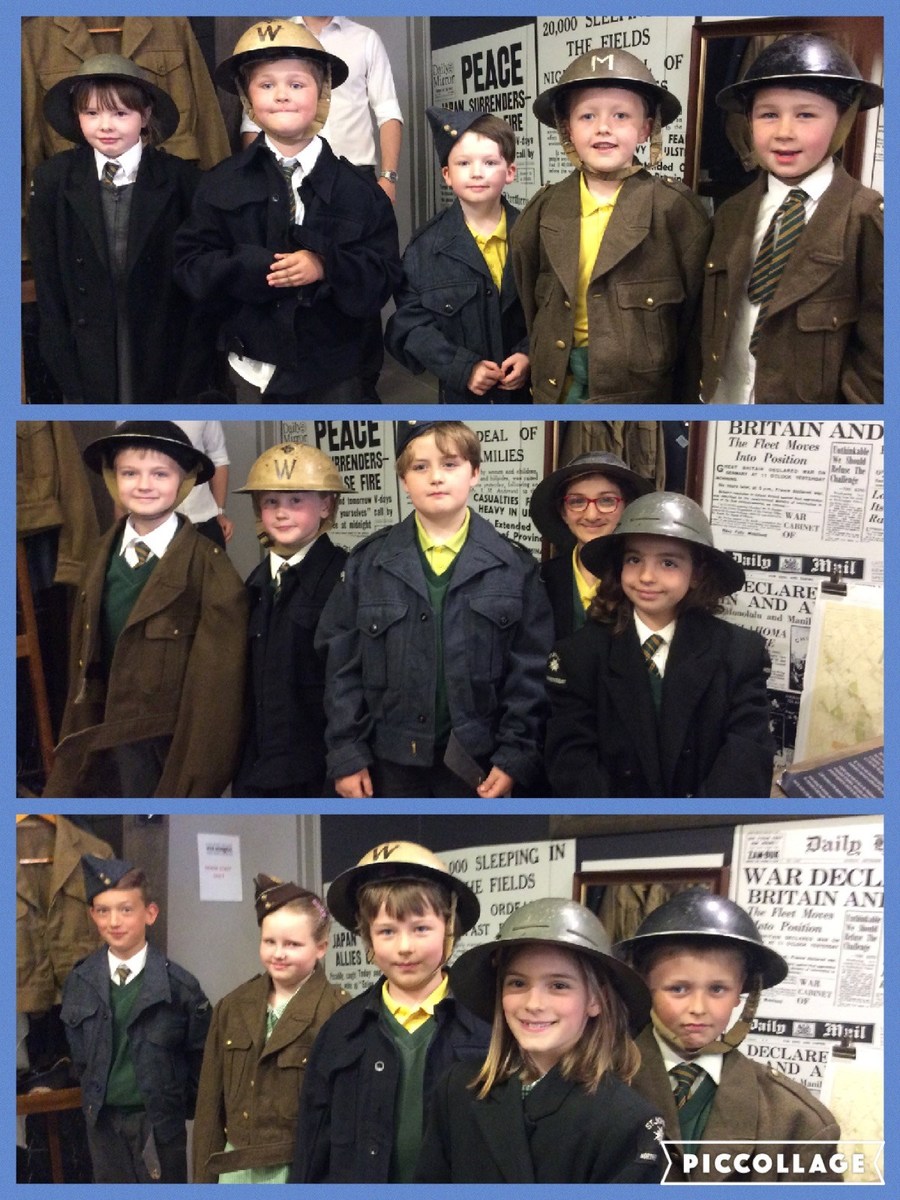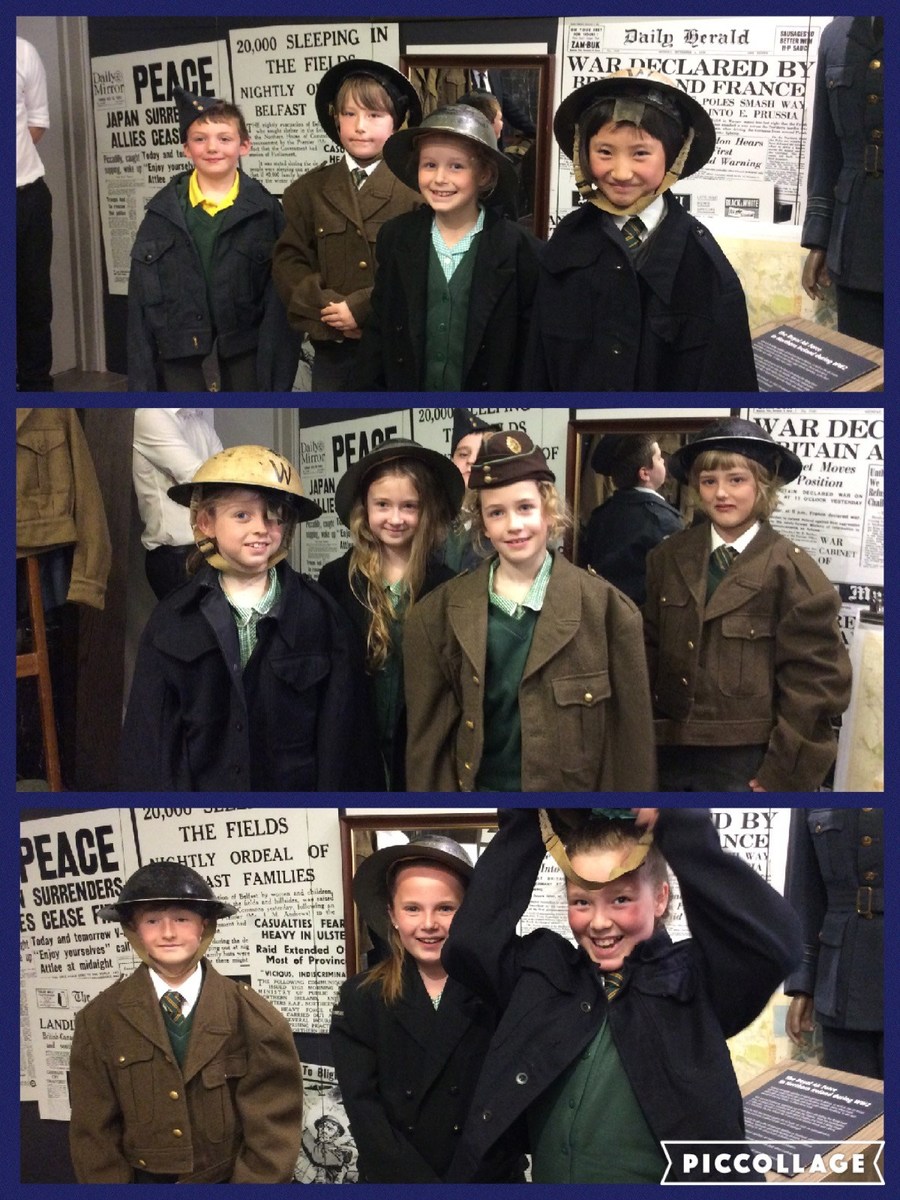 After our visit to the memorial we decided to make the most of the sun and relax outside St Anne's Cathedral!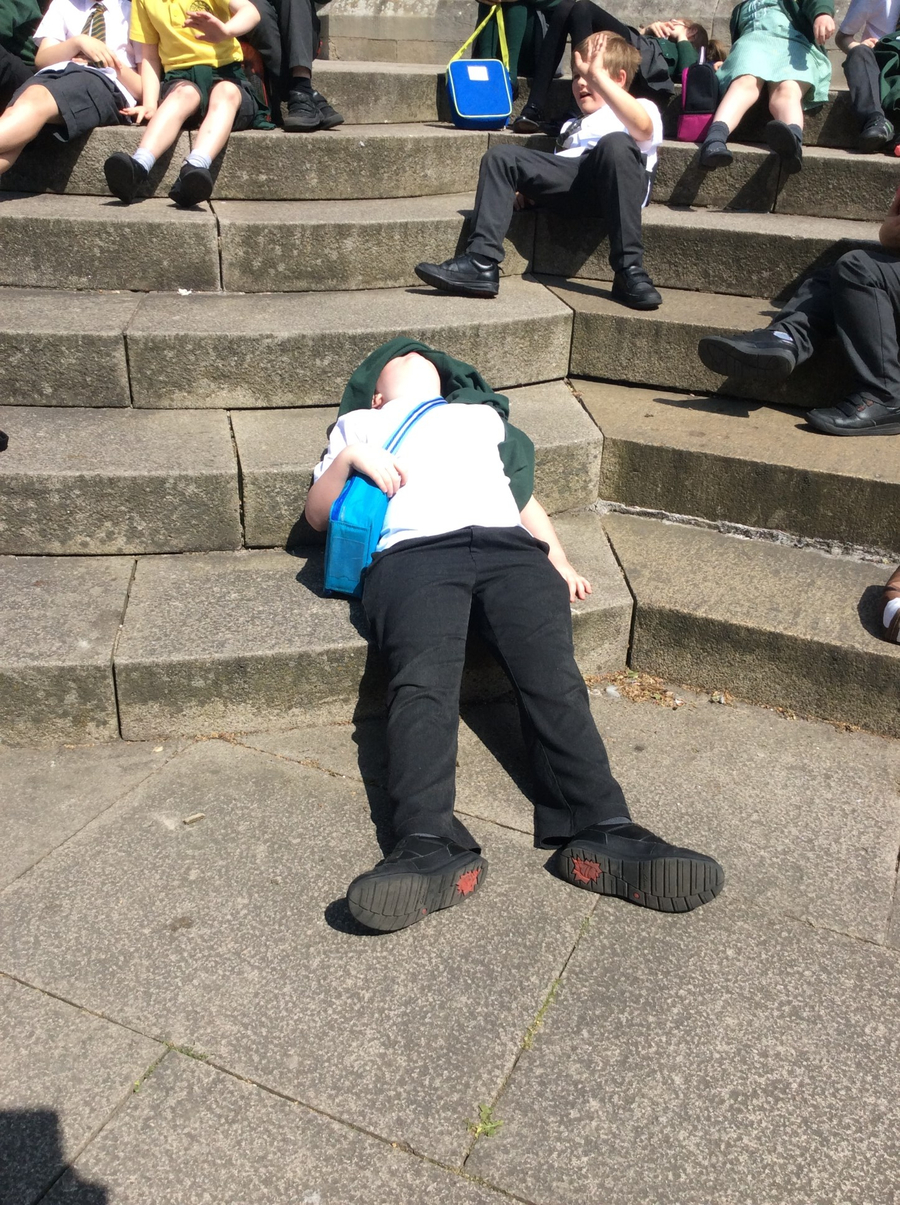 Budget Cuts – please read and help by signing and sending letters
Rosetta STEM Club through to final of the Sentinus K'Nex Challenge!
On Tuesday 25th April 2017, the Belfast qualifying heat of the Sentinus Primary School K'Nex challenge took place in Mercy College Belfast with around 10 schools taking part. Rosetta's STEM Club entered two teams: Team 1 consisted of Matias Goguet and Tyrese Abolarin (P7) and Team 2 of Jamie Barnes and Corban Allen (P7).
The teams were set the challenge of designing and constructing a bridge using a box of K'Nex in an hour and a half (not as easy task!). The bridges were to be judged on their visual and structural quality.
After an extremely tense wait, Matias and Tyrese were announced as the winners, taking 1st place in the Belfast qualifying heat! They firmly booked their place in the Northern Ireland Finals by constructing a bridge so robust and stable that it even supported Matias as he stood on top of it!
Congratulations go to both teams for their hard work, effort and determination. We wish Matias and Tyrese the best of luck in the Northern Ireland Finals in June at the University of Ulster.
Mr Fenton
Congratulations to Rosetta Primary School's mixed tag rugby team who came second in Grosvenor Grammar School's Primary Schools Tag Rugby Tournament. The tournament was organised to welcome the Women's Rugby World Cup Trophy to Belfast for the forthcoming Women's Rugby World Cup in Ireland in the summer.
The team topped their group with wins against Strandtown P.S (4-2), Leadhill P.S (5-2) and Elmgrove P.S (3-0). The team narrowly lost a hard fought final against Gilnahirk P.S (1-0). Congratulations to all the players for their super effort and a massive thank you to Mrs Dawson for the excellent Japan team t-shirts, bandanas and flags!
We are currently collecting Active Kids vouchers to help buy new sports and PE equipment. You can get the vouchers from Sainsbury's and it is very easy to get involved!
Ways to collect:
1. Sainsbury's Local
In Sainsbury's Local stores you'll get one voucher for every £5 you spend.
2. Sainsbury's Supermarkets
Every time you shop at a Sainsbury's Supermarket you'll be given one voucher for every £10 you spend at the till.
3. Online
You'll still receive the equivalent of one voucher for every £10 you spend. But they'll all be printed on one piece of paper up to the maximum value of 50 vouchers – so make sure you keep it safe.
Help us get brand new sports and cooking equipment, and experiences by collecting the vouchers until 2 May.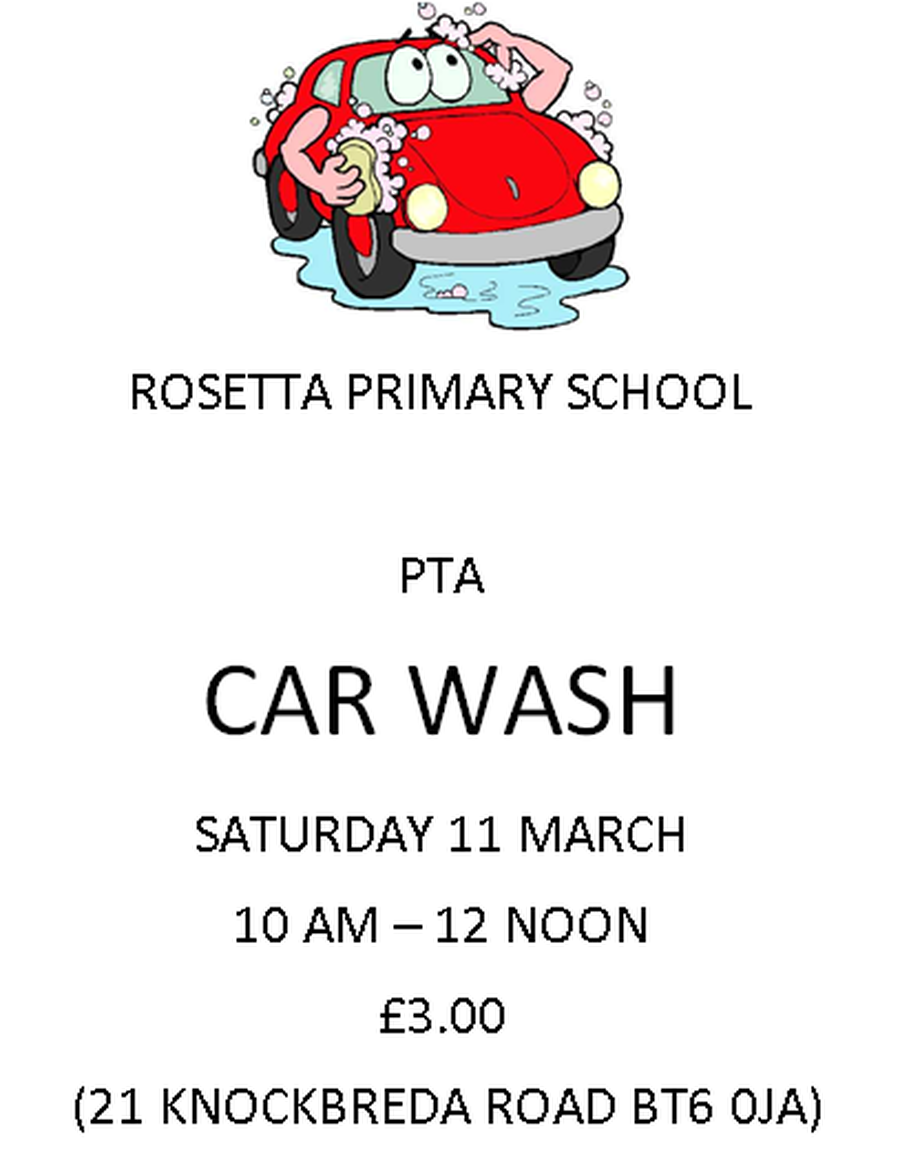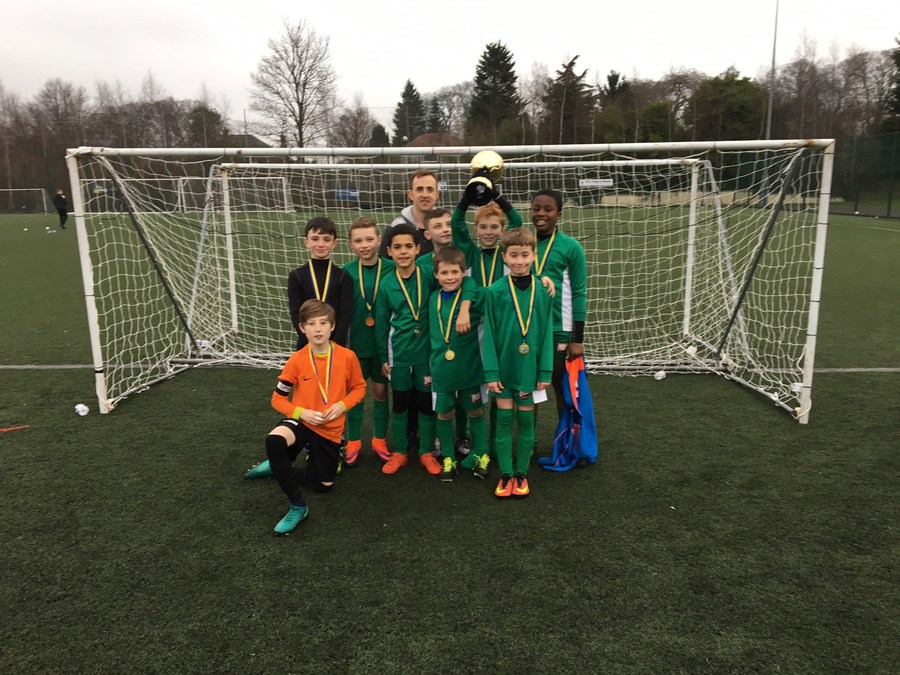 Congratulations to the Rosetta Primary School football team for winning the Ashfield Boys Cup. The team remained unbeaten the whole competition and won the final on penalties. Well done boys!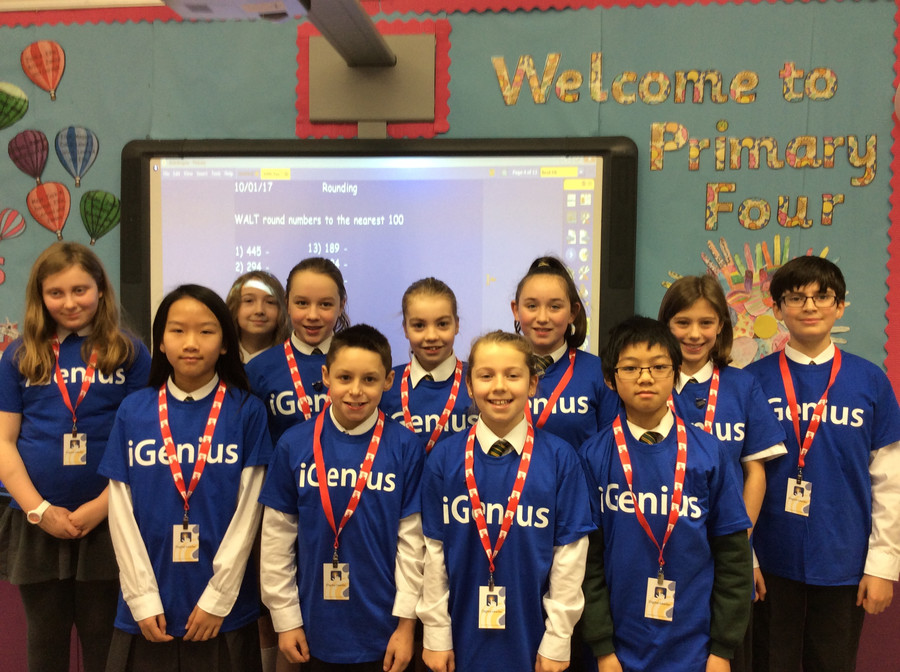 Meet our new Digital Leaders!
Eleven Primary 7 children have been selected to help with ICT around our school.
Their role is to:
Manage and organise the ICT room

Manage iPads - Charge, install and update apps

Help other classes with ICT lessons

Help teachers use ICT equipment
The Digital Leaders will also be starting their own iPad club. Come back soon to see what they have been up to!

Thank you to iTeach for our wonderful goodies - t-shirts, lanyards and badges.
Superheroes visited our playground and left behind some top secret gadgets...
Head over to the P4A page to find out more!
On Wednesday 26th October P3 visited Carrickfergus Castle and a great time was had by all. Check out our class pages for more photographs.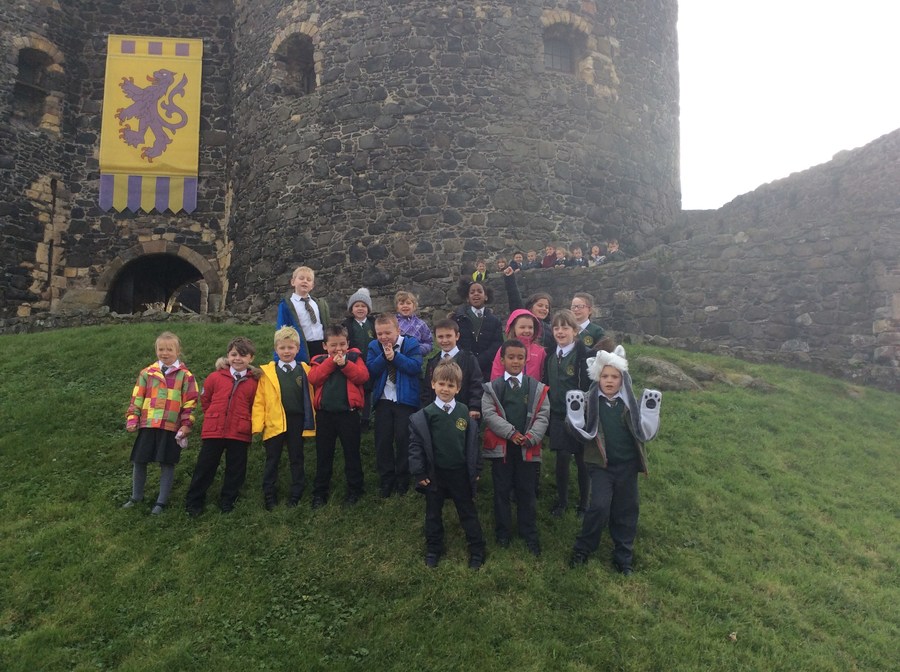 Halloween Disco
Last night we had our annual Halloween Disco for P4 to P7. Everyone looked spooktacular and put in lots of effort.

Massive thank you to FoR for organising the event.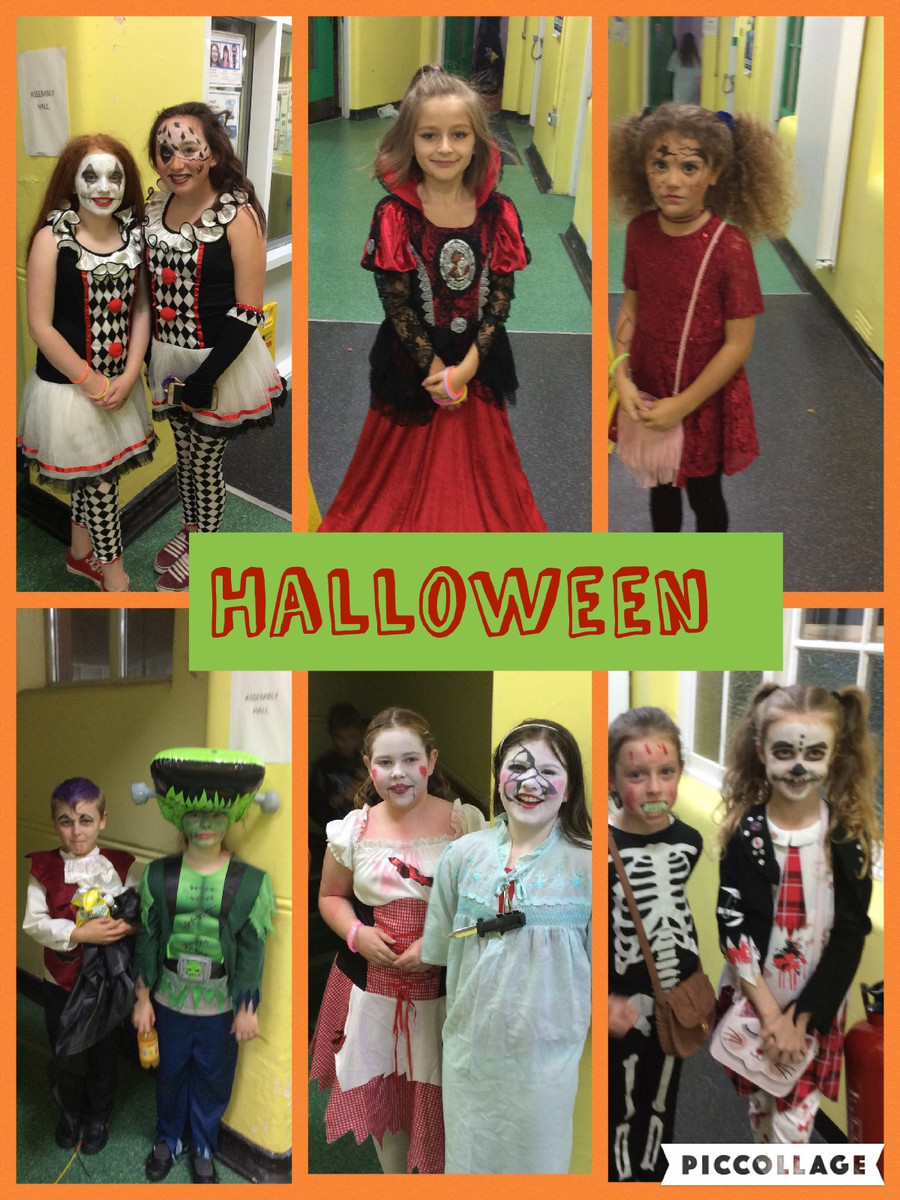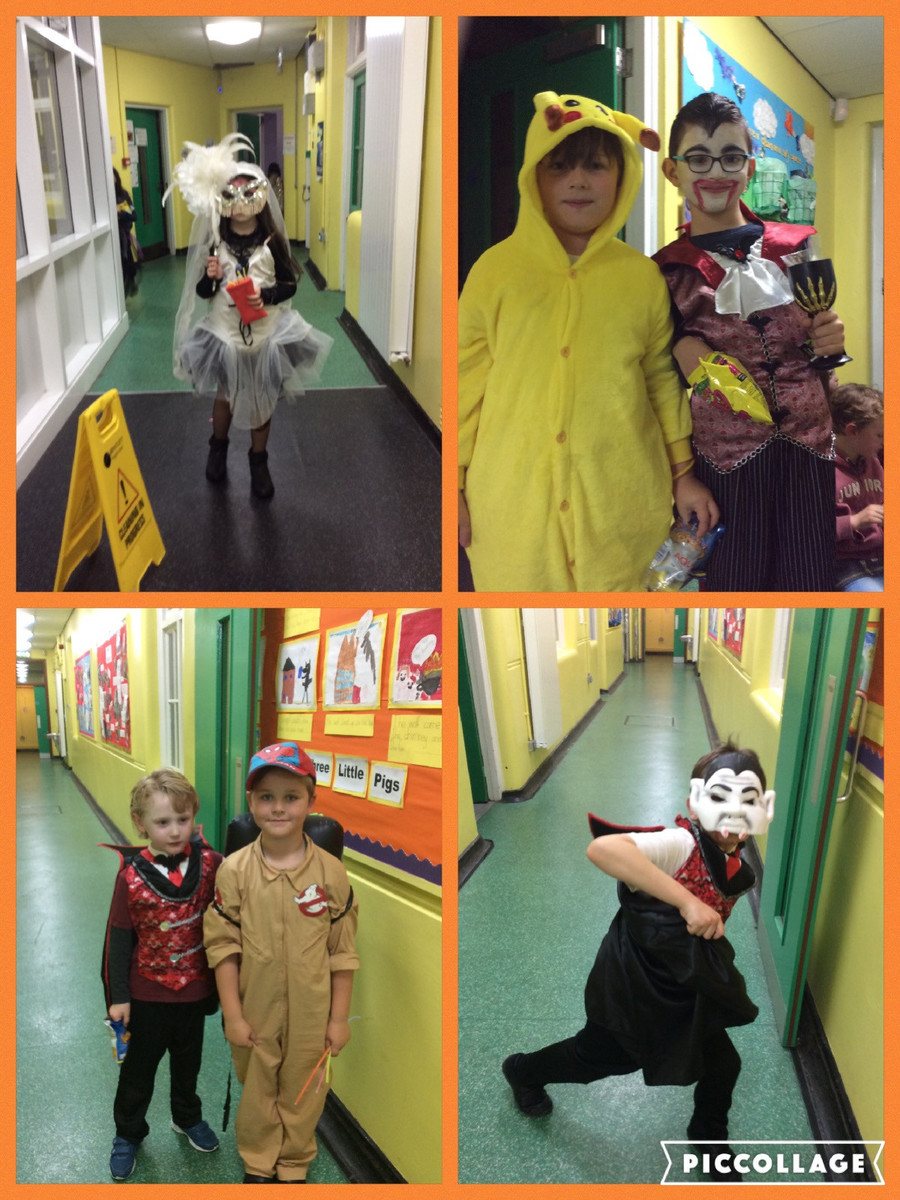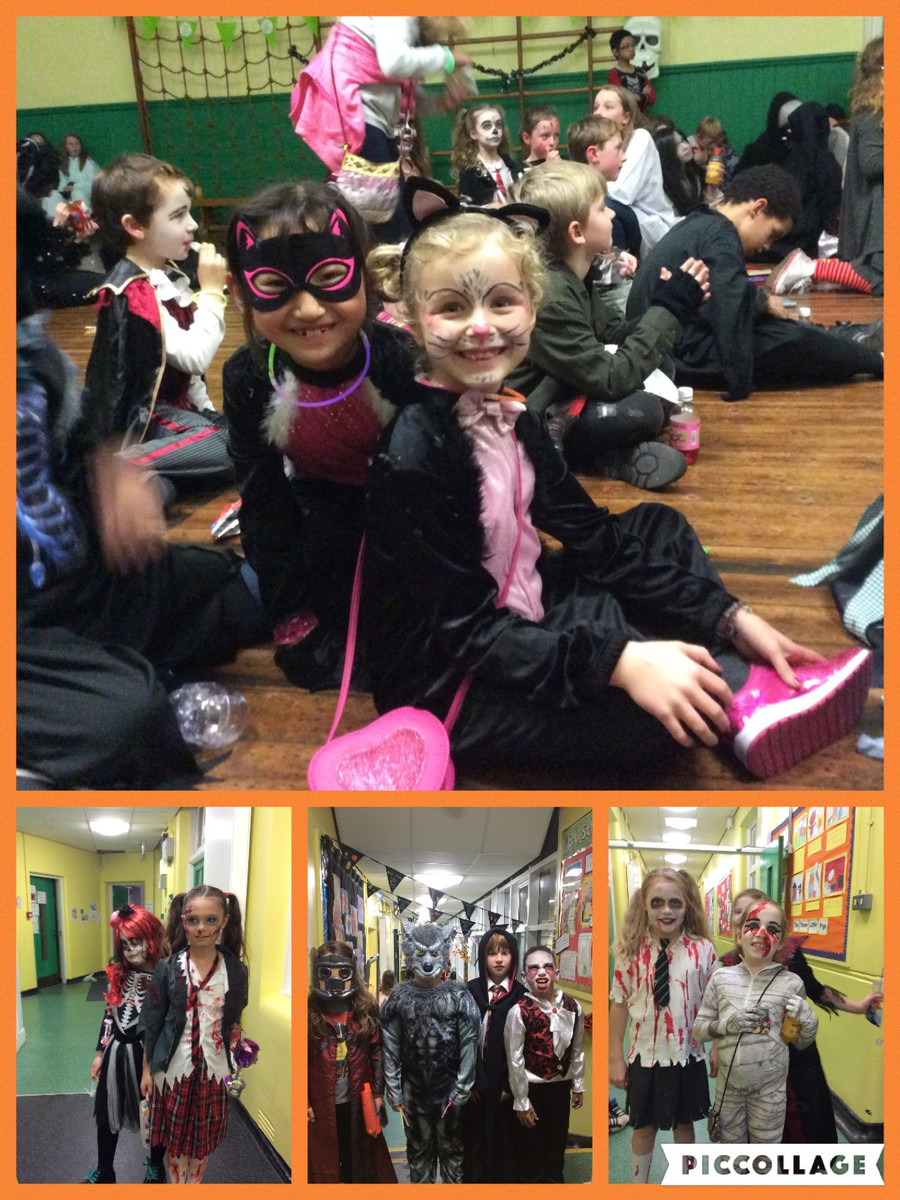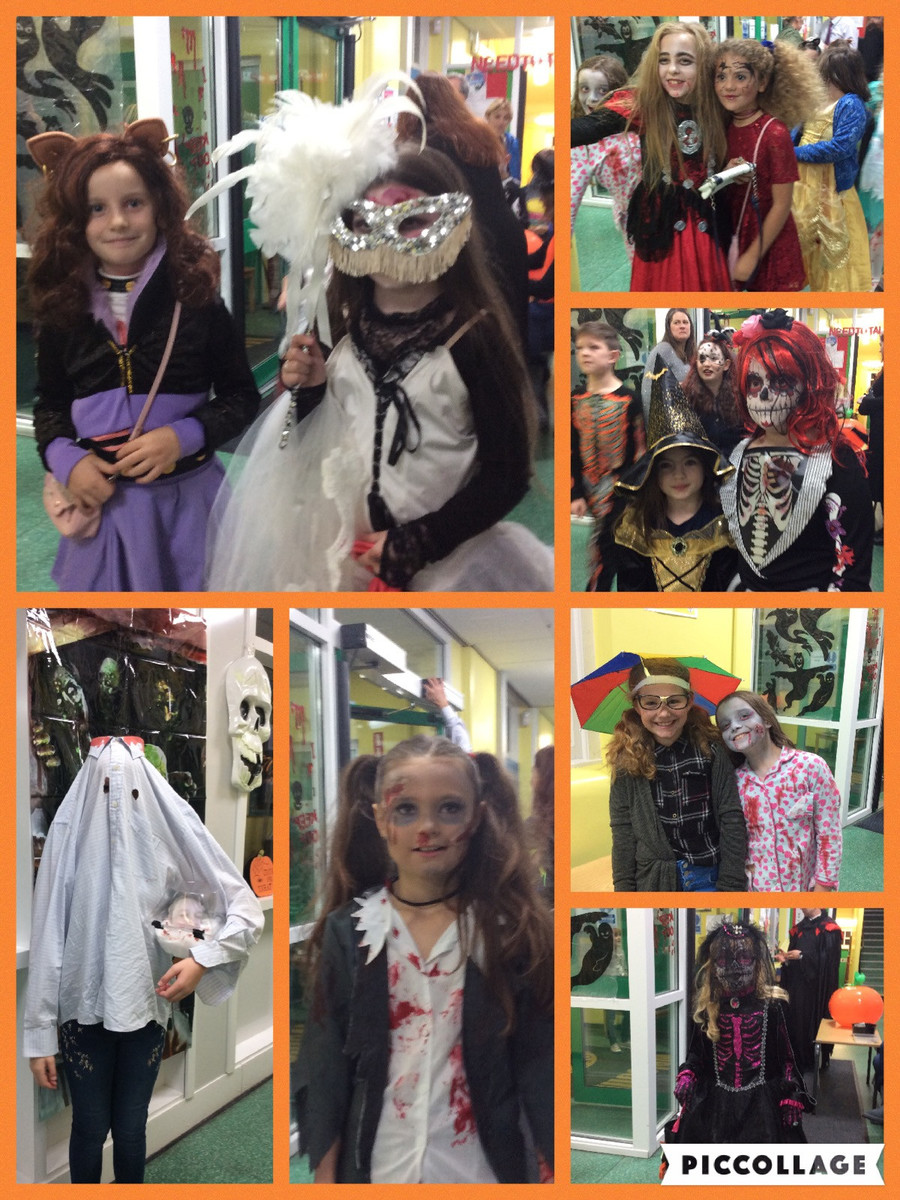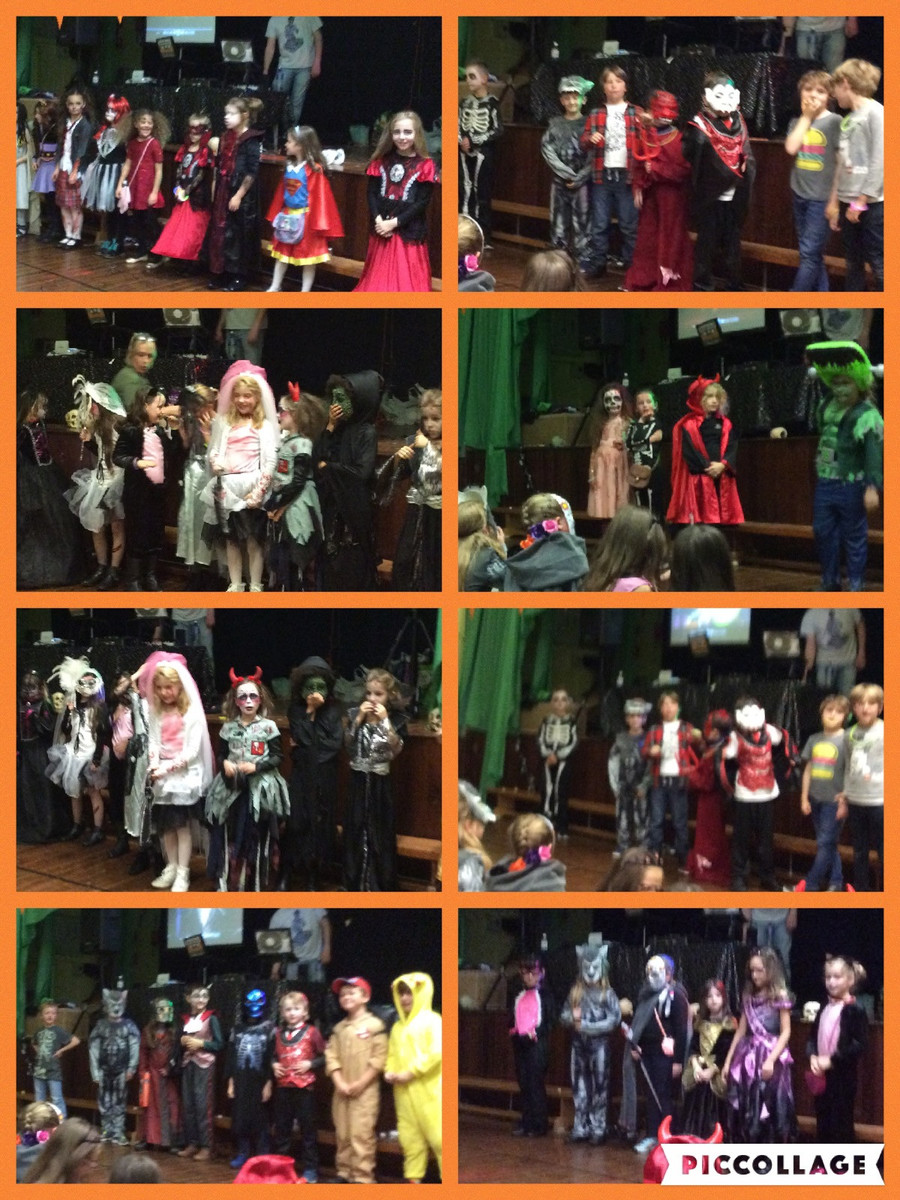 Thank you Friends of Rosetta for organising a great Halloween disco for Primary 1 to Primary 3.
Halloween Disco
Halloween Fancy Dress Disco on Tuesday night from 7.00 to 8.30pm., P4 - P7. Prizes for best costumes! Please note it is still the bargain price of £1, (not £2). But don't forget money for tuck!
BBQ for new families
FRIENDS OF ROSETTA WOULD LIKE TO WELCOME ALL NURSERY, PRIMARY 1, NEW PUPILS AND PARENTS TO A BBQ AND TREASURE HUNT IN THE SCHOOL ON THURSDAY 20 OCTOBER 2016 @ 6.00 PM.
This is an opportunity to meet new parents and children to the school and also members of the Friends of Rosetta (PTA)
Please return your reply slip to the class teacher as soon as possible and state any dietary requirements.
We look forward to seeing you there!
Nursery and Primary 1 Open Days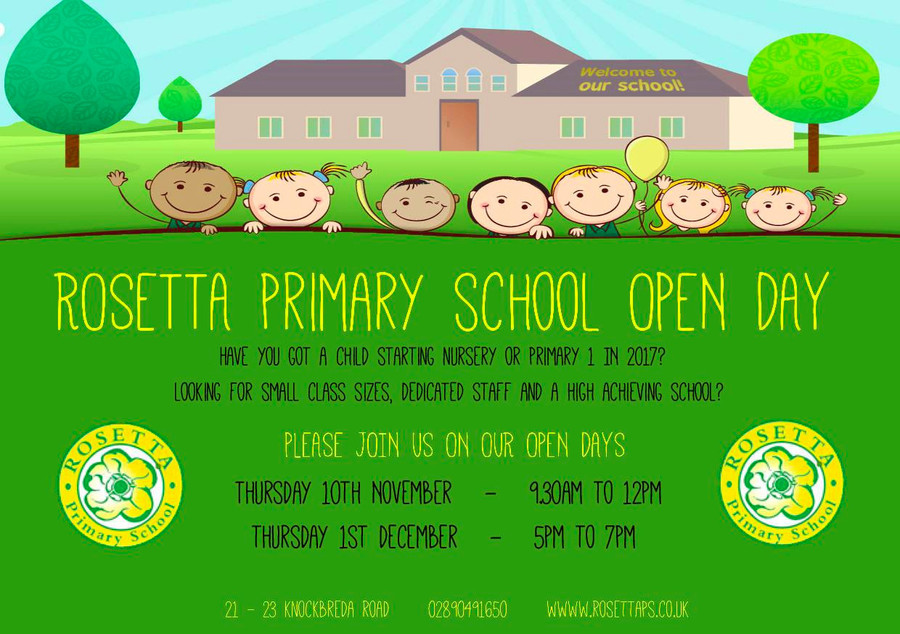 Moos on the Mall
Over the past few weeks our school has been very busy decorating a cow for Forestside Shopping Centre. Twice a year Forestside display the cows along the mall and their main aim is to collect money for vital charities.
This time the theme for the cows was superheroes. Our whole school contributed towards the cow, from painting lettering to drawing their own superhero.
Please visit Forestside to see our wonderful efforts and give money to their chosen charity, Action Cancer.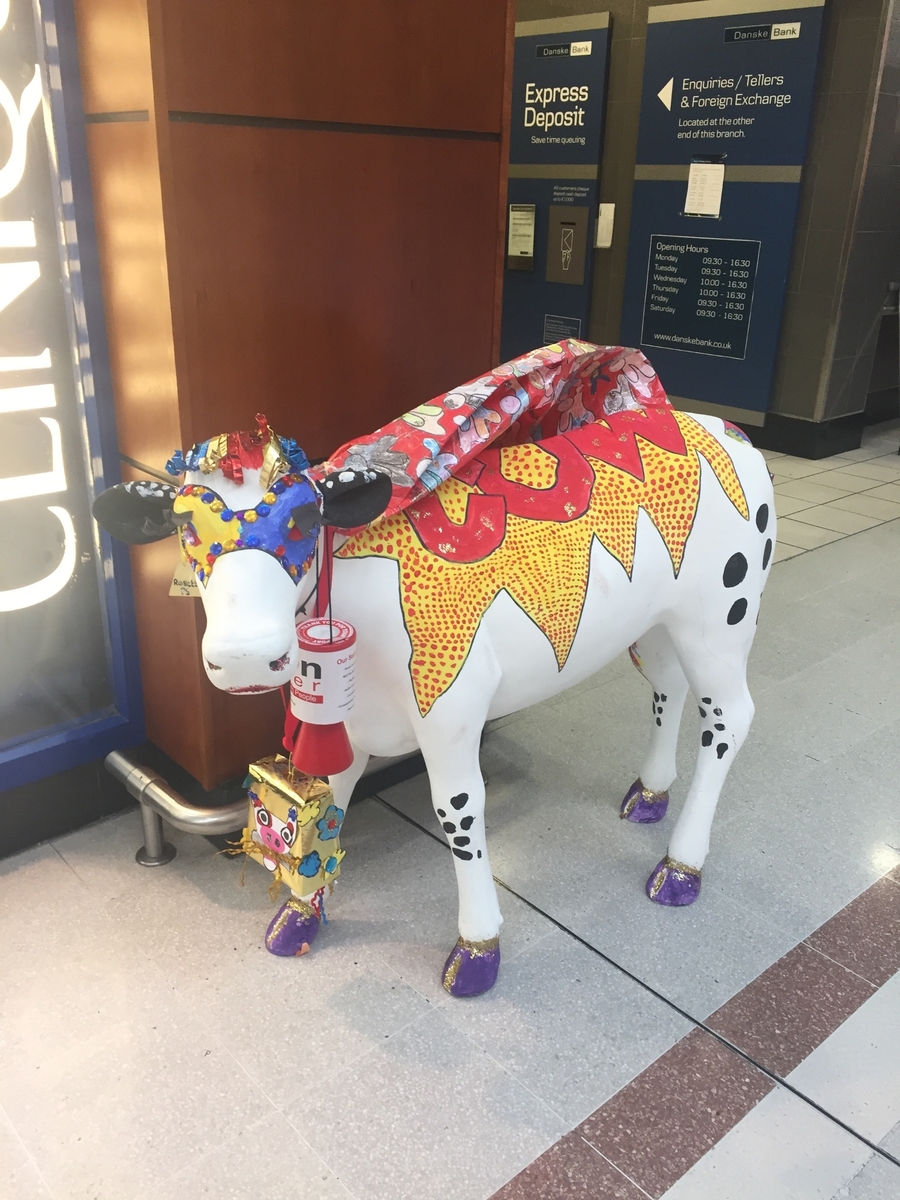 Friends of Rosetta
We have set up a new Facebook page in order to share information about events and meetings happening at our school. We hope it will allow people to find out information quickly and easily! It will explain ways you can support the school and will allow you to get involved - to join with us in organising, inviting people along, setting up and running some fabulous events! The more parents, family members and teachers involved the better it will be!
Follow the link below to like our page. Please share it on your page and invite other friends, family and parents!

Eco-Schools
Today we got a very special visit from Gavin Ewing, the area manager of Co-op.
Gavin came to visit our Eco garden and hear about our Green Flag achievements. He was very impressed with our hard work and gave us vouchers to help us purchase new equipment and maintain our garden.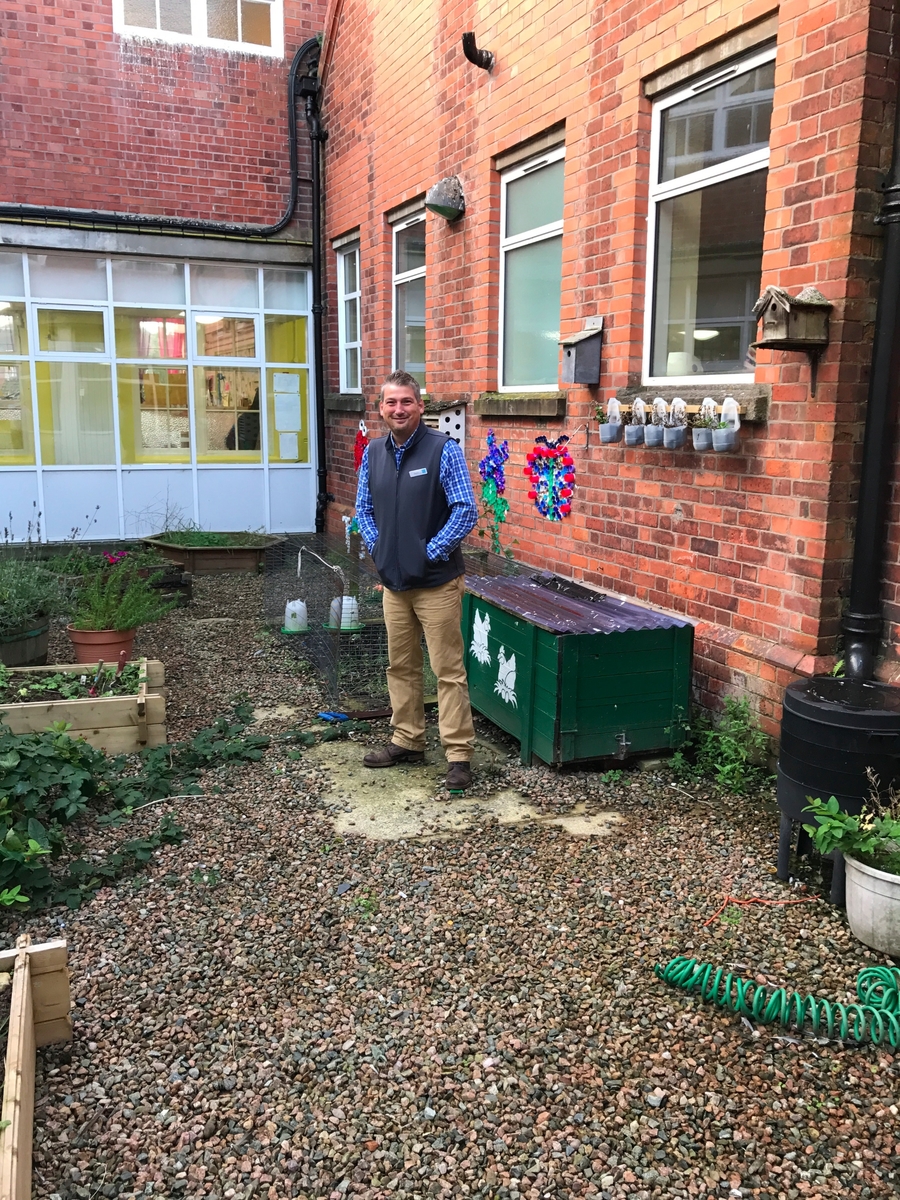 What are P7 up to?
This week the whole school has been very busy painting and decorating something very special.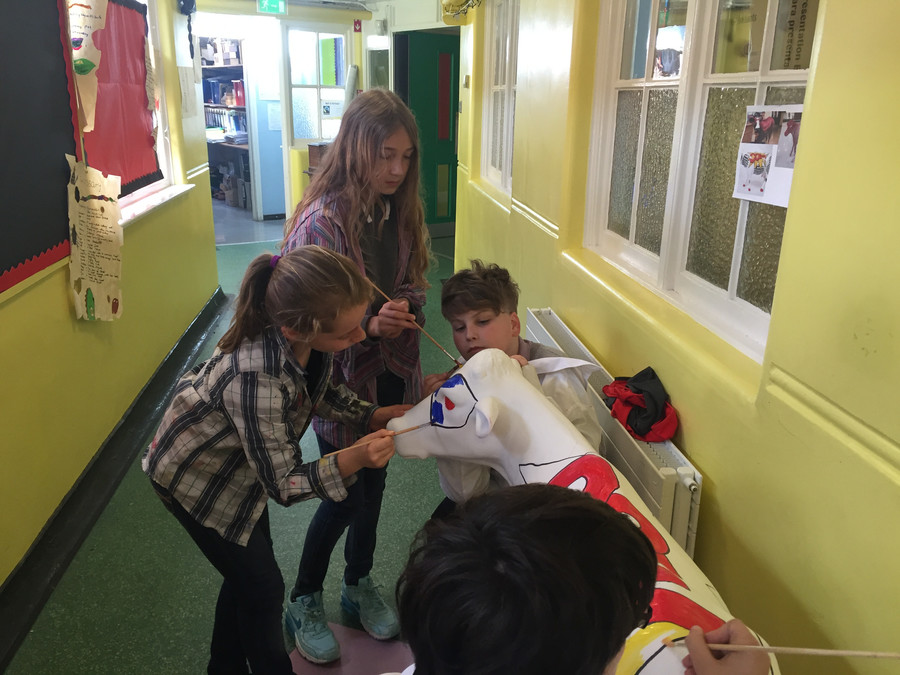 Come back next week to find out more and see the finished article!
Beat the street!
Have you seen the beat the street box outside our school?
Beat the street is a fun, free game for the communities of Northern Ireland to see how far you can walk, cycle and run around your area. Beat the Street will run from Wednesday 14 September - Wednesday 02 November 2016. There are lots of prizes up for grabs for individuals and teams, so don't forget to register your Beat the Street card and join the 'Rosetta Primary School' team. Every journey you make adds to your total and that of your team and the whole community.
Rosetta is currently number 36 in the leaderboard. Help us win amazing prizes by participating in this fun game!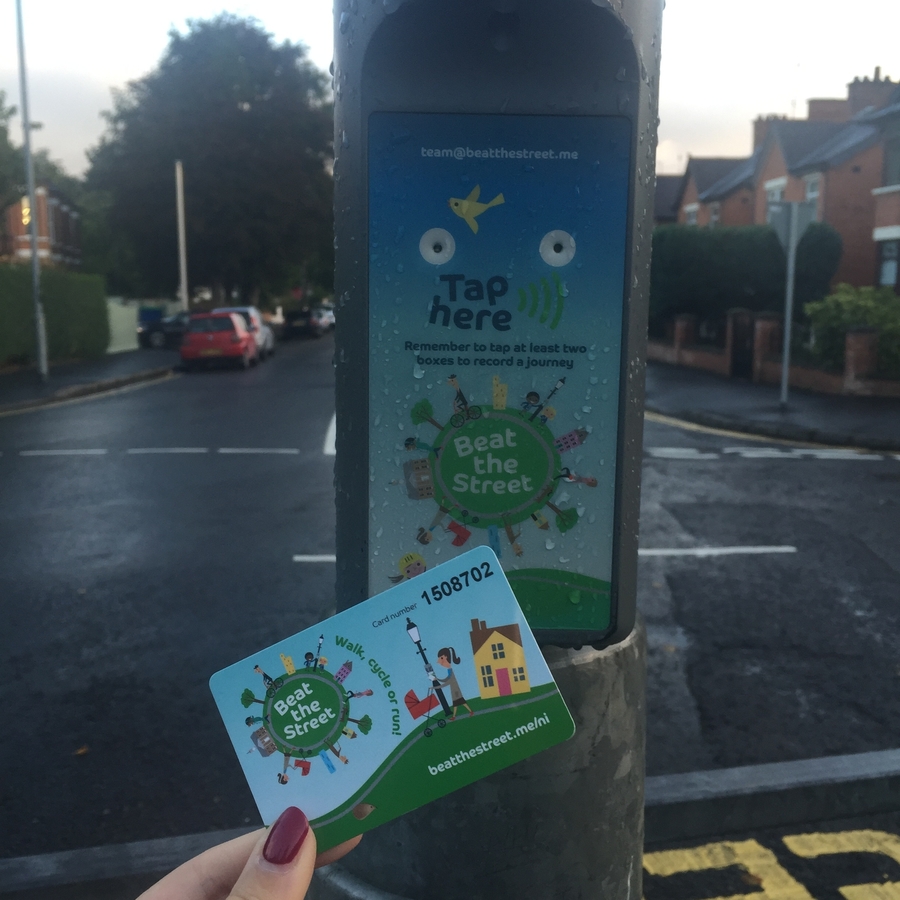 Jeans for Genes Day
This Friday 30th September, we will be holding our first charity event of the school year - Jeans for Genes day!
Jeans for Genes Day provides funding for the care and support of children with genetic disorders through their grant programme. Each year they offer funding to a range of charities.
In exchange for £1, Friday will be a non-uniform day and children are encouraged to wear their jeans. However don't worry if you don't own any jeans, any casual clothes are suitable!

Thank you for your continued support.